Animal Kingdom Preakness Stakes Favorite - Odds and Profile
by Trevor Whenham - 5/20/2011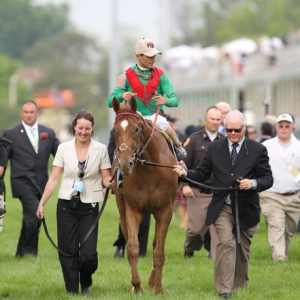 Last race: He's coming off a win in the toughest race any three year old will ever run in -- the Kentucky Derby. If this horse continues to impress then his story will become the thing of legends. He had never even been on a dirt track until a week before the Derby, and he had only run four times previously, so there were lots of strikes against him heading into that race.
The one thing he did have going for him, though, was the breeding to run forever. He handled the distance like he was supposed to. You could say that he got a perfect trip in the race, but since no horse had a really bad race that's not a legitimate criticism. The fact is that on that day he was the best horse in the field -- and it didn't even seem to be close.
Career highlights: Besides the obvious there aren't a lot of highlights in his short career. He had won two races, including his only stakes win, on a synthetic track, and was second in his lone try on turf. The Derby represented a major step up in class for him, but he was clearly up for the challenge.
Jockey: John Velazquez. By now you probably know the story. Robby Albarado was supposed to be on the horse, but he got injured in a minor accident on the Wednesday before the race. He took Thursday off to get ready for the Derby, and then decided to rest again on Friday. The owners got antsy about his condition; Velazquez was available because Uncle Mo scratched Friday morning, and they made the change.
It wasn't necessarily a classy move, but it was obviously the right one. Albarado had only ridden the horse once before, and that was back in October, so the change obviously wasn't a big deal in terms of adjustment for the horse. Velazquez' style obviously suits the horse.
Trainer: Graham Motion. The Maryland-based trainer has had some nice horses over a long career, but this is probably his best -- or at least it will be if the win wasn't just a flash in the pan a la Giacomo.
Motion has some unique ways of doing things. He trains in a British style, so he maintains a barn away from the track where he trains horses, and ships them to the track right before the race. He prefers not to attend the races himself -- he watches them on TV when he can instead. He has been red hot this year, so this win was not at all a fluke.
Pedigree: Like I said, he is bred to run forever. His pedigree is full of turf horses. Sire Leroidesanimaux was a brilliant turf miler who set track records across the country and ran one of the most brilliant races I have ever seen in the 2005 Woodbine Mile. His sire Candy Stripes was also the sire of the great Invasor.
Animal Kingdom is definitely not built for speed, but he is bred to last forever and to devour ground with his big strides. He has the pedigree to keep winning.
Running style: I'd describe the horse as a short closer. He doesn't want to be anywhere near the lead early, but he doesn't want to completely lose contact either. Ideally he will sit in the middle of the pack until the top of the stretch before unleashing a big move at the top of the stretch. Once he gets the lead he has shown he can hold it.
In his first career win he was forced to run closer to the lead -- second place until the stretch -- and he handled that, so he has some versatility if he needs to call on it. He doesn't rely on a fast pace up front, so the Preakness should set up well for him.
Preakness prognosis: He absolutely can win this race, and I have no problem calling him the clear favorite -- though the price he will go off at will be ridiculous like it is for most Derby winners. He has been listed as the 2-1 morning line favorite.
I'm a bit concerned by his lack of experience, but there isn't a horse in the field who is better than him. His win at the Derby was as easy as one in that race can be, so he is in good shape and feeling strong. If he runs his race and gets some luck he'll head to Belmont with a shot at history.
Doc's Sports will have Preakness Stakes Picks for the 2011 Run for the Black-Eyed Susans on Saturday, May21. Doc has been studying the Preakness Stakes field since the Derby and we expect to bring in some very nice profits as the Preakness odds will yield great value. Preakness picks are only $20 and if you don't show a profit Belmont Stakes picks are free!