2011 Big 12 Football Predictions and Futures Odds
by Robert Ferringo - 8/2/2011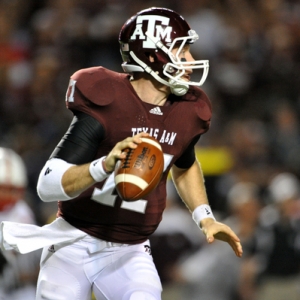 Victims of the Great College Football Realignment of 2010, the Big 12 will begin this season looking like a college student making a Walk of Shame across the quad after a Friday night of debauchery. The conference was ravaged by the Pac-10 (now the Pac-12) and will play without Nebraska and Colorado. And as a result the entire makeup of the Big 12 has changed.
First, teams can no longer rely on scheduling quirks to manufacture a winning season. Each school will play the other nine teams during conference play every season. That is opposed to past years when a school could get an edge in a given year by avoiding powerhouses like Nebraska, Oklahoma and Texas.
Further, this year's Big 12 championship – and the league's position in the BCS – will be determined solely by regular season play. It will be the first time in 15 years that there won't be a Big 12 Championship Game, and that should be a boon for league favorite Oklahoma.
The odds of the Sooners appearing in their fifth National Championship Game in 12 years have increased exponentially because they won't have that extra chance of getting upset on the doorstep of the title game.
Here is a look at my 2011 Big 12 football predictions and futures odds, with the college football odds courtesy of Bodog:
The Favorite: Oklahoma (-200)
It isn't a reach to say that this is one of the two or three most talented rosters in the country. And because of the gaudy numbers that this offense puts up the Sooners will be a sheik national title pick to start the year. This team has 15 starters back and will be fueled by the emotion of fallen linebacker Austin Box, who tragically passed this offseason. But the tale will be told based on whether or not Landry Jones is the real deal. He kind of sums it up for the Sooners: great numbers, but not many great wins. They have future NFL players at several positions. But we'll see if the Sooners can turn their style and skill into a bit more substance in the face of heavy expectations.
The Challenger: Texas A&M (+500)
If there is a team capable of knocking Oklahoma off the Big 12 throne it is the Aggies. This is one of the two or three most experienced teams in the country, with a whopping 13 three-year starters at the foundation of a group that has improved its win total in each of the last three seasons. Everything clicked into place last year after they moved Ryan Tannehill back under center, and he finished the year 5-1 after taking over midseason. There are some tough games on the 2011 Texas A&M Aggies football schedule, including nonconference tilts with likely bowl teams SMU and Arkansas. But, with the exception of a trip to Norman, the Aggies get their toughest games in College Station or close by. I wouldn't be stunned if this team is playing in a BCS bowl this year, but having to go to OU means it likely won't be the title game.
The Dark Horse: Oklahoma State (+900)
The 2010 Cowboys were far and away the nation's biggest overachievers. They went 11-2 and finished inside the Top 15 in the country despite the fact that about 90 percent of the college football-loving world (myself included) had them pegged for the Big 12 basement. The reason is simple: Brandon Weeden and Justin Blackmon came out of nowhere to form the country's most devastating one-two passing punch and triggered an offense that averaged a staggering 44.2 points per game. They should regress only a bit (let's say 37 points per), but the reason why I think OSU is a longshot is that they only return four starters on a defense that wasn't all that good last season. Also, the 2011 Oklahoma State football schedule is dotted with some brutal road games, so this really could be an up-and-down year for guys not names "Weeden" and "Blackmon".
The X-Factor: Texas (+650)
Prior to last season the Longhorns had gone 69-9 since 2004 and, with USC still in limbo, Texas had become the premier program in college football. But last year's stunning 5-7 season – marred by ridiculous upset losses at home and abroad – definitely raised a lot eyebrows. Was that a statistical anomaly? Or is this crop of Longhorns just not that good and living off the reputation of teams past? The Longhorns are installing an entirely new offense and have new coordinators on both sides of the ball. A huge question mark is how quickly with the players take to the new schemes. They have a tricky September, so they don't have a big learning curve, and I don't expect this team to bounce back and win the Big 12. But I can also nearly guarantee that they aren't going to miss a bowl game two years in a row.
The Disappointment: Texas Tech (+2000)
This is a very difficult team to predict. Like Oklahoma State, the Red Raiders really surprised me last year by not regressing further in Year 1 of the Tom Tuberville regime. But Tech also won four games by a touchdown or less and five of their eight wins were by eight points or fewer. Rarely do you ever see that type of good fortune in tight games two years in a row. The 2011 Texas Tech football scheduleis full of cupcakes through the first five weeks, but then I think they will get exposed in league play. I don't see them winning at OU, at Texas, or at Missouri, and they have tough home games against Texas A&M and Oklahoma State, on top of a neutral site game versus Baylor. This team isn't devoid of talent. But they don't have a quarterback and they won't be as lucky this time around.
The Rest:
Missouri (+1400) – Since the Overthrow of Mike Leach two years ago, I would say that Gary Pinkel's Missouri program has become the leading "system team" in the Big 12. Missouri football teams just seem to replicate themselves year-in and year-out, seemingly plugging guys off the street into positions and watching them produce. Missouri has averaged 10 wins per season over the course of the last four years and I think that they are good for an average of about 30 points per game on offense and 24 allowed on defense. This team will be replacing stud QB Blaine Gabbert. But I actually think that they could be more productive in the passing game with seven senior starters (and five three-year starters) on that side of the ball. That said, a suspect defense without big-time playmakers and a rough road schedule has Mizzou headed for yet another typical Mizzou season: around 9-4 or 10-3 with another a sixth straight significant bowl somewhere in the cards.
Baylor (+1800) –Once again it is simply Robert Griffin and a bunch of random dudes in Waco. Griffin is one of the best players in the country and tallied more than 4,000 total yards of offense last year from the quarterback position. He is another year removed from a torn ACL and should be even more explosive this season. Griffin has a full compliment of skill players and four of five starting linemen back so this team should score plenty and be good for an upset or two. But can they stop anyone? And last year's 7-6 record – including the school's first bowl game (loss) since 1994 – glossed over the fact that they only beat one Div.-I team with a winning record.
Iowa State (+10000) –The Cyclones have been surprisingly spry the last two seasons, scoring a bowl win in 2009 and pulling a tremendous upset (at Texas) and a near-upset (Nebraska) last year while winning five games. But coach Paul Rhoads lost a ton of experience and was able to coast on the backs of Gene Chizik's players. Iowa State has the fewest returning starters in the league, they play five Big 12 road games, and they are without three-year starting quarterback Austen Arnaud (graduation). This year should be a rough one in Ames.
Kansas (+15000) –I do have some faith that Turner Gill will be able to rebuild this Kansas program. But I have zero faith that they will turn things around this year. Kansas is staring at a roster that lost almost half of its team tackles from last year on defense and will be riding a freshman quarterback on offense. They aren't totally devoid of experience (15 starters are back), but they simply weren't competitive in league play last year and this is still the same group that lost – at home – to North Dakota State to begin last year.
Kansas State (+3500) –It is always tough to bet against a Bill Snyder-coached team. The 72-year-old coach is working his magic with this program once again and is now in the third year of his comeback. His system has taken root and now his recruits are starting to take the helm. All of that has to be good for the group from Manhattan. All that said, I don't see any top-end talent on offense. The defense is experienced and tougher than their numbers suggest. But they should end up going 1-4 on the road and they still have rough games against Oklahoma, Texas A&M and Missouri at home. I think they will struggle to get back to a bowl game, but, like I said, it is tough to bet against Snyder.
2011 Big 12 Conference Predictions: Predicted Order of Finish
1. Oklahoma
2. Texas A&M
3. Texas
4. Missouri
5. Oklahoma State
6. Texas Tech
7. Baylor
8. Kansas State
9. Iowa State
10. Kansas
Robert Ferringo is an NFL and college football handicapper and is coming off an exceptionally profitable 2010-11 football season (college and pro). Over the last year his clients have more than tripled their bankrolls with his predictions in all sports. He is looking forward to building on his stellar football handicapping resume again this fall and you can check him out here.