2011 BYU Cougars Football Predictions and BCS Futures Odds
by Trevor Whenham - 7/8/2011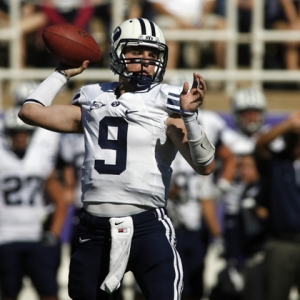 There are four non-BCS football programs that consistently shine but have been consistently held back by 'the system'. This year was the time to take action and do something about that, it seems. TCU and Utah couldn't beat them, so they joined them. Boise State made a mostly pointless lateral move. BYU took the most radical and aggressive steps of all, though. While playing as an independent won't do anything to secure them an easier road to the BCS, it will get them on national TV far more, and it gives them the freedom to schedule aggressively to catch the eye of the national media. It's a huge risk, and this is our first chance to get a sense of whether it can possibly pay off.
It certainly won't pay off if they don't start playing much better than they did last year when a win over an unimpressive UTEP team lifted them above .500 for the first time since the opening game. After a win against Washington in the opener the Cougars lost four straight and five of six. This team should be improved this year with 15 returning starters, but they have a long way to go to get back to a level of performance that is worthy of a legitimate independent.
Coach
Bronco Mendenhall not only has one of the best names in the game, but the guy can coach. He has a very impressive 56-21 record at BYU, he has won two conference championships, and he has four 10-win seasons to his credit. BYU has the right man in charge.
In the short term, though, there is a reason to be concerned. Facing pressure after the lousy season last year Mendenhall totally changed his coaching staff. That's good news. The problem, though, is that he named himself defensive coordinator. While he is a defensive-minded guy, how often does it work out when a coach names himself a coordinator? Not very often. It's close to impossible to do two important jobs and do justice to either one.
Offense
The offense was decent last year — 26 points per game — and it returns almost totally intact, so it should be even better than it was. Jake Heaps had a very nice year at QB as a freshman — 2,500 yards and 15 TDs — so he is well poised to take a nice step forward this year as long as he avoids the sophomore slump.
The offensive line and the receiving corps both had some real issues at times last year, but youth and inexperience were at least partly to blame for that, so things should be better this year. Senior left tackle Matt Reynolds carries the most burden of anyone on the offense. If he can lift his line to a higher level this year then this team could have a much better year.
Defense
Only five starters return on this side of the ball, so the improvement is less of a certainty. The line should be strong, and the linebacking corps has the talent to be much better than they were last year if they can get out of their own way.
The huge concern here, though, is the secondary. Safety Travis Uale is the only guy with any game experience of note, so the unit is going to be young and inexperienced. A young secondary is almost never a good one, so this is where Mendenhall and his staff are really going to have to focus to make sure they don't get exploited too badly.
2011 BYU Cougars Football Schedule
The Cougars get credit for not shying away from tough road games. They travel five times, and none of the opponents are going to be easy — Ole Miss, Texas, Oregon State, TCU, and Hawaii. There is a lot of buzz around the fan base that Texas is vulnerable in the second week, so attention will be focused on that game. The home schedule is considerably easier, though they face hated rival Utah in week three after those trips to Ole Miss and Texas, so there is a chance that this season could find them in a deep hole right out of the gate.
2011 BYU Cougars Futures Odds
Since they are an independent now the only way you can bet this team in the futures is to win the national championship — something they almost certainly aren't going to do. Bodog has them at 150/1, and that price is ridiculously short of value.
2011 BYU Cougars Football Predictions
I don't love the defense at all, but the offense is going to be able to score a lot of points, and that will help ease the pressure. The first three games are absolutely brutal, and the fourth against UCF could be tough as well. They need to come through those games with at least two wins. If they can do that then nine wins is possible, but if they dig themselves into an early hole then the wheels could fall off like they did last year. Overall I am cautiously optimistic.
Doc's Sports is set to embark on our 40th year of handicapping college football. Doc is coming off a profitable season with his college football picks, including winning his Big Ten and College Football Games of the Year. Doc spends the hours during the week studying the college football odds and releases 6-8 college football plays per week including top plays (6-8 unit selections). Doc is ready to start the first week of September and our Magnificent 7 Packages gives you every college football selection that we make through the BCS Championship Game in January of 2012. Jump on board now with one of the best college football handicappers in the business.