Chris Paul Trade and Los Angeles Clippers NBA Futures Odds
by Trevor Whenham - 12/15/2011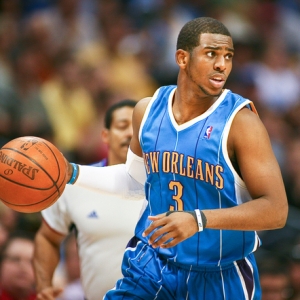 It turned into an epic farce, but Chris Paul finally has been traded.
David Stern held out for the best deal for the Hornets, and in the long term I think he got it.
If you missed the details, Paul is heading to the Los Angeles Clippers in exchange for a huge haul. Shooting guard Eric Gordon is the centerpiece of the deal, and he is joined by former all-star center Chris Kaman and second-year player Al-Farouq Aminu. The Clippers also sent New Orleans a first-round pick for 2012 they received from the Timberwolves, and receive two future second-round picks in return.
The view of the deal will surely evolve as we look closer at it and see the players play in their new spots. While it is still fresh, though, here are six initial reactions:
The public is buying in
Before this deal came about you could bet the Clippers to win the NBA Championship and find NBA futures odds of 40/1 or higher.
When I checked out 5Dimes soon after the deal was announced it had dropped in half to 20/1. By tonight — about six hours after the deal was announced — it has dropped all the way to 12/1. That puts them behind only five teams — Miami, Chicago, the Lakers, Oklahoma City and Chicago.
The drop in price is ridiculous given that we don't know the chemistry the team will have but it's a clear sign that the public is buying into what the Clippers are doing. When was the last time you could say that?
The flipside, of course, is that when you are in the public eye it's harder to hide, and you'll face far more pressure and scrutiny than anyone around the team has been used to.
The Clippers have swagger now
For as long as I can remember the Clippers have been a punchline. They shared a building with the Lakers, but they couldn't have been more different in every way. It has been one disaster after another for decades.
They still haven't accomplished anything meaningful, but for the first time in years they can hold their head high and feel good about themselves. Their tickets will be tough to get, and people will care about them.
This couldn't have come about better for them — not only did they get one of the two best point guards in the league, but they stole him from the Lakers. And while they have taken such a step forward the Lakers have floundered and had a horrible week.
Swagger doesn't win games, but it sure doesn't hurt, either. The most interesting factor will be to see if the team has what it takes to handle that swagger and make it a positive factor for them.
The Hornets got a lot
If the Hornets had to get rid of Paul they certainly could have done worse.
Gordon is a very solid player who can score like crazy and will be an all-star. There is some risk that they won't be able to re-sign him after his rookie contract ends at the end of this year, but if they can make him happy he's a steal.
Kaman could be a nice contributor and a nice leader, and if he isn't a great fit then his expiring contract is a huge asset.
Aminu is still young and raw, but he has huge upside.
The last time the Clippers traded a first-round pick away it turned into Kyrie Irving, so that could turn out good as well. New Orleans probably won't be very good, but they certainly could have done worse than they did.
The risk is high for the Clippers
Paul has had knee issues, and he is only under contract for two seasons. Right now the Clippers are riding high, but if the knee doesn't hold up or if he goes elsewhere in two years then this could be yet another chapter in the ridiculous history of this team.
It's a risk with huge upside, and one they absolutely should have taken, but the potential for disaster — or just an underwhelming return — shouldn't be overlooked or downplayed.
Where's the center?
Before the deal the Clippers had just one true center on their depth chart. Now they have none. They have a bit of flexibility if they have to, but the deal has definitely created some depth issues for them.
It's all about Griffin now
Blake Griffin has looked like a beast in the NBA, and the Clippers clearly think that's no fluke. They accepted that they couldn't pay Griffin, Paul and Gordon, so they got Griffin a superstar to play with at a steep cost.
Again, it's a good risk, and Griffin seems to be a guy to build around. If he doesn't keep progressing, though, or if injuries become an issue for him again, or if he can't handle the immense pressure he will be under, then that's another way that this deal could go awry.
Doc's Sports is offering our best price ever for a full season of expert NBA picks! If you purchase a full-season NBA package this week (for our lowest price ever of $499) you will get two free NBA handicappers to try out free for two weeks – after that two weeks you can pick from the three handicappers to continue on with or you can get a great deal on multiple handicappers. Click Here for more information.