College Football BCS National Championship Odds and Predictions
by Trevor Whenham - 11/17/2011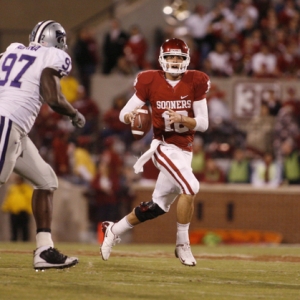 Every year it's always the same in college football. Late in October it seems like everything is a total mess — so many undefeated teams that it seems certain that the BCS Championship will result in chaos and heartbreak.
After a few weeks of action, though, the picture inevitably gets much clearer as the biggest truth in college football is proven yet again — it is incredibly hard to go through a whole season undefeated.
This year is no exception. Heading into the action on Oct. 22 there was a serious log jam atop the rankings. Oklahoma lost a shocker on that day, though, and Clemson, Alabama, Boise State, and Stanford all fell soon after.
Now the BCS picture is pretty clear, and it will say that way unless LSU and Oklahoma State falter between here and early January.
With just a couple of weeks left in the regular season it's a good time to pause, take a breath, and look at some predictions for the BCS Championship Game (all odds to win the BCS Championship are from Sportsbook.com):
LSU (-140)
The Tigers are comfortably atop the BCS Standings, and they will stay there unless they lose.
The LSU football schedule has been tough so far this year, and they have obviously looked good racking up wins, but there are still a few potential speedbumps along the way.
For starters, after what should be an easy game against Ole Miss this weekend they finish the regular season with a home game against an Arkansas team that has just one loss.
Then they face an SEC Championship Game, and right now that looks like it will be against Georgia in Atlanta.
This is the best team in the country right now, but with three tough wins standing between them and the BCS Championship these odds seem very low.
Oklahoma State (+450)
Compared to LSU, the Cowboys have an easy road to the Championship, but it is still very challenging. They have an easy Friday night contest this week, and then a week off. After that they face an absolutely massive game — a Bedlam contest with Oklahoma that could be a de facto playoff for a berth in the BCS Championship Game if things work out well.
The good news for the Cowboys is that with the defections of Colorado and Nebraska from the Big 12 there is no championship game this year, so that home game against Oklahoma is the last step between them and the promised land.
Alabama (+160)
The Sooners have the second lowest odds to win it all, but I just don't see it. They have a number of issues stacked against them.
For one, they only have games against Georgia Southern and Auburn remaining, so they don't have another chance to earn a defining win. Next, they would need LSU to lose both of their last two regular season games in order to get a spot in the SEC Championship Game.
They could still play for the BCS Championship without playing in that game, but not playing in it certainly doesn't make things easier for them.
The biggest problem they have, though, is that they probably need LSU to lose at least once in order to have any chance at all of making the title game because there really doesn't seem to be any appetite for a LSU-Alabama rematch.
Oklahoma (+1000)
If Oklahoma State does falter then the Sooners are in the best position to pick up the pieces.
Their loss was humiliating, but they have played a tough schedule with some nice wins outside of that. They have a shot at a huge road win to cap their season, and that would be the biggest win by any team all year.
They have some injury issues that could be a problem, but they are still obviously dangerous.
Arkansas (+1800)
This just isn't going to happen. They have a chance to beat LSU, and that could be huge. It likely wouldn't be enough, though.
It's all but impossible for them to make the SEC Championship Game, and they have played a weak schedule with a convincing loss to Alabama up against them.
A team can theoretically make the BCS Championship Game without winning their conference championship, but in order for that to happen the team has to be very strong and popular, and Arkansas just hasn't impressed enough people to make them worth the risk for poll voters to support.
Oregon (+1000)
This team needs a stunning amount of help.
First, they would likely need LSU to fall right out of the picture because the Tigers beat them so badly to start the year. If LSU remains undefeated then the Ducks would need pretty much every other option to fall out of contention because the prospect of an Oregon-LSU rematch is far less appetizing than the LSU-Alabama option.
As impressive as the Ducks were against Stanford, they likely struck the fatal blow to their season in the opening week.