College Football Handicapping: Best and Worst Against the Spread
by Trevor Whenham - 11/8/2011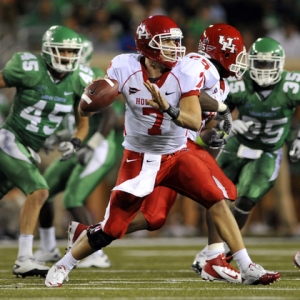 As we head into the home stretch of the college football season it's a good time to look at the teams that have been very kind to bettors, and those that have burned bettors' money at an alarming pace. Here's a look at the studs and duds of this season against the spread to help with your college football handicapping:
Studs
Stanford (9-0 ATS) - You could argue that the Cardinal haven't really played anyone, or that they got very lucky to sneak past USC. What you can't argue, though, is that they haven't been very kind to bettors. Nine games, nine spreads covered. Not tiny spreads, either — they have been favored by at least 7.5 every game, and by 18 or more in seven of the nine games. Things get a bit tougher down the stretch starting with Oregon this week, but for now they sit at the top of the heap.
Arkansas State (8-1 ATS) - I'll admit that I basically couldn't tell you a thing about Arkansas State. The Sun Belt conference leaders are certainly getting the job done, though. They have twice covered as favorites of 20 points or more, and they covered four spreads of 16.5 or more. The only game they didn't cover was a late comeback win against Western Kentucky.
Houston (7-2 ATS) - Case Keenum is having a phenomenal year, and his team is unbeaten and impressive. They have been favored in all nine games, and have covered spreads as high as 40.5 points. The Cougars are drawing more and more attention and that has been reflected in their college football odds. However, they have won their last four games by an average of 42.5 points, so they are capable of handling the attention.
LSU (7-2 ATS) - The No. 1 team in the country is also an elite team against the spread. They have covered four games in a row, including their last huge win at Alabama. What is striking is that despite all the hype and public attention this team is very close to being a perfect 9-0 ATS — they beat Northwestern State 49-3 as 49-point favorites, and were favored by 29.5 in a game in which they beat Kentucky by 28.
Oklahoma State (7-2 ATS) - The Cowboys failed to cover their opener, but then covered seven straight before narrowly escaping against Kansas State. They have covered in some tough spots, including all four road games. However, they are just 1-2 ATS in games with spreads higher than 14.5, so they aren't as strong against the weakest opponents as others on this list.
Alabama (7-2 ATS) - The Tide obviously didn't cover in their home loss to LSU. They also didn't cover as 47-point favorites against North Texas despite winning 41-0 in a truly dominant performance. Other than that they have been kind to bettors, though not always by a wide margin. It's striking that there are many very public teams — Alabama, LSU, Oklahoma State, Stanford — doing so well against the spread this year. It's a far more impressive top group than what we have seen in past years.
Six other teams have also gone 7-2 ATS so far (Clemson, Southern Mississippi, Kansas State, Louisiana Tech, Western Kentucky, and Vanderbilt), but I picked the most interesting to talk about. Interestingly, only Oklahoma State from these 12 teams was among the Top 19 ATS teams in the country last year.
Duds
Central Michigan (1-9 ATS) - It wasn't that long ago that the Chippewas were the class of the MAC, but they certainly aren't right now. They have just three wins, and two of those weren't by enough to cover the spread. This just isn't a good team right now, and with games against two of the top teams in the conference remaining it isn't likely to get a lot better.
Colorado State (1-7 ATS) - This team just can't find a spread they like — they are 0-4 ATS as favorites, and 1-3 ATS as underdogs. They are also 0-3 ATS at home, so they don't respond well to home cooking. Coach Steve Fairchild sits on a very hot seat, so focus could be tough for this team down the stretch.
Colorado (2-8 ATS) - The Buffaloes are just terrible. Dan Hawkins ran the team into the ground, and they are embarrassing themselves in their Pac-12 debut. From a betting perspective, the worst part is that the Buffs started out 2-1 ATS, so they are on an ugly 0-7 ATS skid. In three of their last five games they have been spotted at least four touchdowns, but that's not enough for a team this bad.
Maryland (2-7 ATS) - Randy Edsall might be regretting his move from UConn to Maryland right about now. The team just hasn't been competitive for much of the year, and it's not getting any better. To add insult to injury, they have worn some of the ugliest uniforms of the year — and that's really saying something given some of the fashion crimes we've seen on the field this season.
Texas A&M (2-7 ATS) - Unlike the teams that came before them on this list, the Aggies have been a decent team — they have been favored in all but one of their games. They just haven't been quite as good as bettors think they should be.
Virginia Tech (2-7 ATS) - Last year the Hokies were in the Top 3 in the country in ATS performance. Now they really aren't. They have only lost once, they are ranked ninth in the country, and they control their destiny in their division, but the public clearly sees this team as more dominant than they really are.
Penn State (2-7 ATS) - This team is a shocking 8-1, but their lack of reliable QB play has really hurt them at the betting window. Given the horrific scandal plaguing them right now, though, their betting performance is the least of their issues.
Indian Cowboy has been dominating the football bookies and his NFL and college football picks have helped clients to seven of eight winning football weeks. His college football handicapping has uncovered another strong card this weekend. IC is one of the most selective handicappers in the nation and his IC-3 includes three of the best picks on the card each week. A one-week package is only $99 – Click Here for more details.