College Football Handicapping: Teams Better Than Expected
by Trevor Whenham - 9/12/2011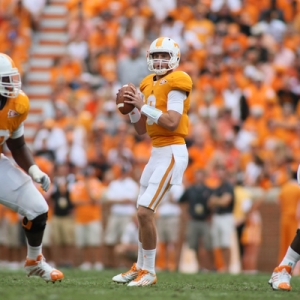 We are just two weeks into the college football season, but already a whole lot of what we thought we knew has changed. There are teams that we thought were very good that are having trouble living up to those expectations — Georgia, Notre Dame, and Oregon leap to mind. Then there are the teams that are showing even more than we anticipated.
Some of the teams I have in mind here were already very highly-regarded, while others started the season well off the radar and are showing that they are worthy of attention. Here are five teams that stand out so far as being better than I expected them to be. The betting value for these teams is probably peaking right now before the general betting public jumps on board. Keep that in mind for your college football handicapping.
Auburn - It's rare for the defending National Champions to come into the season with low expectations, but when that National Champion lost an all-star team worth of talent then troubles are to be expected.
This is not the Auburn team we watched in awe last year, but they are much better than expected. They haven't been winning pretty, but they have found ways to win two games thanks to incredible amounts of heart. They staged a crazy comeback against Utah State, then stopped Mississippi State when they were knocking on the door as time expired.
Barrett Trotter is not Cam Newton, but he has played very well at QB, and is clearly capable of giving this team what it needs. I expected this to be a rebuilding year for the Tigers. While I don't see it as a championship year they certainly aren't going to be pushovers, and they could definitely be a factor.
Wisconsin - I knew that the Badgers were going to be defensively stout and that they would be able to run the ball. There was one thing that limited my willingness to name them as the class of the Big Ten, though — Russell Wilson.
Wilson arrived from North Carolina State with a whole lot of hype, but I had a couple of issues — I wasn't sure he was as good as the reputation suggested, and I wasn't at all convinced he would fit into the traditional, conservative culture of the Badgers.
Things could change, but so far Wilson has fit the team like a glove, and he clearly makes this squad the Big Ten team to beat.
Tennessee - Last year Tyler Bray showed glimpses of potential at quarterback This year he's making a convincing argument that he's the best QB in the SEC. In his last game he broke Peyton Manning's team record for completion percentage in a game. If Bray can continue to prove that he is an elite quarterback, and if his receiving corps continues to shine like it has, then Tennessee could be a much more interesting team than I was giving them credit for.
UCF - The Knights haven't exactly played the cream of the national crop so far — they have played Charleston Southern and a struggling Boston College team. While they haven't really been tested so far, they certainly have looked good facing what they have done. They have outscored both teams by a combined score of 92-3. It doesn't matter who you are playing — giving up 1.5 points and 130 yards per game is an impressive average.
Not surprisingly, no team has allowed fewer points, and only 11 have run for more than the 275.5 per game that UCF has amassed.
Interesting road trips to Florida International and BYU loom before their conference season starts, but UCF has already delivered the message that they plan to be a major factor in C-USA this year.
It's way too early to think this way, but with the way that this team and Houston have both started their season the C-USA Championship Game could be must-watch TV in December.
FIU - I wasn't intending to watch any football Friday night, but being an addict I couldn't resist staying on the Florida International at Louisville game when I flipped past it. I'm sure glad I did.
The young FIU program earned their first-ever win over a team from a BCS conference, and they looked impressive doing so.
The real revelation was receiver T.Y. Hilton. To put it bluntly, the senior receiver is an absolute freak. He had seven catches for 201 yards, and two touchdowns, and he could do absolutely whatever he wanted against the Louisville secondary. As impressive as his catching was, what really impressed was how selfless he is — he seemed to relish blocking as much as running routes.
When a well-coached young team on the rise has a player that explosive and special then interesting things can happen. FIU is certainly exceeding expectations so far because I'm pretty sure that the large majority of college football fans had no expectations for the team at all. In fact, most people — myself included — were only barely aware of their existence.