College Football Handicapping: Teams With Betting Value
by Trevor Whenham - 10/7/2011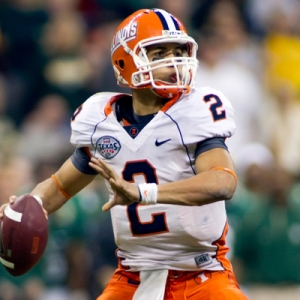 Earlier in the week I took a look at college football teams that are getting more respect than they have earned so far. Today let's look at the opposite. Here are four teams that have been better than either their ranking or their record would indicate so far this year. Knowing when a team is better than most people think they are is a very valuable thing for college football handicappers. Without further ado:
Illinois - I can't believe that I am about to say nice things about a Ron Zook team. I feel like I have to qualify that I still think that Zook is a lousy coach. At least in a comparative sense, though, this Zook team isn't getting enough respect.
They are the fourth-ranked team in the Big Ten, but you could make a strong argument that they should be ranked second highest of the teams in the conference. Wisconsin is in a class of their own, but Nebraska has obvious issues exposed by the Badgers, and Michigan is off to a good start but had the same record last year so we still haven't yet seen for sure that they can sustain it this time around.
Illinois has nice wins against Arizona State and Northwestern so far this year. They haven't been winning big, but they have shown a pile of toughness and intensity to get the wins in the end.
Sophomore QB Nathan Scheelhaase has been the real driving force for the success. After a decent freshman season he has taken a massive step forward this year. He has completed nearly 70 percent of his passes, and is averaging an impressive 10.5 yards per attempt. The team believes in him and he's confident. As long as that continues he is dangerous, and so is his team. This is a team bettors should respect.
Nevada - Illinois made this list because they are a good team that is getting credit but should get more. The last three teams on this list are different. They are all squads with lousy records that have given us reason to believe that they could be much better going forward than they have been so far. Nevada definitely fits in to that group.
Their 1-3 record isn't going to impress anyone. It's not indicative of what they are capable of, though, because of the brutal schedule they have faced. Their three losses have come against Oregon, Texas Tech and Boise State. All four of their games have been played on the road.
What all three of those teams have in common is very strong offenses. Oregon and Boise State have excellent defenses as well. Nevada is near the bottom of the NCAA in points for and points against, but given who they have played that isn't surprising. What should stand out instead is that they have been a Top 15 rushing team despite their opponents.
Their level of competition going forward is going to be a breeze compared to what they have faced already, and they play six of their last eight at home. Coming into the season this team was viewed as a WAC contender. Despite the ugly start that hasn't changed.
Tulsa - Tulsa's story is similar to Nevada's, but the Tulsa football schedule has been even tougher. In fact, whoever set this nonconference schedule is clearly a lunatic.
They are 2-3. Their wins have come in a conference tilt at Tulane and a nonconference game against North Texas. Their other three opponents have been Oklahoma, Boise State, and Oklahoma State. At the time those games happened the opponents were ranked No. 1, No. 4, and No. 8, respectively. That's the toughest schedule any team has played, so it is no surprise that they lost all of the games, or that they are near the bottom of the country in points allowed.
The fact is, though, that this team has a powerful and well-balanced offense, a defense with some skills when not facing superpowers, and some solid coaching. This team will not play in the C-USA like a team that opened their season 1-3.
Arizona - Being critical of Mike Stoops is popular, and he certainly deserves most of what he gets. His seat couldn't be hotter after a 1-4 start to the season, including four straight losses.
While he has plenty of issues, this team is not nearly as bad as their record would suggest. Their last four games have included visits to Oklahoma State and USC and home games against Stanford and Oregon. That's an absolutely brutal schedule.
It gets much easier from this point on — their only currently ranked remaining opponent is Arizona State. With three conference losses already the team is already irrelevant in the Pac-12, but it would be a mistake to underestimate them — and their impressive QB Nick Foles, who is having a nice year — the rest of the way.