College Football Odds: Biggest Line Moves from Preseason Spreads
by Nicholas Tolomeo - 9/15/2011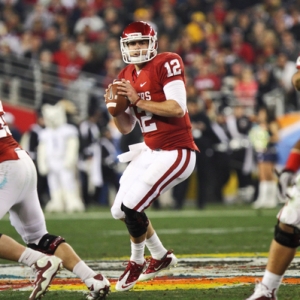 Plenty of attention gets paid to line moves during football season. Opening college football lines are often adjusted from the beginning of the week until kickoff based on public action, among other things. This gives bettors a chance sometimes to get a better line or possibly middle a game.
There is another kind of line move that has many more variables: the move from offseason future college football point spreads, to the spread the week of the game.
Many of the bigger games in college football have point spreads set in the summer. Online sportsbook 5Dimes posted around 10 college football point spreads for future games for each week all the way through December. Oftentimes the lines are right on and come game week, the same point spread is listed just as it was in August. Other times the line drastically changes based on injuries, prior results and anticipation of public action, among other things. Future college football point spreads can be a lucrative stock market of sorts for gamblers. If you plan ahead you can have countless opportunities to middle.
But come game week, the change in the spread can also be a look into the thinking of a bookmaker. Here is a list of select games from Week 3 of college football with the future college football point spread from the offseason and the current line of the game. All point spreads are courtesy of 5Dimes.
Oklahoma at Florida State
Offseason: Oklahoma -2.5
Current: Oklahoma -3.5
In the biggest game of the week No. 1 Oklahoma travels to No. 5 Florida State. This line move is minor, but also significant in that it goes past the crucial key number of three. What makes the move interesting is that nothing really happened on the field to justify this. Florida State dismantled UL Monroe, 34-0, and Charleston Southern, 62-10, like it was supposed to while Oklahoma blitzed Tulsa, 47-14, in Week 1 before a bye week last week.
The one thing that changed is that polls came out and Oklahoma is now ranked No. 1. It looks like the move to a 3.5-point favorite has less to do with what is going on between the lines and more to do with the rankings meaning this is an inflated Oklahoma line.
Oklahoma State at Tulsa
Offseason: Oklahoma State -9.5
Current: Oklahoma State -13.5
This line move has public action written all over it. Oklahoma State has become a media sensation with its video-game like offense and the prolific combination of quarterback Brandon Weeden and wide receiver Dustin Blackmon.
The Cowboys offense put up big numbers in a 61-34 win over UL Lafayette and a 37-14 win over Arizona. But now they hit the road. And allowing a combined 48 points to those two teams is not acceptable. Tulsa has a pretty dynamic offense also. The 'over/under' is 69, so points are expected. The offseason line may have been a little too high for an Oklahoma State team on the road. The current line is definitely too high, in my opinion.
Michigan State at Notre Dame
Offseason: Notre Dame -7
Current: Notre Dame -4.5
What are the Fighting Irish going to have to do to become an underdog? They were 10-point favorites in Week 1 before being completely outclassed by South Florida. They remained as four-point favorites at Michigan before losing a wild affair. And now against the No. 15 Michigan State, the 0-2 Irish are still favored, albeit at a lower number than in the offseason.
With the way the Notre Dame defense has been exposed, that offseason point spread of seven should have come down a lot more than it did. The bookmakers seem to know something that everyone else doesn't, but with coaching and quarterbacking turmoil in South Bend and with the way Notre Dame has played the last two weeks, the Fighting Irish deserve more than a 2.5-point reduction.
West Virginia at Maryland
Offseason: West Virginia -5
Current: 'Pick'em'
In the biggest jump of the week, the No. 20-ranked Mountaineers drop from a five-point favorite to 'pcik'em' against Maryland. The movement has less to do with Maryland's nationally televised win over a depleted Miami Hurricanes team than it does with West Virginia's abysmal first half against Division I-AA Norfolk State on Saturday. The 44-point favorite Mountaineers actually trailed 12-10 at halftime before stepping on the gas and outscoring the Spartans, 45-0, in the second half. Regardless of the second half comeback, damage was done. Doubts were raised about first-year head coach Dana Holgorsen's new offense. The thinking here is that a similar first-half performance against a decent Maryland team on the road could be too much to overcome.
I'm not buying it. The move down to a 'pick' makes this game very attractive for West Virginia backers. Maryland has received plenty of headlines because of its polarizing uniform/helmet combination it wore on Labor Day, but the fact is they needed to pull out every trick in the book to hold on and beat a Miami Hurricanes team playing without six defensive starters.
Auburn at Clemson
Offseason: Clemson -7
Current: Clemson -3
Clemson has struggled already this season against the likes of Troy and Wofford. Defending National Champion Auburn should have lost its first two home games of the year, to Utah State and Mississippi State. If Auburn does not recover an onside kick and score twice in the final minutes against Utah State and come up with a goal line stand in the final seconds against Mississippi State, the Tigers could be 0-2 and Clemson could be favored by 10. Auburn is hitting the road with the most deceiving 2-0 record of all time, yet the line has somehow dropped from making Clemson a touchdown favorite to a field goal favorite. Clemson backers have to be thanking the public for that move.
Here are other big games this weekend with their offseason point spread and current point spread:
Utah at BYU
Offseason: BYU -6
Current: BYU -3.5
Tennessee at Florida
Offseason: Florida -7
Current: Florida -9.5
Arizona State at Illinois
Offseason: Arizona State -3
Current: Illinois -1
Colorado vs. Colorado State
At Invesco Field, Denver, Colorado
Offseason: Colorado -7
Current: Colorado -7
Hawaii at UNLV
Offseason: Hawaii -16.5
Current: Hawaii -20
Wisconsin at Northern Illinois
At Soldier Field, Chicago, Illinois
Offseason: Wisconsin -16
Current: Wisconsin -16.5
Louisville at Kentucky
Offseason: Kentucky -8
Current: Kentucky -5.5