College Football Predictions: High-Value Betting Teams
by Trevor Whenham - 7/20/2011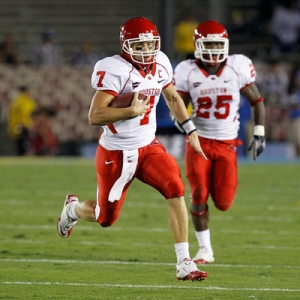 As we count the seconds until the start of the college football season we need to find ways to make the time pass. The way we are going to do that today is to offer some college football predictions for teams that have a chance to exceed expectations. By this point people have a pretty solid sense of how they expect teams to perform. Every year, though, there are some teams that end up performing significantly better than those expectations. Bettors that have a sense of who those teams could be are positioned to make some nice money. Here are three teams that are candidates:
Houston
Last year was an absolute disaster for Houston despite high hopes, and a lot of people seem to have written them off as a result. This year, though, they have the tools to succeed.
Most significantly, the ageless Case Keenum is back at QB for a sixth year after an ACL injury last year. He's a passing savant, and he has a lot of tools around him. They have a very nice group of running backs, and an improved offense overall.
Defensively they are entering the second year of a transition from 4-3 to 3-4, so they should be more prepared and comfortable on defense.
Another reason I think they have a great season is that the 2011 Houston Cougars football schedule is designed for success. Their toughest game of the year could be the first one, and that's at home against UCLA -- not exactly the best team in the world. They play six road games, but the toughest one is a season-ending trip to Tulsa, so it's not going to be impossible for them by any means.
Head Coach Kevin Sumlin is the real deal, and he has a team here that could very easily win the Conference USA, and perhaps make more noise than that.
Michigan
I am a diehard Michigan fan, so it's not a surprise that the Wolverines are on this list of mine. They make my list every year and will continue to until they finally have a season that doesn't make my soul hurt.
There is a whole lot of work to do here, but there are a lot of reasons to be optimistic about the team.
First, Denard Robinson is at the helm. He's an extremely good quarterback, and he made a major step forward from his freshman year to his sophomore season, so it seems reasonable that he could take another step forward here.
Second, everyone believes in Brady Hoke. A big part of the problem the last couple of years is that Rich Rodriguez was fighting so many battles at once that he couldn't focus on the game, and the team had to sense that. Hoke leads a unified team now, and his players are buying into what he is selling in a big way. That kind of attitude can have a big impact on a team.
Third, the defense can't help but be better than it was last year. It was impossibly bad last year, but a new staff, some personnel returning from injury and some nice incoming talent should make the defense improve. They won't be elite, but even average would be a major improvement.
Fourth, they have a place kicker. Last year they really didn't.
Finally, the 2011 Michigan Wolverines football schedule has them in prime position to compete. They play their toughest opponents at home, they don't play Wisconsin, the nonconference season is winnable, and they can gain momentum with a soft early schedule.
The futures odds suggest that people are pessimistic about this team. That's probably smart, but there is a solid chance that these guys will surprise.
Virginia Tech
On paper the Hokies don't have the talent to be an elite team this year -- it's a transitional season. When you look at the 2011 Virginia Tech Hokies football schedule, though, you realize that this is a team that could step way above what they should be capable of. Their first four games are simple if they are focused -- unlike James Madison last year. Clemson and Miami have to travel to Blacksburg, and there are big questions are around both teams. The toughest game is a trip to Georgia Tech on Nov. 10. As incredible as it seems given their talent, if they win that game there is a decent chance that this team could end the regular season at 12-0.
They would be the least dominant 12-0 team from a major conference in a long time, but they could pull it off, and given their tradition and their coaching staff it's hard to totally discount the possibility.
It's all ultimately going to come down to whether a leader cam emerge on defense, but with essentially a four-game preseason before things get tough, they will have lots of time to get ready and comfortable.