College Football Predictions: Who Replaces Jim Tressel at Ohio State?
by Alan Matthews - 5/30/2011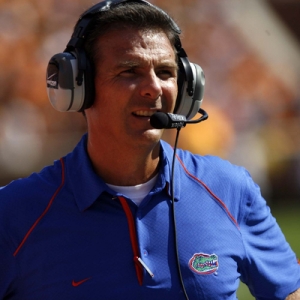 The college football world shifted on its axis on Monday when Ohio State announced it had accepted the resignation of Coach Jim Tressel in the wake of Tressel's cover up of NCAA infractions by some of his players. And it seemed something new leaked out about the program almost daily. So the Buckeyes brass essentially forced Tressel to quit – with all the negative publicity he probably would have been fired regardless even though Tressel was supported by his athletic director as recently as two weeks ago at the Big Ten meetings.
So now one of the Top 5 jobs in college football is open – well, not technically open yet. Luke Fickell, the OSU defensive coordinator, will replace Tressel for the entire 2011 season. He was already set to take Tressel's spot for the first five games in which Tressel was suspended for this season. But no offense to Fickell, a former Buckeyes nose tackle, but this job is likely too much of a plum gig for him to start his head coaching career there. In an email announcing Tressel's resignation to students, school president E. Gordon Gee said that "recruitment for a new head coach - which is expected to include external and internal candidates - will not commence until the conclusion of the 2011-2012 season."
Barring a national title run this year, Fickell is just keeping the seat warm. Already the TV talking heads are speculating on who replaces Tressel after this season. And the books have followed suit with odds said person. And the first name on any list is former Florida coach Urban Meyer.
The two-time national championship winning coach of course stepped aside at Florida after this past season because of health concerns and to spend more time with his family. But Meyer is only 46 years old and never said he wouldn't coach again. He was born and raised in Ohio and started his head coaching career at Bowling Green before moving onto Utah and then Florida. He also was a graduate assistant at Ohio State under Earle Bruce. And while coaching at Utah, he had a clause in his contract that allowed him to leave if offered the job at Notre Dame, Michigan or Ohio State. In the book Meyer wrote in 2008, he said that Notre Dame, Ohio State and Michigan were the only coaching jobs his wife had no power to veto. And it doesn't appear that either the Notre Dame or Michigan jobs will come open anytime soon considering both have new coaches in place – Brian Kelly is in his second year with the Irish and Brady Hoke his first season in Ann Arbor.
Meyer has opened as the 3/2 favorite on Bodog to be the OSU coach for the 2012 season. There's also a 'yes/no' option prop on Meyer as the Buckeyes coach that year: 'yes' at 3/2 and 'no' at 1/2. Let's be clear here: This job is Meyer's if he wants it. He has probably already received some unofficial feelers from the school. It will simply come down to if he thinks he's healthy enough to return to coaching next season or wants to keep the much less stressful life of an analyst on TV. But if he wants to coach again the NFL will be knocking on his door too.
The second-favorite at 5/2 is a Stoops – just not the one you are likely expecting. While Oklahoma coach Bob Stoops, an Ohio native, probably will get a call, it seems rather unlikely he would leave an equally plum job at Oklahoma. The guy I'm speaking of here is Florida State defensive coordinator Mark Stoops, a Youngstown native who played collegiately in the Big Ten at Iowa. He was a high school coach in Ohio as well. The question is whether he's a big enough name to satisfy Buckeye Nation.
Next on the list is Jon Gruden (3/1), who of course led the Tampa Bay Bucs to the franchise's lone Super Bowl title. Gruden has been mentioned with almost every high-profile job – Michigan, Notre Dame, Miami, to name a few – but has always said he's happy in the broadcast booth. Gruden is a native of Sandusky, Ohio, and attended and played at the University of Dayton. But he also has never been a college head coach. Plus, Gruden could probably have his pick of any open NFL jobs after this season, and even though OSU can pay big bucks (no pun intended) it can't match what an NFL job would pay.
Then there's Nebraska's Bo Pelini at 10/1. He's also an Ohio native and played safety at Ohio State. And Pelini's specialty is defense, which seems to be a prerequisite at OSU. But would Pelini take what is essentially a lateral move in the same conference? Nebraska's program might be in better shape right now than OSU's if the NCAA hammers the school, as many expect, for all its infractions.
Lastly there's Michigan State's Mark Dantonio at 12/1. He was a Tressel assistant at both Youngstown State in the late '80s and also at Ohio State from 2001-03. And while the MSU job is a solid one, it can't match Ohio State. But it might be awkward for Dantonio, like Pelini, to head to another school in the same conference. Plus, OSU might want to distance itself from Tressel, of whom Dantonio is a protégé.
I'd say the best "value" here is Mark Stoops, because he's the one guy on this list whom you know would absolutely jump at the chance for this job. The other four may have their reasons to not take it. But it's certainly Meyer's to lose.