Doc's Weekly Big Ten Predictions Report: Season Preview
by Doc - 8/16/2011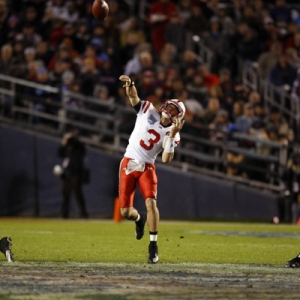 The Big Ten has a new look in 2011 with the addition of the Nebraska Cornhuskers into the Conference. This was a big addition to the Big Ten, as Nebraska has a huge national following and this will tune more people into the Big Ten Network. It will also allow the 12 teams to be divided equally into two six-team divisions and the two winners will be able to battle one another in Indianapolis for the Big Ten Championship and a berth in the BCS.
Now that we got the new details out of the way, let's get down to the meat and potatoes of the conference. Once again, this conference will anchor most of our college football picks this season, and I have spent the last few months researching the ins and outs of each of the 12 teams. With the departure of Coach Jim Tressel and QB Terrelle Pryor, most people, including myself, believe that the Buckeyes reign atop the standings will come to an end. As of this writing, they are still eligible to win the Big Ten but that may change in a couple of months as the NCAA Infractions Committee has yet to release their findings and penalties. Nonetheless, I believe that the coach and quarterback loss will be too much for them to overcome and that will open the door for someone else to win the inaugural Big Ten Championship Game.
So if not Ohio State, then who? The two favorites are Wisconsin (+175) from the Leaders Division and Nebraska (+150) from the Legends Division. Most experts believe that these two teams have separated themselves from their respective fields and they will meet the first night of conference play on Oct. 1, 2011. It is possible that these teams could meet again in Indianapolis and I would suspect that the loser of the first game would have an upper hand in the rematch since these are two similar teams.
Wisconsin signed the best free agent they possibly could in July when QB Russell Wilson picked them instead of defending National Champion Auburn. The Badgers were considered vulnerable at the quarterback position and many believe that this will solidify them at that position. I am not so sure about that and feel he will have trouble adjusting and that the major holes created by departing players that Wisconsin has to replace will be tough for them to overcome. The Badgers had two first round selections in the 2011 NFL Draft and numerous others were drafted in the later rounds. Bucky will get tested early with a game against Nebraska at Camp Randall than they have back-to-back road games starting Oct. 22 at Michigan State and Ohio State. It will be interesting to see how they survive this brutal four-game test to open Big Ten play.
Turning our attention to the Legends side (saying Leaders and Legends never gets old), the Nebraska Cornhuskers appear to be the team to beat by a wide margin. That being said, they were not given any favors by the schedule makers, as their three crossover games on the Nebraska football schedule are against Wisconsin, Ohio State, and Penn State. I doubt the Huskers will be able to run the table, but come December I believe that they will be hosting the trophy and marching onto the Rose Bowl in Pasadena, Calif. Here are my Big Ten predictions on how I think the conference will shake out by December.:

Leaders Division (Big Ten record in parenthesis)
Wisconsin Badgers 9-4 (5-3)
Illinois Fighting Illini 9-3 (5-3)
Purdue Boilermakers 9-3 (5-3)
Penn State Nittany Lions 9-3 (5-3)
Ohio State Buckeyes 7-5 (4-4)
Indiana Hoosiers 3-8 (0-8)
Wisconsin wins tiebreaker to advance to Big Ten Championship Game

Legends Division
Nebraska Cornhuskers 11-2 (6-2)
Northwestern Wildcats 9-3 (5-3)
Michigan Wolverines 8-4 (5-3)
Michigan State Spartans 8-4 (5-3)
Iowa Hawkeyes 4-8 (2-6)
Minnesota Golden Gophers 4-8 (1-7)
Big Ten Championship Game – Nebraska over Wisconsin. This championship result is reflected in both of these teams overall record.
Over the next couple weeks, I will be examining all 12 Big Ten teams and this will give you the opportunity to read my mind about certain games when it may be advantageous for you to play for or against each team. Be sure to check back daily for team previews on each of the 12 teams. This is my 40th year in the sports handicapping business and I cannot wait for this season to begin. We really caught fire during the second half of the season and won our Big Ten Game of the Year, our College Game of the Year, and our NFL Game of the Year in 2010. We are looking to keep the winners coming to start the 2011 season and we look forward to having you aboard.