Edmonton Oilers NHL Handicapping: Biggest Surprise in Hockey
by Trevor Whenham - 11/11/2011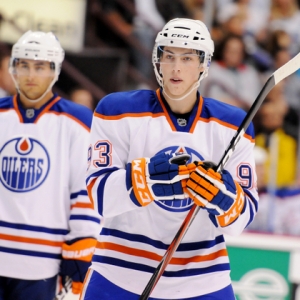 The Edmonton Oilers are the biggest surprise of the young NHL season. After years of futility that made them the doormats of the Western Conference they are leading the Northwest Division, and are within two points of the best record in the whole league.
We knew that Edmonton was going to get better soon — they have loaded up on great draft picks over the last few years, and are on the same path to respectability that Chicago just followed, and Colorado and Pittsburgh did before them.
At this point, though, they are far ahead of schedule.
The question, of course, is whether they can sustain this improvement, or if they are likely to start playing significantly worse than they are now. Here's a look at six factors to help figure that out:
Youth
This team is absolutely loaded with amazing young talent. The last two No. 1 draft picks — Ryan Nugent-Hopkins last year and Taylor Hall the year before — both play for the Oilers. They are both wildly talented offensive players, and they have already shown that they have great chemistry together.
The third player on their line, Jordan Eberle, was only the 22nd overall pick in 2008, but he blossomed after being picked and was the Junior Hockey Player of the Year in Canada in 2010.
That's not the end of the talent, either — in 2009 Magnus Paajarvi-Svensson was a Top-10 pick as well. He hasn't yet blossomed like the other three, but he has piles of offensive upside.
The youngsters — and especially the big three — have been playing very well right now. Nugent-Hopkins in particular has been spectacular, and it's all the more remarkable considering he looks like he is about 12 years old.
I have absolutely no doubt that this is the core of a team that is going to threaten for Stanley Cups in the near future. The pressure on them now, though, is intense.
Hall and Eberle have been through one season, and they both wore down by the end. Nugent-Hopkins is only 18 and new to all this. He's also not big enough to handle the grinding physical pressure he will face yet.
While this youth is Edmonton's biggest asset going forward, it will likely be somewhat of a limiting factor this year. I think Edmonton can be in the mix for a playoff spot, but one of the bottom ones, not one of the top seeds like they are chasing now.
Defense
This team is impossibly deep up front, but their defensive strength is a step behind. Some of that is also youth that will grow into itself, but they lack a talented piece to put it all together.
Luckily, they have some offensive pieces outside of the core that they could trade, and they could probably afford to trade draft picks as well for the right player. This needs to be addressed, but it's not a big concern that it hasn't been yet.
Home record
Edmonton is 6-1-1 at home. Their stadium is old and outdated, but it gets very loud, and Oilers fans are rabid and starved for a return to glory after the past rough years.
Edmonton has long been a rough place for teams to visit because of the weather, but it is going to get even harder because of the crowd. That crowd will be a huge factor for the success of this team.
Coaching
Head Coach Tom Renney is a good fit for this young team. He had a ton of success in his one stint in junior hockey, and he has done well with young players previously in Vancouver and the Rangers. He's an asset to the team in their progress.
Captain Canada
Ryan Smyth is the most popular Oiler in the post-Gretzky-and-Messier era. He's also one of the more successful international players Canada has had, and a true leader.
He left the team after 12 years in 2007 and played with the Islanders, Avalanche, and Kings, but he was never the player he was in Edmonton.
In the offseason he was traded back to Edmonton, and he was greeted like a hero. He has played like one, too, providing the grittiness and intensity that the team needs. He's also providing a huge amount of leadership for the young players.
Smyth is a perfect counterpoint to the youth on this team. He's not the most talented player on this team anymore by a long stretch, but he's the most valuable.
Division
Vancouver is off to a very slow start, but that's expected after the heartbreak of their Stanley Cup Final last year. They are going to get better, and that will make things harder for Edmonton.
Minnesota is performing about as expected, but Colorado and Calgary will probably both improve as well.
The division is going to get tougher and the conference is tough and deep as well. Edmonton is likely to take a step backwards as the year progresses, not because of what they do, but because of the teams around them.
Doc's Sports is on a 7-2 NHL picks run that has helped $100 bettors make more than $1,700 and we have a 5-Unit NHL Game of the Week going on Friday – Click Here to get this pick for just $30. Also, check Doc's Advisory Board page for free NHL picks throughout the week.