Five Betting Tips For Handicapping Big Ten Football
by Taylor Jordan - Strike Point Sports - 8/18/2011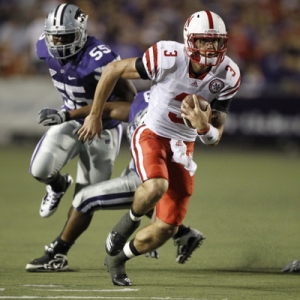 For as much criticism as the Big Ten seems to have received for their play in big games in recent years, the league is still a proven commodity. It has grit and its own personal swagger. But more than anything it has tradition – just don't cite the newly and pretentiously coined 'Legends' and 'Leaders' division names as proof of that.
The Big Ten is also a fertile ground for college football handicappers to make a buck. So here are five college football betting tips for handicapping the Big Ten this 2011-12 season:
1. New Kid On The Block
Welcome to the party, Nebraska. And it might not take the Cornhuskers long to stake their claim among the top programs in the conference.
Nebraska's physically imposing style of play will suit them well in this blue-collar league. Their big boys up front on both sides of the ball will do wonders in the transition to the style of ball the Big Ten employs. Actually, they might find it welcoming and more appealing than dealing with the likes of Oklahoma, Oklahoma State and Texas Tech and the pass-happy attacks of the Big 12.
It also helps that the Huskers will host both Ohio State and Michigan State in Lincoln. A trip to Wisconsin will be a clash of the best two teams in the league. But I give Nebraska the edge this year because it will be easier for them to adjust to unfamiliar teams than it will be for the rest of the league to get used to its new member.
2. Is Michigan Going To Play Defense?
It is a simple question, but one that has to be asked. Quite simply, last year the Wolverines, behind the absolutely pathetic Greg Robinson (hired by former head coach and friend Rich Rodriguez), displayed some of the worst tackling and defending I have ever seen. It was hopeless.
New coach Brady Hoke brought in Greg Mattison, former D-coordinator of the Baltimore Ravens. Mattison is another Michigan Man who will look to bring his passion and pride to his Maize and Blue. I was a firm believer Michigan had plenty of talent and never should have been as terrible as they played defensively last season. For me, it was purely schemes and tactics. How much can be fixed in one year? Keeping teams out of the end zone is going dictate Michigan's season, and you may find some value on this team playing 'under' this year against some still-inflated totals.
3. Is The Title Game Matchup Already Set?
The Big Ten title game is going to feature Wisconsin and Nebraska. Or is it?
Answer this: where's the depth in this league? I am struggling to see the legit contenders beyond the top two favorites for the league crown. Ohio State isn't going to be as big a mess on the field as it was off the field this past summer. But to that point, a natural decline is evident when you lose your head coach and face of the program, as well as your top playmaker in Terrelle Pryor. Michigan and Michigan State are going to be threats, but they both lack the necessary pieces to be considered true challengers. The likes of Penn State, Northwestern and others will fight to earn bowl bids, but there isn't exactly strength in numbers to generate a huge title game argument beyond the notable few.
I think that this will not be a top-heavy league. There are two very good teams, two very bad teams, and then a whole lot of teams in the middle. I am looking for a lot of upsets and a very wide-open field, but in the end the value will be on finding whichever team is going to come up a close second to the top programs in each division.
4. Who Is The Real Penn State?
Joe Paterno is still patrolling the sidelines in Happy Valley. And with the program's icon remaining in rare form for the foreseeable future there is always going to be more optimism than not. That's especially true when you consider the Penn State football schedule.
But what will the 2011 version of the Nittany Lions look like? Last year was average to say the least. A 7-6 record is good enough to earn one of the Big Ten's mediocre bowl spots, but it certainly wasn't good enough after Joe Pa and company thoroughly exceeded expectations two years ago to the tune of an 11-2 showcase, capping with a postseason win over the SEC's LSU Tigers in the Capital One Bowl.
Realistically, this season will be closer to the form of last year's results. Penn State, in its current form, seems to take care of business when it should. But when the Lions are matched up against superior competitions they resemble a middle-of-the-road Big Ten program. Penn State's schedule is back-loaded with a brutal three-game stretch to wrap up the regular season; hosting Nebraska and then games on the road against Ohio State and Wisconsin.
If there is a chance to optimize these Lions from a betting standpoint, it's going to be early. A trio of potential wins in early October against the likes of Indiana, Iowa and Purdue could at least set up some intriguing lines if they can vault themselves into the rankings before their clashes with the big boys. But don't look at the tradition of Joe Pa and Penn State; look at the reality that this isn't really that good of a team.
5. Is It The Big Ten Against The World?
As I mentioned, skeptics exist when comparing the Big Ten to the rest of the college football, notably in marquee bowl games on a BCS platform. Each nonconference portion of the new season is an opportunity to change the minds of doubters. And I expect them to have an even bigger chip on their collective shoulders this year.
This year, both Michigan and Michigan State get their annual shot at Notre Dame. Penn State hosts Alabama. Iowa has Pitt on the schedule, and Nebraska welcomes Washington.
While these games don't jump off the page or indicate anything special, they are worth mentioning. They offer tests outside of the league and an opportunity to score a win before clashing helmets against each other from October to December. How will college football oddsmakers view the Big Ten when stepping out of the conference, even if they are deservedly a favorite? And more importantly, where do you stand on your view of the Big Ten and your willingness to back them? I like to take a wait-and-see approach. But the success or failures they have in September could be a useful tool for handicapping this conference when college football bowl betting season rolls around.
Strike Point Sports is a professional handicapper for Doc's Sports. They are renowned for their college football success over the last half-decade and have earned the nickname "Mr. Saturday" for their incredible college football picks. Strike Point Sports is looking forward to another incredible college and NFL season and you can check out their Insider's Page here.