2011 Florida State Seminoles Predictions and College Football Futures Odds
by Alan Matthews - 8/16/2011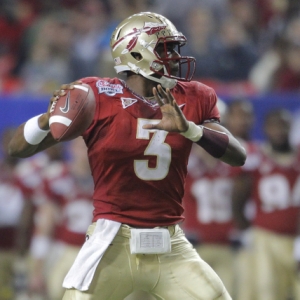 You may not find a more chic pick for a program set to join – or in this case rejoin – the elite of college football than with Florida State. With all due respect to the legendary Bobby Bowden, it appears the best thing FSU officials did was to gently push Bowden aside following the 2009 season. Last year, under Jimbo Fisher, the Noles won 10 games for the first time since the 2003 season. They played in only their second ACC title game, pretty well getting thumped by Virginia Tech, but then solidly beat SEC East champion South Carolina in the Chick-fil-A-Bowl.
Coaching
Some people were questioning Fisher in the first few years he arrived at FSU as Bowden's right-hand-man/offensive coordinator because the FSU offense was nothing special under the former LSU OC. But now Fisher is the toast of Tallahassee after routing rivals Miami and Florida last year, becoming the first FSU coach to win his first bowl game and landing the nation's top-ranked recruiting class in February and on the way to doing so again in 2012. Fisher's best hiring was easily bringing in defensive coordinator Mark Stoops last year as that unit was leaps and bounds better than in 2009.
Offense
Most teams that lose an all-conference quarterback who goes in the Top 15 of the corresponding NFL Draft would be concerned, but FSU might actually upgrade the position with E.J. Manuel this season. The dual-threat Manuel has shown signs of stardom while filling in for an injured Christian Ponder the past two seasons. Manuel was named the MVP of the Gator Bowl as a freshman in place of an injured Ponder and also replaced an injured Ponder in the Chick-fil-A-Bowl last season and completed 11-of-15 passes for 84 yards and a touchdown and had seven carries for 46 yards. He was 7-for-7 passing on the fourth-quarter touchdown drive that put the game away. Manuel does need to work on cutting down on interceptions as he has thrown 10 to six TDs in his few games of action.
Overall eight starters are due back on this unit. The other big departures are all-American guard Rodney Hudson and four-year starting center Ryan McMahon. In addition, WR Taiwan Easterling, who caught 43 passes and had five receiving touchdowns last season, decided to go play for the Chicago Cubs. Otherwise, everyone one of substance is back. There is no true star at either running back or receiver, but both units are very deep.
Defense
How much of an impact did Stoops have last year on this unit? It improved from last in the ACC and 118th nationally against the run in 2009 to sixth in the league and 29th nationally last year. Overall eight starters are back, led by Brandon Jenkins, one of the top defensive ends in the nation; the junior had the most sacks in the ACC in 2010. The secondary defense was a weak point for the Noles last season, surrendering an average of 225 passing yards and a 58.3 completion percentage per game. But all four starters are back and keep an eye on stellar corner Greg Reid, who is also a terrific return man.
FSU is known for its kicking – and not in a good way: just say "Wide Right" if you ever want to inflame a Noles fan. But both returning placekicker Dustin Hopkins and punter Shawn Powell should be among the best in the ACC.
2011 Florida State Seminoles Football Schedule Analysis
You look at FSU's first two nonconference games and you are tempted to shake your head and call the Noles a bunch of wimps. I mean, Louisiana-Monroe and Charleston Southern? But FSU deserves those two scrimmages because the game of the early season arrives in Tallahassee on Sept. 17 when preseason No. 1 Oklahoma visits. Last year the Sooners embarrassed FSU, 47-17, in Norman in a game in which Ponder was terrible. You can bet that FSU is already preparing for OU, and the Seminoles already have caught a break in that top Sooners linebacker Travis Lewis has a broken foot and will miss that game barring a miracle. The week after Oklahoma is a tricky game at Clemson as FSU hasn't won at Death Valley since 2001. But other than that, every tough ACC game should come at home for Florida State. And as usual, the Noles close with Florida – this year in Gainesville.
2011 Florida State Seminoles College Football Futures Odds
On Bodog, FSU's 'over/under' regular-season win total is 10, with its national title odds at 10/1 (behind only Oklahoma and Alabama). On WagerWeb, FSU is a big -325 favorite to win the ACC Atlantic and also favored slightly over Virginia Tech at +150 to win the conference title game.
2011 Florida State Seminoles College Football Predictions
This could be a national title team depending on that Oklahoma game. That will be must-see TV, no doubt about it. The only other home game I think FSU has a chance of losing is vs. Miami. It's usually never easy to win in Gainesville, but that wasn't a problem for three SEC teams last year. Last year's win over Florida ended a six-game skid for FSU in the series. I believe FSU lands right on 10 wins and does indeed win the Atlantic. If Manuel gets hurt, there's nothing behind him so then all bets are off. But barring that, take FSU to win the ACC as well and return to a BCS bowl game – just not the big one quite yet.
Doc's Sports is set to embark on their 40th year in the sports handicapping business this football season. Yes, Doc started the company back in 1971 and still spends his weekends in front of the TV watching numerous games throughout the day. We are again expecting a monster season in college football anchored by our weekly selections from the Big Ten Conference. Our main office is located right in the heart of Big Ten Country and each year we fully expect to hit 2 out of every 3 college football picks we release from this conference. Jump on board now with a full season football picks package from Doc's Sports!