2011 Georgia Bulldogs Football Predictions and SEC Futures Odds
by Robert Ferringo - 7/19/2011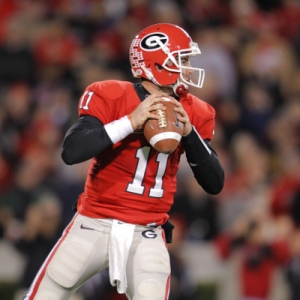 The Georgia Bulldogs have an eight-day season.
Not eight games: eight days. Because in the eight days between Sept. 3 and Sept. 10 we're going to find out just about everything we need to know about how the Georgia season is going to go.
Bulldogs coach Mark Richt is entering his 11th season leading the Dawgs. However, after back-to-back disappointing years the natives have grown restless and he will likely be coaching for his job this fall.
Coaches on the hot seat are nothing new in this racket. But what accelerates the situation is the fact that Georgia's two biggest games of the season – both in the nonconference and conference slates – come in the opening two weekends. They square off with Boise State in the Georgia Dome on Sept. 3 and then host SEC east rival South Carolina in Athens the next weekend.
If the Bulldogs manage to sweep those two games, the rest of the schedule falls into place very well and they could be looking at 10 wins and a shot at a BCS bowl game. If they lose both games then the local fan base should be whipped up into such a frenzy that an early or mid-season firing wouldn't be completely out of the question. Either way, the constant speculation about Richt's future will be a major distraction and could undercut the entire campaign.
I can't think of another team in the nation that, realistically, has such extreme best-case (BCS bowl game) and worst-case (early season coach firing and program bedlam) scenarios staring them in the face right off the bat.
Here is Doc's Sports 2011 Georgia Bulldogs college football predictions and preview:
Coaching
It is not a surprise that things get hot down South. But no one has as much heat on them as Richt right now. After an ugly 6-7 season, capped by a 10-6 loss to Conference USA rep Central Florida in a third-tier December bowl, Richt is coaching for his job.
He's been excellent in Athens, going 96-34 in his 10-year career with Georgia and sporting a 55-28 SEC mark in that time. But a 14-13 record the last two seasons, a slew of off-field incidents from his players over the past few years, and the failure of the Bulldogs program to get a bite of the national championship apple that is seemingly being passed around the SEC over the last six seasons all have the vultures circling. His two top assistants,
Mike Bobo and Todd Grantham (who is the third-highest paid assistant in college football) both return.
Offense
Sophomore quarterback Aaron Murray was a first team freshman all-American last year and is the linchpin in this attack. Murray was incredibly efficient last season (154.5 rating) and had a 3-to-1 touchdown-to-interception ratio. It is vital that he avoids a sophomore slump and that he continues to build on last year's success.
Georgia saw its running back depth chart depleted this offseason as Washaun Ealey left school and Caleb King was ruled ineligible. That is going to add more pressure to freshman Isaiah Cromwell, who is among the highest rated and most hyped recruits in the country. He will be thrown into the fire early and could be Georgia's most talented skill player. Second team all-SEC tight end Orson Charles and wideout Tavarres King are both three-year starters, but the passing game is going to be hurt immensely by the loss of stud wideout A.J. Green.
So the skill positions have some high-risk, high-reward guys. But a major issue facing this team is their terrible offensive line. They have only 13 linemen on the roster and five of them are freshmen. They lost their best lineman, Trinton Sturdivant, to an ACL tear (again) and transfers have depleted depth. So you have a sophomore quarterback and a freshman running back working behind a makeshift line. Not good. Last year's line was twice as experienced, but still performed below expectations.
How this year's line comes together will have a ripple effect on the offense, which will in turn impact the defense, which will in turn dictate how the season turns out.

Defense
They are in the second year of a transition to a 3-4 base and this year it's imperative that Grantham earns his fat paycheck guiding this group. Georgia's new alignment will help them better defend the spread offense. But it remains to be seen how they can hold up against power running teams (and primary SEC threats) South Carolina and Alabama.
The bad news for the Bulldogs is that they lost their two best defenders (Akeem Dent and Justin Houston) to the NFL. Georgia only welcomes back 11 of its top 20 tacklers and they head into the season with just two senior starters. They were often pushed around at the point of attack and finished just No. 56 in the country in rush defense.
The good news is that the Bulldogs were actually better defensively than people realized last year. Despite a massive overhaul to the system, they were No. 36 in the nation in scoring defense and No. 23 in total yards allowed. That's not bad for a team that finished the year 6-7. They should be even better now that they understand the schemes and Grantham has been able to add some personnel that will better fit the 3-4.
Perhaps the most pivotal player on this year's stop unit is JUCO transfer John Jenkins. The 340-pound nose tackle gives the Dawgs some much-needed size at the point of attack and allows last year's undersized NT, DeAngelo Tyson, to shift to end. Georgia also added USC transfer Jarvis Jones (assuming he remains eligible) and welcomes freshman phenom Ray Drew at linebacker or end. They need those three newcomers to be impact players.
Georgia returns all four starters from the secondary. Yes, that group was victimized for some stunning big plays at crucial moments last year. And you can point to their No. 5 ranking in SEC pass defense and say they were mediocre. But Georgia finished No. 17 in the nation in pass defense and having veterans back there will only help the defense find its footing early.
2011 Georgia Bulldogs Football Schedule Analysis
Georgia opens the season with a game against Boise State in the Chick-fil-A Kickoff Game. This game is being held on a "neutral" field in Atlanta, and that is obviously a big edge for the Bulldogs. But playing in front of the home crowd also ups the ante if they get beaten, and Boise was able to knock off Virginia Tech last year in Virginia on opening weekend. UGA and SEC pride (and maybe Richt's job) are on the line right out of the gate.
The Bulldogs then follow that up with a game in Athens against their primary SEC rival, South Carolina. The winner of that game will have the inside track for the division title and a trip to Atlanta for the SEC title game. If Georgia wins the opener they will bring a ton of momentum into that game against the Cocks. If they lose then that Sept. 10 SEC opener becomes an all-or-nothing affair for both the league title and Richt's position.
Beyond that opening gauntlet, Georgia actually has, by SEC standards, a very manageable schedule. They avoid LSU and Alabama out of the West, leaving just three games – vs. Mississippi State, at Tennessee and against Florida – as potential losses. But the Dawgs should be solid favorites against MSU and Tennessee and they have two weeks to prepare for the not-nearly-as-dominant-as-they-were Gators.
One potential downer: after a Sept. 17 home "game" against Coastal Carolina the Bulldogs have to play four of their next five games outside of Athens. That is countered by the fact that UGA only plays three true SEC road games and the fourth true "road" game on the schedule (they have six home games and two neutral site games) is in Atlanta against Georgia Tech, where the crowd will likely be 50-50.
2011 Georgia Bulldogs BCS and SEC Futures Odds
WagerWeb has the Bulldogs as the No. 3 favorite in the SEC East at 3-to-1. They are behind South Carolina and Florida. However, they are just 4.5-to-1 to win the SEC, putting them as the No. 4 team (behind UF, Alabama and LSU). Those SEC title odds are a reflection of Georgia's strong Atlanta fan base more than they are UGA's actual ability. Bodog has Georgia at 50-to-1 to win the national title.
2011 Georgia Bulldogs Football Predictions
If the Bulldogs lose to Boise State in Atlanta then the calls for Mark Richt's head will be deafening. Then if they turn around and lose to South Carolina, their main rival in the East, then it will send the fanatics into a frenzy that spirals out of control (coaches looking to jump ship or stab Richt in the back, players starting to mail it in for a lame duck coach, etc.) and it could cost them the year. That's a ton of pressure for a team that I wouldn't exactly call experienced.
But if Georgia catches a rush early and they win those two games then they should be off to the races. I expect them to drop one, potentially two of those other three games that I mentioned as "losable". But this team has more gimmes than an SEC team usually has on the schedule and they should close the year with no worse than a 5-1 run. Throw in wins against Coastal Carolina and Ole Miss (which I think they should get as long as the wheels haven't fallen off after the first three weeks), and that puts them at 7-1. That leaves four games – Boise, USC, Tennessee and Mississippi State – in the first five weeks that should determine Georgia's ceiling for the year.
I think that Georgia's best-case scenario is a split of the opening two games and a sweep of Tennessee and MSU. That would leave them at 10-2 (or 9-3 if they get upset somewhere else along the way).
But the worst-case scenario has them losing the first two games and things getting out of control. But even if that does happen this team's schedule shouldn't allow them to fall to worse than 7-5 and, more likely, 8-4. That's still a pretty solid year. But when you have the bizarre, overinflated expectations of delusional Georgia fans (sorry boys, but you guys are a second- or third-tier college program), that should lead to Richt getting the axe. It's going to be an extreme year for the Dawgs.
Robert Ferringo is an NFL and college football handicapper and is coming off an exceptionally profitable 2010-11 football betting season (college and pro). Over the last year his football picks clients have more than tripled their bankrolls with his predictions in all sports. He is looking forward to building on his stellar football handicapping resume again this fall and you can check him out here.