Horses That Can Win the Preakness Stakes
by Trevor Whenham - 5/13/2011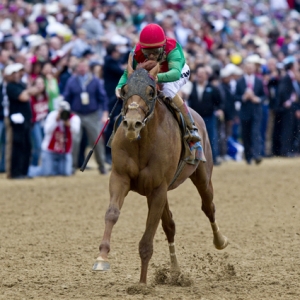 Animal Kingdom looked pretty good in winning the Kentucky Derby, but obviously not good enough to scare off the competition -- it looks like we'll see a full Preakness Stakes field of 14 horses on May 21 as the Derby winner tries to secure the second leg of the Triple Crown. Any horse can win any given race if things work out just right for them, but there are obviously some horses that just aren't that likely to succeed. Of the 14 likely starters you can only legitimately say that there are seven horses that can win the Preakness Stakes. Here's a look at each (Preakness odds are the early numbers from Daily Racing Form):
Animal Kingdom (2/1) - He can obviously win the Preakness because he proved he was the best of the class in the Derby, and none of the horses joining the trail here are any better than what he has already beaten. Make no mistake -- his was a very legitimate Derby win. None of his opponents had significant traffic issues and the pace was fair, so the only way he was going to win the race was by outrunning everyone else -- and that's just what he did. The distance isn't going to be an issue, and he was well rested going into the Derby, so he's physically capable of pulling it off. His lack of experience is a concern, but he'll be a legitimate favorite in this class.
Dialed In (5/1) - I couldn't have been more underwhelmed by Dialed In's performance as the favorite in the Derby. The pace didn't set up well for him, but instead of adjusting and showing some heart he just quit. A lot of horses would have quit as well, but the Derby favorite should be a special horse, and Dialed In certainly does not look special. That being said, when he does get his pace he has a dangerous closing kick, and he certainly can't be ignored here.
Mucho Macho Man (6/1) - The third-place finisher in the Derby ran a solid race that only added to the respect I had for him. He needs to prove that he is capable of beating good horses and not just finishing close to them, but he looks to have the class and the tools to compete. He's a young horse, too, so he'll get better quickly with more time. He was one of the horses I bet to win in the Derby, and he'll likely be one I bet to win here, too.
Dance City (12/1) - This horse was third in the Arkansas Derby last time out, and that race has proven to be the best of the big prep races this year -- Archarcharch was injured in the Derby so we don't know what he would have done, but Nehro finished second in both Derbies. His inexperience is a concern, but that's the case for a lot of horses this year. He has some class, and his breeding should be fine for the Preakness. He's trained by Todd Pletcher -- both a good and a bad thing in Triple Crown races.
Shackleford (12/1) - His near-win in the Florida Derby at massive odds seemed like a fluke. After a solid fourth place showing in Kentucky, though, he's undoubtedly a solid horse. He'll need to take a step forward if he wants to beat these horses instead of just chase them, and he'll need to get his trip and hope some others don't get theirs, but with luck and continued improvement he'll be a factor here.
Santiva (15/1) - His sixth place finish in the Derby was solid but not threatening. He needs to be better in this race. I expect him to respond very nicely to this reduction in distance, and we have certainly seen how good he can be -- though he hasn't won a race since November. His problems seem to be more mental than physical, but if he can focus he'll be dangerous.
Astrology (15/1) - It could be that I'm blinded by this horse because he wears the same colors and has the same trainer as Curlin -- the horse of his generation -- had. Despite a strong tendency to prefer second over first, though, I like this horse. His pedigree boasts a nice combination of classic stamina -- thanks to sire A.P. Indy -- and speed. He needs to run the best race of his career -- by a very wide margin -- in order to win here, but I wouldn't be as shocked as some if he did it.
Doc's Sports will have Preakness Stakes Picks for the 2011 Run for the Black-Eyed Susans on Saturday, May21. Doc has been studying the Preakness Stakes field since the Derby and we expect to bring in some very nice profits as the Preakness odds will yield great value. Preakness picks are only $20 and if you don't show a profit Belmont Stakes picks are free!