2011 Illinois Fighting Illini Predictions and College Football Futures Odds
by Trevor Whenham - 7/12/2011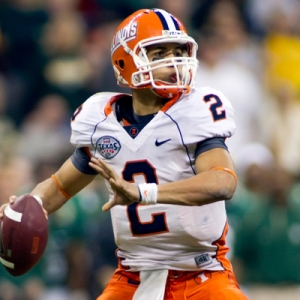 It has to be very frustrating to be an Illinois fan. After the Rose Bowl berth of 2007 things seemed like they were definitely on the right track, and the school has been recruiting well. The results just haven't been there, though.
They made a bowl game last year for the first time since the Rose Bowl, and they only finished 6-6 in the regular season. In short, this should be a much better team than it has been recently.
The pressure is on for them to be much better, and the conditions set up well for them. If they can't make another bowl game and improve on their performance of last year with this team and this schedule, then there is really something wrong.
Coach
Ron Zook is bad at coaching football. That's a harsh statement to make, but it is hard to argue against it. In six years at Illinois he has made just two bowl games, and he has a dismal 28-45 record overall.
He's never gotten any momentum going despite recruiting solidly – he's had a few stars over the years -- and playing the team at home or away doesn't strike fear into the elite teams in the conference.
Zook was on the hot seat in a big way heading into last season, but the bowl berth saved him. His seat will grow very hot this year if the team can't capitalize on a soft early schedule to get off to a strong start.
Zook has trouble keeping his teams focused late in games, and is far from the most strategically gifted coach in the country. I truly don't believe Illinois will ever reach their potential until they make a coaching change.
Offense
The offense returns eight starters, and QB Nathan Scheelhaase is a sophomore with a year of starting experience, so he is positioned to take a step forward this year. That's all good news for this offense, and it seems reasonable to be optimistic.
The one thing that isn't ideal is that running back Mickel Leshoure opted to enter the draft after a monstrous season last year instead of returning for his season year. His loss will be felt. As much as any player in the Big Ten -- his team's fortunes from game to game were heavily tied to how Leshoure played.
There are a number of returning running backs that could pick up some of the slack, but none have nearly the star potential that Leshoure had. Last year the offense was heavily built around the running game, and that took a lot of pressure off of Scheelhaase. Now he is going to be forced to carry more of the offensive load. He'll have plenty of veteran support to help him do that, but the success of the offense rides on his shoulders.
Defense
This unit had the potential to be extremely good this year. Unfortunately, they lost their two best players last year to the draft when they also decided to leave early. Defensive end Corey Liuget was selected in the first round, and linebacker Martez Wilson was a third-round choice, and both will be sorely missed in this defense this year.
Four of the front seven are gone, including the top three sack specialists. Last year that pass rush was strong, and that helped the Illini to be a strong turnover team.
The secondary is experienced and largely intact, but it was only a moderate secondary last year, so even if they improve with age they aren't likely to be a great unit.
The ability for the front seven to regenerate and recharge will determine what this team does defensively. Last year the defense faded badly in the last four regular season games, so the defense also needs to work on stamina and on being less predictable as time goes on.
2011 Illinois Fighting Illini Football Schedule
Illinois plays their first five games at home, and many of them could certainly be tougher, so they are well positioned to succeed. They have the real potential to start at 5-1 with those home games and the road trip to Indiana, and they must do that to position themselves for the tougher second half. They get to play Michigan and Ohio State at home, but both will be tough. That leaves tough trips to Penn State and Wisconsin and potentially easier trips to Purdue and Minnesota.
2011 Illinois Fighting Illini College Football Futures Odds
Here's all you need to know about how seriously the oddsmakers are taking this team right now — Bodog has odds for 48 individual teams to win the BCS Championships listed, and Illinois is not among them. They are part of the 'field' at 20/1. 5Dimes does have them listed, but at a huge odds of 210/1. 5Dimes also lists them as the ninth of 12 teams to win the Big Ten at 28/1, and as a distant fourth choice to win the horrifically named Big Ten Leaders Division at 11/1.
2011 Illinois Fighting Illini Football Predictions
This is going to be one of those teams that is good enough to beat some bad teams, but not good enough to beat any good ones. I expect them to start 4-2 or 5-1, with Arizona State being the only early opponent that I am not confident they can beat.
In the second half, though, I think 2-4 is more likely, with Purdue and Minnesota being the only opponents that they stand a good chance to beat. Barring a real surprise — which I am not anticipating — this team seems to be on track to finishing 6-6 or 7-5, with another meaningless bowl as their reward. I would really hope that that isn't enough for Zook to keep his job.
Doc's Sports is set to embark on our 40th year of handicapping college football. Doc is coming off a profitable season with his college football picks, including winning his Big Ten and College Football Games of the Year. Doc spends the hours during the week studying the college football odds and releases 6-8 college football plays per week including top plays (6-8 unit selections). Doc is ready to start the first week of September and our Magnificent 7 Packages gives you every college football selection that we make through the BCS Championship Game in January of 2012. Jump on board now with one of the best college football handicappers in the business.