2011 Iowa Hawkeyes Football Predictions and BCS Futures Odds
by Darin Zank - 7/25/2011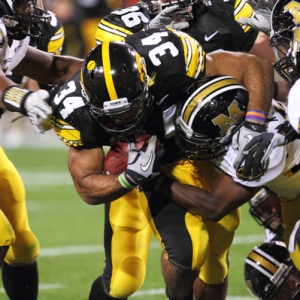 Coming off an 11-win season in 2009, which included an Orange Bowl upset victory over Georgia Tech, and with 14 starters back, many "experts" thought Iowa had a good chance to win the Big Ten last year. They had a senior at quarterback, a good running game, a very good defense, and most of their tough games were at home.
And the Hawkeyes started 5-1, with wins over Penn State and at the Big House. But then the law of averages began to catch up with Iowa. After winning a bunch of close games in '09, last year the Hawks lost to Wisconsin at home by one point, at Northwestern by four, by three at home to Ohio State, and, stunningly, by three at Minnesota. So Iowa ended up 4-4 in Big Ten play, and posted a -16 YPG differential in league play. The Hawkeyes managed to suck it up and upset Missouri in a minor bowl to finish 8-5, but the season has to be regarded as a disappointment.
Iowa also went 6-6 ATS last year, which is lousy considering they posted a +13 turnover ratio. And the Hawkeyes went 5-6-2 on the 'over/unders,' as Iowa games averaged 46 total points per game.
This year the Hawkeyes return just nine starters, the fewest in the conference. They lose their starting quarterback, their leading rusher, four of their top five receivers, and eight of their top 11 tacklers. So 2011 sure looks to be a rebuilding year in Iowa City.
Coach
Kirk Ferentz is the second-longest tenured coach in the Big Ten, behind only Joe Paterno at Penn State. In his 12 years in charge Iowa he has won 89 games and gone to nine bowl games, although the Hawkeyes still haven't played in the Rose Bowl since 1991. Ferentz has also managed to keep key members of his staff in place for most of his time here. And, importantly to our discussion here, Iowa is 70-49 ATS the last 10 years.
Offense
Only five starters are back on offense, as the Hawkeyes lose QB Ricky Stanzi, leading rusher Adam Robinson, and a good portion of the receiving corps. But they get back RB Marcus Coker, who ran for 219 yards in the bowl win over Mizzou, and three on the O-line. This unit ranked just ninth in conference play overall last year at 346 yards per game and ninth in rushing at 121 YPG, but they committed just five turnovers in Big Ten play, tied for fewest in the league. This year much will depend upon how quickly James Vandenberg, the projected new starter at QB, can produce.
Defense
Iowa returns only four starters on defense, with just one on the D-line, from a unit that ranked fifth overall last year in league play, allowing 362 YPG, and was No. 2 in scoring, giving up less than 19 PPG.. But this unit will lack experience, especially up front, and in the Big Ten, where most teams like to run the ball, that might be a problem. Look for Iowa to regress on defense this year.
2011 Iowa Hawkeyes Football Schedule
After a warmup with Tennessee Tech, the Hawkeyes go to Ames for their in-state rivalry game with Iowa State. They then host Pitt in an interesting interconference game, and UL-Monroe. The Big Ten slate starts in Happy Valley, which will be tough, before winnable home games vs. Northwestern and Indiana. Iowa will probably be favored at Minnesota, and they get Michigan and Michigan State at home. They then end the season with visits to Purdue and, in another intriguing matchup, Nebraska on the day after Thanksgiving. So the Hawkeyes don't have to play the two favorites in the Leaders Division, Ohio State and Wisconsin. Of their five road games, three are very winnable, but of their six home games three look very tough.
2011 Iowa Hawkeyes BCS Futures Odds
One sportsbook is offering the Hawkeyes at +800 to win the Legends Division and at +2,000 to win the Big Ten championship this season. Bodog is listing Iowa at 65/1 to win the BCS championship.
2011 Iowa Hawkeyes Football Predictions
With so many holes to fill, we're thinking the Hawkeyes are going to have a tough time contending for a spot in the inaugural Big Ten championship game, even with a favorable schedule. We won't be surprised if Iowa wins six or seven of its first eight games, but the home stretch will be tough. Eight regular-season victories might be the max for this team this season.
Doc's Sports is set to embark on our 40th year of handicapping college football. Doc is coming off a profitable season with his college football picks, including winning his Big Ten and College Football Games of the Year. Doc spends the hours during the week studying the college football odds and releases 6-8 college football plays per week including top plays (6-8 unit selections). Doc is ready to start the first week of September and our Magnificent 7 Packages gives you every college football selection that we make through the BCS Championship Game in January of 2012. Jump on board now with one of the best college football handicappers in the business.