Doc's Sports 2011 Michigan State Spartans Football Betting Preview
by Doc - 9/1/2011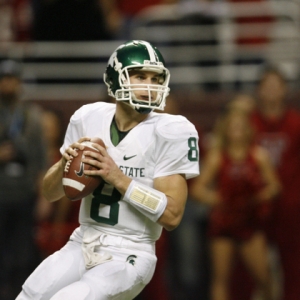 Predicted Record 8-4 (5-3 in Big Ten)
Click the link for the 2011 Michigan State Spartans football schedule.
The Michigan State Spartans have been the one team I can never seem to get a handle on when predicting what their record will be in the Big Ten. Over the course of the past 40 years, this team always seems to play to the levels of their opponent and not to the talent that they have on the team. This is probably the strongest team that Coach Mark Dantonio has had since his arrival in East Lansing, but I would be shocked if they would be able to match last season's 11-2 record. Michigan State has tough road games this year against Ohio State, Notre Dame, Nebraska, Iowa, and Northwestern to go along with home games against Wisconsin and Michigan. It is possible that they could lose any one of these seven and they will likely be an underdog in at least five of these games. That being said, the Spartans do have real talent and experience at the skill positions.
Regardless of their record, this team will be a force in the Big Ten and will be able to stay in most of their games.
Strengths: The Spartans have a solid returning quarterback in Kirk Cousins, who threw for more than 2,800 yards last year. Cousins should be one of the best quarterbacks in the conference and he will have all of his top running backs returning from 2010 as well. This may be one of the best running back groups in the country, and it would not surprise me if they have two 1,000-yard backs. The defensive line and linebackers should be outstanding as well with seven of their top eight players returning.
Weakness: As I mentioned earlier, the 2011 schedule for Michigan State is brutal. The linebackers are young and their biggest question mark lies on the offensive line. The Spartans must replace three offensive linemen from last year's Big Ten Championship squad.
Favorable Win Against the Spread: Oct. 22 vs. Wisconsin. The home team has won six straight in this matchup. However, most of those games have gone down to the wire. Look for Cousins and his ground attack to light up the scoreboard in this game. Wisconsin could be undefeated coming into this game and that will keep this line in check.
Favorable Loss Against the Spread: Oct. 29 at Nebraska. This looks to be the game that will decide who will win the Legends Division. The Spartans have a tough game with Wisconsin the week before and Nebraska is 5-0 lifetime against Michigan State.
Closing Thoughts: Once again this team could be really good or just average. The offense has to be very explosive since I do not believe that the defense will be able to stop very many people. But if this unit can put it together this team has the talent to be a Top-10 team in the country. In my opinion, I expect this team to go further than most experts predict.
Doc's Sports is set to embark on their 40th year in the sports handicapping business this football season. Yes, Doc started the company back in 1971 and still spends his weekends in front of the TV watching numerous games throughout the day. We are again expecting a monster season in college football anchored by our weekly selections from the Big Ten Conference. Our main office is located right in the heart of Big Ten Country and each year we fully expect to hit 2 out of every 3 college football picks we release from this conference. Jump on board now with a full season football picks package from Doc's Sports!