2011 Michigan Wolverines Predictions and College Football Odds
by Trevor Whenham - 7/14/2011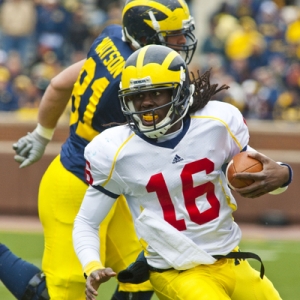 I live and breathe Michigan football. There is very little that is more important to me than this team. Needless to say, then, I haven't enjoyed the last three years much. There have been some bright spots — like the incredible emergence of Denard Robinson — but it generally has been a frustrating, depressing, horrifying era for the Maize and Blue.
I'm not necessarily in the camp that believes that all of the problems that the team has had are because of Rich Rodriguez — though he did do the worst possible job of hiring defensive coordinators. Still, there is no question that a change was needed by the end of his time, and that the attitude surrounding this team is more positive than it has been in years. Fans are believing in this team again, but early indications are that serious bettors aren't nearly as optimistic.
Coach
Brady Hoke. Watching Hoke in his new job has been very interesting. When he was first hired there weren't many fans that were excited. He was seen as a default candidate when Jim Harbaugh, Gary Patterson and Les Miles wouldn't come, and the hiring process was long and ugly. There was a lot of bitterness among the fan base.
Since taking the job in January, though, Hoke has worked wonders. He hired a great staff. He has won over the current players and the alumni. His recruiting has been fantastic — the class of 2012 is almost full already, and it is a very good class.
He hasn't coached a game yet, and he faces a lot of challenges, but right now he is taking all the right steps. Rodriguez was always fighting against the system, so it is very positive to see things working well again.
Offense
The good news is that Denard Robinson is still in Ann Arbor. He's a magical quarterback that still has a lot of room to grow. The challenge, though, is that he is going to have to adapt to a new offensive system — one that may not play as much to his speed and creative running.
The success of this offense, then, will rely on the ability of Robinson and OC Al Borges to work together. If they can get on the same page then there are nice pieces to work with. The offensive line is solid and the receiving corps is strong. There is a lot of depth at running back, but because Robinson has been so good on his feet a running back hasn't really emerged so far. That will have to happen this year. That's a concern, but there are lots of viable guys to choose from.
The worst thing that could happen for this offense is if the new staff tries to totally overhaul everything instead of crafting what worked so well last year into something even more effective and well-rounded.
Defense
The good news here is that the defense can't be any worse than it was the last couple of years under defensive coordinator Greg Robinson. He redefined incompetence.
Hoke made his biggest splash here when he lured Baltimore Ravens' defensive coordinator Greg Mattison to town as his DC. Mattison has instant credibility with his players as the guy who guided Ray Lewis and Ed Reed, so he'll certainly be listened to. He also knows his business.
The problem is that he doesn't yet have a whole lot to work with. There is no depth in the secondary, and uncertainty up front. Thankfully, nose tackle Mike Martin is as good as it gets, so there is a strong leader to build around.
It isn't going to be a great defensive year, but it will be a whole lot better than it was last year.
2011 Michigan Wolverines Football Schedule
A team that is trying to jump-start a rebuilding process couldn't have hoped for a better schedule. They play Notre Dame, Nebraska and newly-vulnerable Ohio State at home. None of their road games are impossible, and at least two are very winnable. Outside of Notre Dame the nonconference schedule is very soft. They don't have to deal with Wisconsin or Penn State. It's a nice schedule.
2011 Michigan Wolverines College Football Odds
Bodog has Michigan installed as a reasonable longshot to win the BCS Championship at 75/1. As much as I love this team, I don't see any value there at all. 5Dimes has Michigan and the seventh choice to win the Big Ten at 20/1, and the fourth choice to win the stupidly named Legends Division at 8/1.
2011 Michigan Wolverine Football Predictions
I'm torn here. On one hand I am very optimistic about the future of this team thanks to the quality of the coaching and the decisions that are being made. There is a whole lot that has changed, though, and the depth on defense is a real concern, so it is reasonable to expect some growing pains.
I see seven wins that are relatively secure, so the floor for this season is still an acceptable record and a bowl berth. Anything could happen in those other five games — Notre Dame, Michigan State, Iowa, Nebraska, and Ohio State — and I really expect the team to win a couple of those games. I would look at 9-3 as a reasonable target to aim for.
Doc's Sports is set to embark on our 40th year of handicapping college football. Doc is coming off a profitable season with his college football picks, including winning his Big Ten and College Football Games of the Year. Doc spends the hours during the week studying the college football odds and releases 6-8 college football plays per week including top plays (6-8 unit selections). Doc is ready to start the first week of September and our Magnificent 7 Packages gives you every college football selection that we make through the BCS Championship Game in January of 2012. Jump on board now with one of the best college football handicappers in the business.