NBA Handicapping: Hedging NBA Series Odds
by Nicholas Tolomeo - 5/19/2011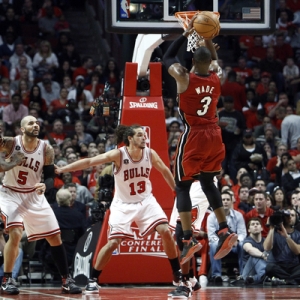 Best-of-seven playoff series provide the perfect opportunity for bettors to hedge. NBA playoff series offer a two-week stock market of sporting action with updated playoff series odds each day.
For those people not patient enough to hedge their NBA Finals futures with a game moneyline here or there or those not nimble enough to hedge game lines with halftime lines, series pricing offers the perfect compromise for hedgers.
The two ongoing NBA conference finals are a perfect example of the benefits and dangers of hedging. In the Eastern Conference the Chicago Bulls opened as a curious +160 underdog to the Miami Heat (-180) even though the Bulls were the top seed, home in Game 1 and favored in Game 1 by two points. The +160 price attracted a lot of money on Chicago while only the most ardent LeBron James supporters would likely be willing to lay -180 for a Heat team that was 0-3 against Chicago during the regular season.
The Bulls trounced the Heat in Game 1 on Sunday night. Shortly afterwards the Bulls were all of a sudden a -120 favorite to win the series and the Heat could be had at +110. And just like that, a hedge opportunity. For those who took the Bulls to win the series before Game 1, they could now ensure themselves a profit by taking the Heat. For most bettors this hardly seems worth it, but on larger scales, choosing between a +160 and +110 payout is a tasty proposition.
These moments are fleeting, though, as Bulls backers soon found out when the Heat evened the series up in Game 2.
Over in the Western Conference the Dallas Mavericks were pegged as -260 favorites in their series with the young Oklahoma City Thunder (+220). After a Dallas win in Game 1, the Thunder are now +300, an absolutely excellent value for a team who led Dallas 27-20 after one quarter on Tuesday night. The Mavericks are now -400, making them basically untouchable for smart bettors.
Because of the way momentum is constantly shifting in series as home-court swings back and forth, it is smart to look two and three games down the road constantly when deciding when may be the right time to hedge.