NBA Handicapping: Most and Least Improved Teams
by Trevor Whenham - 12/22/2011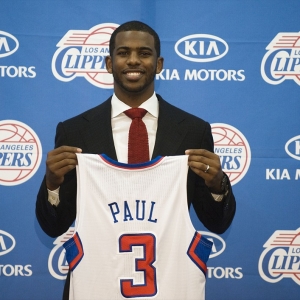 The NBA offseason has been short and crazy this year. Some teams have handled that chaos particularly well and are a far better team than they were last time we saw them. Other teams have crumbled under the pressure and are poised to take a step — or a giant leap — backwards.
Here's a look at three of each:
Most Improved
L.A. Clippers
You really can't argue about this one. Adding Caron Butler would have been nice enough, but Chris Paul was the jewel that was available, and the Clippers landed him.
The price was steep, and the Hornets are not nearly as gutted by the deal as you might expect after losing a player of Paul's caliber.
Despite the price, though, the Clippers came out ahead. Way ahead.
Paul and Blake Griffin have the chance to be a special combination for years to come.
More than just his skill at the point, what Paul has really brought to this team is swagger. For the first time in a long time — perhaps ever — the Clippers don't have to feel like the pathetic little brother that plays in Staples Center when the Lakers or the Kings don't need it.
They are a legitimate contender now, and that will have a huge impact on the players and the fans. It's like we have seen a whole franchise reborn in front of our eyes.
New York Knicks
Mike D'Antoni needs to win or he could be out of a job. He's a master at coaching offense, and this team will be able to score their share of points.
Where the coach doesn't shine, though, is on defense. He has clearly recognized that, because by adding Tyson Chandler to this team they have taken a massive step forward defensively.
Chandler is a winner, and was a big part of the reason why the Mavs won last year.
Now in New York he gives the dynamic duo of Stoudemire and Anthony the chance to really shine, and to give the top teams in the East a run for their money.
Without Chandler they were a playoff team but probably not more. With Chandler on board it would be a disappointment if they didn't host a first-round playoff series.
Minnesota Timberwolves
Unlike the other two teams this is not a championship contender. They are a lot better now than they were last time we saw them, though.
The first and perhaps most important move is that they hired Rick Adelman as their coach. He's a big-time coach, and he brings credibility and leadership to a team that needs it.
Adelman has some nice pieces and a whole lot of potential to work with.
In terms of additions this team has improved dramatically thanks to two very nice pieces. Ricky Rubio finally came over from Spain, so we get to see if he has a chance of matching the massive hype surrounding him. Derrick Williams was one of the best players in college ball last year at Arizona, and he has the pieces to be very special.
The Timberwolves are on a very nice path, and they'll take a nice step forward this year.
Least Improved
L.A. Lakers
By every measurement this offseason has been a disaster.
They lost Phil Jackson, and though Mike Brown can coach he's a poor substitute. The team failed to land either Chris Paul or Dwight Howard, haven't landed anyone of note in their place, and gave away Lamar Odom t a conference rival for practically nothing in a deal that looks totally moronic at this point.
Kobe Bryant is already banged up, he's spoken about the decisions that have been made, and now he's facing the circus of a very public divorce — one that he will get very little sympathy for.
They are still a good team, and could arguably still be the best team in L.A., but a team that wasn't good enough to go all the way last year certainly needed to do more than they have done.
Phoenix Suns
I'm a huge Steve Nash fan. Nash is getting old, though. Grant Hill is almost as old. At this point, though, it seems like the only strategy for helping those guys or replacing them is by being bad enough this year to get a Top 5 pick in what should be a very strong draft.
They lost far more than they gained, and it's hard to imagine how this team will be competitive, or how they will make the local fans feel anything other than total boredom.
Dallas Mavericks
It was not the offseason you want to have after winning a title in such impressive style. They certainly didn't manage to carry the momentum into this season.
Caron Butler was an important part of the team until he was hurt. J.J. Barea and Tyson Chandler were both playoff heroes who were integral to the win. Now all three are gone, and they don't have anything to show for it.
The theft of Lamar Odom helps a bit, but this team has still taken a solid step backward from where they were, and it will be even harder for them to repeat than it would have been if they had been perfectly healthy and intact.