NBA Picks: Clippers at Warriors Odds and Betting Picks
by Alan Matthews - 12/19/2011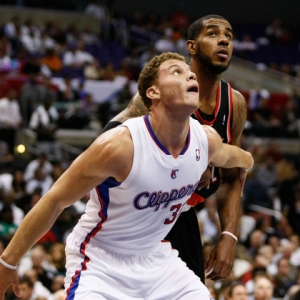 We are treated to a highly-anticipated debut in the NBA nightcap on Christmas night as … Mark Jackson makes his debut as Golden State's head coach (10:30 p.m. EST) against the Los Angeles Clippers. Jackson, the long-time NBA point guard, replaces Keith Smart, who was dumped after the Warriors went 36-46 a year ago.
Oh yeah, some Chris Paul guy also plays his first game for L.A.
Even before the Clips got Paul, the fact they were scheduled to play on the national Christmas stage shows how far they came last year and how exciting they have become behind reigning NBA Rookie of the Year Blake Griffin. No one showed up on more SportsCenter highlights or YouTube NBA clips last year than Griffin.
Any list of the Top 10 dunks of last season has to include at least a few of Griffin's -- No. 1 has to be his throwdown over the Knicks' Timofey Mozgov last November that really put Griffin in the national spotlight. If you are curious, Griffin dunked 214 times last year, which was 13 behind leader Dwight Howard.
So far this offseason, the Clippers have been the story of the league in getting Paul from the Hornets for the heavy price of star shooting guard Eric Gordon, disposable center Chris Kaman, second-year forward Al-Farouq Aminu and the unprotected 2012 first-round pick of the Timberwolves.
Gordon will be missed after he averaged 22.3 points last year, but there are only so many franchise players in the league and the 26-year-old Paul is one. The four-time All-Star averaged 18.7 points and 9.8 assists last season, his sixth in the NBA. He will be a Clipper at least through next season.
Clippers at Warriors Betting Story Lines
The Warriors almost stole one of L.A's key components, signing center DeAndre Jordan to a four-year, $42.7 million offer sheet before the Clips matched as was expected. While that's seemingly too much money for a guy who averaged just 7.1 points and 7.2 rebounds in 25 minutes a game last year, the 6-foot-11 Jordan is about as athletic as Griffin and the two are very close – the Clips want to make Griffin as happy as possible so he re-ups when it's his turn.
Jordan, who was third in the NBA in dunks last year by the way, has been called an emerging Tyson Chandler-type. He and Griffin will be on the end of dozens of Paul alley-oops.
The trade of Gordon left a gaping hole at shooting guard, but the Clips are hoping that Chauncey Billups can slide over from the point and play there. Billups was claimed off waivers when the Knicks used the amnesty clause on him. L.A. also has Randy Foye at No. 2 but could still make a move or trade to upgrade there if it's clear Billups can't handle playing off the ball.
The Clippers also added Caron Butler this offseason as a free agent and he will slide right in and start at small forward.
It has been a frustrating offseason for Golden State, which desperately wanted to address defense through a big man. The Warriors lost out not only on Jordan but also Chandler, who went to New York. So instead they signed Kwame Brown to back up the most offensively challenged center (if not player) in the NBA in Andris Biedrins, who was an amnesty candidate before that was used on Charlie Bell.
Golden State does have high hopes for a breakout season from second-year forward/center Ekpe Udoh. So as things stand, the Warriors will score thanks to their excellent backcourt of Monta Ellis and Stephen Curry but not stop anyone. Golden State was No. 27 in the NBA in points allowed last season and might be lucky to finish that high again.
In an effort to shake things up, Jackson has said he'll get the 6-foot-3 Ellis some touches on the block, and the coach has given power forward David Lee carte blanche to take open three-point shots. Lee, a 6-foot-9, 250-pounder, has made only 1-of-16 three-point attempts in his six-year NBA career.
But really the best move the team made this offseason was hiring former Lakers architect Jerry West as a consultant.
For what it's worth, the Clippers and Warriors split four meetings last year, each winning both at home. Griffin had one of his best games of the season in the final meeting, a 113-109 L.A. win on Jan. 22. He had 30 points, 18 rebounds and eight assists to become only the third rookie to have at least 30-18-8 in the same game since the ABA-NBA merger (the last was Grant Hill back in 1994-95).
In the four games vs. the Warriors, Griffin averaged 23.8 points, 13.3 rebounds and 4.3 assists, all a bit above his seasonal averages. Golden State's Curry averaged 19.8 points and 5.5 assists in the four games, while Ellis, the team's leading scorer a year ago, averaged 18.8 points and 6.8 assists.
This is the second year in a row that Golden State has played on Christmas night. Last year the Warriors beat Portland, 109-102, to snap a six-game losing streak on the holiday. That was Golden State's first-ever home Christmas game
By the way, if you watch all five Christmas games, the announcers may sound familiar in this game. ESPN's lead NBA team of play-by-play announcer Mike Breen and analyst Jeff Van Gundy is planning to call two games. They'll start the day in Dallas for the NBA Finals rematch with Miami, and then get on a plane to the Bay Area to call the debut of their former colleague Jackson.
Clippers at Warriors Betting Odds and Key Trends
Los Angeles opened as a 1.5-point favorite with the total at 215.5 on NBA odds.
The Warriors were 40-41-1 ATS overall last year and 22-19 at home. The Clips were 37-44-1 ATS overall and 17-23-1 on road. 'Over/under' records: LA 41-40-1, GS 36-46.
The 'over' hit in two of the four meetings between these two last year. Golden State covered three of the four games (both at home).
Clippers at Warriors Betting Prediction
For all the steps the Clippers took last season, they still had one of the worst road records at 9-32. And Golden State was a very solid 26-15 at home.
The Warriors have pretty much the same cast back – other than the coach – while L.A. has to integrate three new starters in very short time. So I'm taking the Warriors here. I do think defense suffers with the short training camp, so also go 'over'.
Doc's Sports is offering our best price ever for a full season of expert NBA picks! If you purchase a full-season NBA package this week (for our lowest price ever of $499) you will get two free NBA handicappers to try out free for two weeks – after that two weeks you can pick from the three handicappers to continue on with or you can get a great deal on multiple handicappers. Click Here for more information.