NBA Picks: Mavericks at Thunder Game 3 Odds and Predictions
by Alan Matthews - 5/20/2011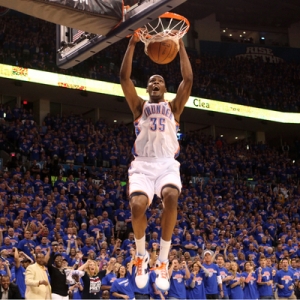 Well, for the first round of these NBA playoffs we won't have one series finish in a sweep. The Oklahoma City Thunder assured that with a very impressive 106-100 Game 2 win in Dallas on Thursday night. That was the Mavericks' first home playoff loss in seven games. And because the television networks rule what happens in the NBA, the Mavs and Thunder turn around and play 48 hours later. Meanwhile, the Chicago Bulls and Miami Heat played on Wednesday and not again until Sunday. It's all about ratings, baby!
Mavericks at Thunder Betting Story Lines
By far the story everyone is talking about from Game 2 and heading into this one is the benching of NBA all-second team point guard Russell Westbrook in the fourth quarter on Thursday. Young Thunder Coach Scott Brooks took a huge gamble that most veteran coaches wouldn't try. Despite scoring 18 points in the first three quarters, Westbrook was yanked after committing his fourth turnover (which it turned out wasn't even his fault) and first foul in the final minute of the third quarter. He was clearly agitated and had to be calmed by assistant Maurice Cheeks, himself quite a point guard back in the day.
Brooks never put Westbrook back in the game. Backup Eric Maynor never left the floor and was very good, scoring four points with an assist and no turnovers in the fourth quarter. And it's not like Westbrook was the only Thunder starter to sit down the stretch. Brooks played Maynor and reserves James Harden, Nick Collison and Daequan Cook along with Kevin Durant for all but 50 seconds of the fourth quarter.
In Game 1, Dallas' reserves outscored Oklahoma City's 53-22. In Game 2, the Thunder won the battle of the backups 50-29. It was the first time an NBA team got at least 50 from its subs in a postseason road playoff win since 2006. Harden and Maynor combined for 36 points and no turnovers on the night. The Dallas defense allowed OKC to top the 100-point barrier for the second consecutive game after not allowing 100 points in any of their its 10 playoff games.
Westbrook says he's "good" now with Brooks after his immediate anger. But you have to wonder if this will be a blow to the young star's confidence – certainly Westbrook will now be under the microscope if/when he struggles.
Meanwhile, for three quarters the Thunder did a great job on Dirk Nowitzki, who had a historic Game 1 performance. On Thursday, Dirk scored a game-high 29 points (on 10-of-17 shooting), but he had only five attempts through the 6:30 mark of the third period (and didn't score in that quarter at all) as the Thunder played him aggressively and forced the ball out of his hands. Nowitzki did score 16 in the fourth, however.
Mavericks at Thunder Betting Odds and Key Trends
Oklahoma City has opened as a 2.5-point favorite, with the total at 200.5, according to NBA odds.
OKC is 6-1 at home in the playoffs (4-3 ATS). Dallas is 3-2 on the road and is 4-0-1 ATS, covering the past four.
Dallas has covered 13 of its past 16 as a road dog of less than five points. But it is 1-5 ATS in its past six after allowing at least 100 points in the previous game.
OKC is 1-4-1 ATS in its past six after a win.
The 'over' is 4-0 in the Mavs' past four.
The 'under' is 5-1 in OKC's past six as a favorite of under five points.
The 'over' is 5-1 in the past six meetings.
Dallas has covered just four times in the past 15 meetings in this series.
NBA Picks: Mavericks at Thunder Predictions
Do you remember how everything went Chicago's way in Game 1 vs. Miami in the second half but then everything changed in Game 2? That OKC fourth quarter feels an awful lot like a similar "fluke." And even with all that bench help, the Mavs still were within 91-90 in the fourth quarter, and when Dirk gets the ball the Thunder obviously still don't have an answer. Plus the veteran Mavs know how to play on the road – they have that three-game current winning streak and tied the Heat for the NBA's best road record during the season.
My track record hasn't been great in these playoffs (well, the totals have been OK), but I just can't see Dallas losing two games in a row. So definitely take the points. And I don't think either team can stop the other, so certainly take the 'over'. I'd go with the 'over' on any of those Westbrook individual points/assists props too – I think he goes off to prove a point in Game 3. If he was a veteran he might just accept it and move on, but he's young and will want to show he is a star and deserves to be on the court at crunch time.
Doc's Sports has been dominating the NBA odds the last week and Doc's NBA picks has four of our last five plays. Our NBA handicapping has been known as one of the top in the nation and a one-day package is only $29 and we have a strong pick on Saturday for Dallas/OKC Game 3. Click Here to buy picks.