NBA Playoffs Predictions: Potential Upsets
by Trevor Whenham - 4/15/2011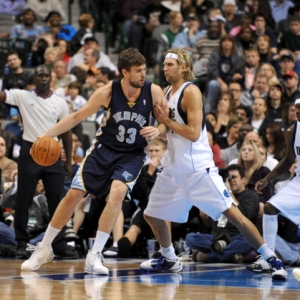 The NBA playoffs are usually pretty exciting, but in the first round they typically don't offer much for people who like big upsets. The gap between good teams and lesser ones is usually pretty wide, and top teams rarely get surprised. The No. 1 seeds have only been upset three times, for example. While upsets are rare they are too exciting — and potentially profitable — to ignore. This year's playoff picture seems relatively straight forward with some great teams and some underwhelming ones. As with most years I am not expecting a lot of upsets in the first round of the NBA playoffs, but there are a few that could happen. Here are three potential upsets that could happen this year:
Philadelphia over Miami — This is the least likely of the three upsets here, but it's the most likely in the East, and it's not as preposterous as it seems. Miami is unquestionably more talented and more explosive. There are a few things working in favor of Philadelphia, though.
First, Philadelphia is going to have overwhelming support in this one. No one outside of Miami wants to see the Heat do anything this year, so the Sixers could be boosted by the feeling that they are on a mission.
Next, the Heat are ridiculously streaky. Twice this year they have seen their game totally fall apart after good losing streaks. They lose confidence, they get frustrated, they bicker, and they are very vulnerable. If that starts to happen in this series it will be aided by the pressure these stars will inevitably feel to perform, and things could get really ugly.
Third, I really like two matchups that the Sixers can throw at the Heat. Andre Iguodala has the ability to frustrate King James, and if he can do that then James could find ways to get his frustration out that won't be constructive. For example, if James tries to take over the game himself then he's doing Philadelphia's work for them by minimizing the other two big stars.
I also really like the matchup of Jrue Holiday on Dwyane Wade. Holiday is so long and so intense defensively that he could frustrate Miami's guard. Finally, I really hate Miami's depth. Philly plays rough, and if they can bang up the Heat then things could really get interesting.
Memphis over San Antonio — There are two things to consider here. First, I really like this Memphis team. They are far from perfect, but I love their toughness, and I love how they are made up. Second, I just don't trust this San Antonio team very much. Maybe I should, but I just don't believe they are tough enough to live up to their seeding in the playoffs.
The Spurs are clearly the better overall team, but Memphis is a live longshot. As proof, the Grizzlies beat the Spurs the last two times the teams met this year, so they can get it done, and they aren't going to be intimidated.
The Grizzlies actually match up well with the Spurs statistically. They can rebound about as well, and they are slightly better defensively, for example. Those are full season numbers, though, and Memphis has become a different team since picking up Shane Battier at the deadline. Since then they are 14-7.
Battier has fit in well, he's added defensive intensity, and he's lifting his teammates. This team is potentially dangerous, and San Antonio's health is always a question mark, so an upset isn't impossible.
New Orleans over the Lakers — Again, the higher seeded here is clearly the better one. It's more than that in this case — picking against a stone cold playoff killer like Kobe coached by the best playoff coach of all time seems like pure madness. Given what has gone on the last couple of weeks, though, you can't help but wonder what is possible.
The Lakers can't seem to get out of their own way, they have lost to a lot of teams that they have no business losing to, and most concerning of all they are bickering and don't seem to all be on the same page. If L.A. can get their act together then they will win this one easily, and they could even do it in four games. There are some reasons for hope for New Orleans if the Lakers are showing cracks, though.
First, Chris Paul is, well, Chris Paul. When a player that good smells blood he is capable of stepping his game up to do something about it. Trevor Ariza is going to be hungry to get a shot at the team that ditched him despite solid play as well, and he's capable of doing that. Whether it's matching up against Artest or helping with Kobe, Ariza has a chance to make some noise. Marco Belinelli is a player who is quietly getting a whole lot better. He's a very good shooter who isn't as streaky as shooters can be, and could be an important factor in this one.
The Lakers could also have some bench issues to deal with. Andrew Bynum appears to be fine, but if he isn't — or if he can't stay that way — then that forces them to start Lamar Odom, and it hurts their depth badly. Steve Blake is out and Matt Barnes is hurting, so depth could be an issue.
When you look at it on paper the Hornets don't have much of a chance. The big issue here, though, is that the Lakers look like they are clearly capable of beating themselves given how they ended the season. That's what makes this series far more interesting than it normally would be.
Doc's Sports has been dominating the NBA odds and Doc's NBA picks have earned 14 of 17 winning nights and a 21-10 run to end the regular season. We have a huge card coming on Saturday to open the postseason and this will include our big futures play for the NBA Championship. Our NBA handicapping has been known as one of the top in the nation and a one-day package is only $29. Click Here to buy picks.