NFL Survivor Pool Picks and Advice: Week 16
by Matt Severance - 12/20/2011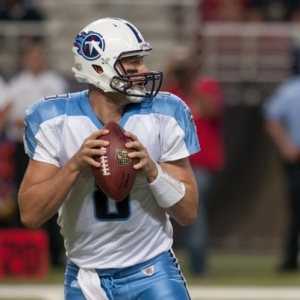 It took 15 weeks, but we finally had the completely unpredictable NFL weekend that had been lacking all season. And one that no doubt shook up your Survivor Pool in a big way.
Of course, the big upset was the Chiefs, playing their first game under interim coach Romeo Crennel and with Kyle Orton making his first Kansas City start, ending Green Bay's unbeaten season. And I shall take some credit for that one, warning you to steer clear from that game – it set up perfectly as a trap for the Pack.
I also warned you to steer clear of the Bears at home against the Seahawks and the Titans visiting the winless Colts. Of course, Indy did pull off the upset to ensure the Detroit Lions will remain in infamy alone as the NFL's only team to go 0-16 in a season.
Sunday was the third time in NFL history in which a team that was at least 10-0 lost and a team at least 0-10 won on the same day.
I mentioned taking either Cincinnati or Arizona last week among the teams left that I hadn't chosen. Both the Bengals and Cardinals did win.
On to the Week 16 NFL survivor pool picks, with most games Saturday this week with the Christmas holiday.
Worth Considering
Titans vs. Jaguars: It's a must-win for Tennessee after gagging last week against the Colts. Apparently Matt Hasselbeck will get the start – if it was rookie Jake Locker I would probably avoid this game. The Jags are pretty bad on the road – their only win away from northeast Florida was at Indy.
Patriots vs. Dolphins: No doubt New England is off the board at this point. Otherwise this is a no-brainer, although I could see a bit of a letdown after that highly-charged win at Denver. The Steelers loss means that New England now has a clear path to No. 1 overall seed in AFC.
Steelers vs. Rams: Pittsburgh definitely didn't look very good in the big Monday night game – Big Ben probably shouldn't have played -- but there's just no chance the Rams will win in Steel City, especially with Kellen Clemens starting at QB.
Ravens vs. Browns: Baltimore looked very outclassed Sunday night at San Diego, but Ravens will finish off a perfect season at home with a win here.
Too Even To Bother
Cardinals at Bengals: I truly have no idea what to make of either of these teams. I still think the Cards are doing it with mirrors: They have won six of seven but none of those by more than six points. Bengals still haven't beaten a good team this year.
Broncos at Bills: Buffalo made one of the biggest contractual mistakes in recent history by throwing all that money at Ryan Fitzpatrick. The Bills have dropped seven in a row and have to be pondering picking a QB high in next year's draft. Still, this is their home finale and I could see a win over the Tebows here. But too close to call.
Chiefs vs. Raiders: Two very schizophrenic teams here and both still with a shot to win the AFC West. Seems like a logical letdown game for K.C., but maybe the players really are playing harder to get Crennel the full-time job.
Jets vs. Giants: Might be the most important game in the history of this rivalry with the loser likely out of the playoffs. I don't trust either team.
Redskins vs. Vikings: No clue what to expect here. Just think if Mike Shanahan hadn't gone to John Beck. In three games started by Beck, the Skins were crushed by a combined 75-31. In Rex Grossman's 11 starts, the Redskins are now 5-6, with only a tiny disadvantage in points, 221-225.
Panthers vs. Bucs: Tampa Bay is officially a train wreck and I don't see how Raheem Morris survives all this. The Panthers have won three of four and should win here, but who knows. They did win big at Tampa a few weeks ago.
Lions vs. Chargers: I wouldn't bet against the Chargers right now, but I also wouldn't bet against the Lions at home. This should be a very entertaining game.
Cowboys vs. Eagles: Philly still has a pulse in the NFC East, while Dallas controls its own destiny in the division. No idea who wins here.
Saints vs. Falcons: Doubt the Saints lose at home – Drew Brees should break Dan Marino's yardage record this week – but a Falcons win wouldn't be a stunner as Atlanta appears to be peaking.
Stay Far, Far Away
Texans at Colts (Thursday): Should Wade Phillips be named NFL Coach of the Year? Unfortunately a coordinator can't win that honor, but Phillips sure was missed last week as Houston was upset at home by Carolina. And the Texans' defensive boss won't be on the sideline this week, either, so an Indy upset is very much a possibility. Plus, remember that Houston will again likely be without Andre Johnson.
49ers at Seahawks: Short week for the Niners and off a very physical game against Pittsburgh and due a letdown. Marshawn Lynch is the man right now for Seahawks. I actually expect a Seattle victory.
Packers vs. Bears (Sunday): Do I really think that Pack will lose back-to-back games, much less against the sinking Bears? Probably not, but in a way the Packers have little to play for while it's all or nothing for Chicago – although the Bears could know by Sunday if they are out of the playoffs. I'm sure you have used Green Bay by now regardless.
And The Pick Is …
Of the teams I hadn't used, I would have to go Titans here. I certainly feel stronger about Pittsburgh, Baltimore and New England so if you somehow have one of them still available go that route.
Strike Point Sports is destroying the bookies with their NFL picks. A 5-0 sweep the past two weekends has helped their clients to 11 of 16 winning NFL weeks, including four of the last five, and $100 NFL bettors are up $6,600 on the season. They will have a big card coming this weekend. Click Here for more info.