NHL Handicapping: Pittsburgh Penguins Struggles
by Trevor Whenham - 2/18/2011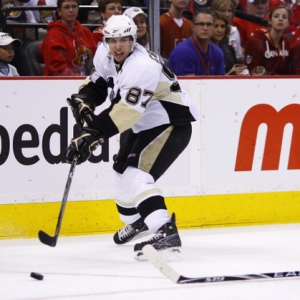 Injuries and player absences are a frustrating but inevitable part of hockey. In the case of the Pittsburgh Penguins, though, things are totally out of hand. The last time Pittsburgh played a game they were missing eight forwards that played on opening night. Given that a team only has 12 active forwards at a time, that's obviously a significant impact. Never mind that one of those forwards, Sidney Crosby, is the best hockey player on the planet, and another, Evgeni Malkin, is easily in the top t10 in the world. Or that in the absence of those guys, one of the guys who would be asked to carry an extra load, Chris Kunitz, is out as well.
The team has put six guys on the injured reserve already in February, and there is still a long time left in the month. It's like a bad Hollywood script, except in this case it's totally true.
This would be an issue for hockey handicappers in any case, but that's especially true in the East. At full strength Pittsburgh is no worse than the second best team in the East, and a very legitimate Cup threat. Even without their stars -- and they will be without Malkin all year, and Crosby for potentially a long time -- Pittsburgh is still one of the most public teams in the league. That makes it hard to find value on them at the best of times, and especially hard now.
Though the Penguins are in an extreme state right now, they do give us a good opportunity to look at situations that do happen with some frequency -- when good teams are forced to play without their top players. These are important situations for bettors because it can be easy to panic and miss out on a situation -- or to be on the wrong side of one. Here are four things to keep in mind in situations like this:
Think real impact - When key players -- like a Malkin or Crosby -- go down for an extended period for a good team the media is going to react strongly -- and probably overreact. You can't be blinded by what the buzz and hype around a player is. Instead, you have to look at what the absence really means.
Hockey is the ultimate team sport, so the injury of one player rarely has nearly as much impact as you might think it would. Other players can step up and fill roles, players can bloom when given the opportunity to play more, and so on. The betting public is going to respond to what the media has to say, so they are likely to be pessimistic.
If you can find reasons to be not nearly as pessimistic, then, you are going to find situations that you are going to be happy to bet on. Betting ultimately is finding places where what is going to happen and what people think is going to happen are different enough to generate a long-term profit.
Look at what has happened in the past - In a lot of cases an injury won't have been the first one a player has faced. Both Crosby and Malkin, for example, have faced extended absences in the past. The team was just fine in both cases -- not as good as they might have been with the player in action, but still better than most teams.
The best indicator sports bettors have available of what will happen in the future is what did happen in the past. You might find that some teams really do fall apart when losing their star -- especially if that star is a key leader as well. Most often, though, that won't be the case.
Matchups are crucial - Crosby and Malkin are, in round numbers, each good for at least a point per game. That doesn't necessarily mean that the team will score two less goals without them, though -- they often assist each other's goals. Even if we were to assume the biggest possible impact of their absence, though, there are games where that just isn't going to be significant.
Against top-level opponents their absence could be a fatal difference, but in a lot of games the talent the team still has on the ice will exceed what their opponent can offer. In those cases, obviously, assuming they are in serious trouble because of the injury would be a big mistake.
What's the public sentiment? - We've talked about this in the other points, but it's so important in these cases that it bears repeating. What matters at least as much as what is likely to actually happen after a key injury is what people will think is going to happen. Even the most serious injury with the biggest possible impact on a team could create an opportunity for bettors if the public thinks it is going to be even worse than it is.