NHL Handicapping: The Winnipeg Jets
by Trevor Whenham - 12/28/2011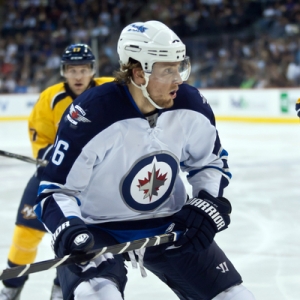 It will go down as a wild and crazy year in the history of the Winnipeg Jets. The team originally left Winnipeg for Phoenix in 1996, and a lot of fans probably felt like they would never come back. Come back they did, though, when the sale of the Atlanta Thrashers was announced on May 31.
Season tickets were almost instantly sold out, and the city of Winnipeg and the province of Manitoba were whipped into a frenzy. There is no place anywhere that loves their team more than Winnipeg, so this was a big move.
Unfortunately for the team the move came after the NHL schedule for this season was basically in place. Re-alignment on a large scale has taken place, but it won't be in effect until next year.
For this year the Jets are playing as if they are still the Thrashers and still based in Atlanta. That means that the team faces the most rigorous travel schedule in the history of the NHL, including frequent divisional clashes with teams that aren't exactly neighbors like Tampa Bay and Florida.
While the road trips are a huge and unprecedented challenge for this team they do have a big advantage while playing at home. Their new home is modern but small — the smallest building in the league. Despite the lack of people it has easily been the loudest in the league, and has proven to be an intimidating venue for teams — especially those playing there for the first time.
The two loudest moments in the NHL this year have had to have been the first home game and the return of Jets legend Teemu Selanne, now with the Ducks, to town for the first time.
As we are about to end the calendar year this is a good time to look at how the Jets have done in this strange season, and what we might learn about this team that can help us with NHL handicapping in their final 46 games.
Standings
If the playoffs were to start today the Jets would just barely make the postseason. They are tied for seventh, eighth and ninth with New Jersey and Ottawa, but would finish ahead of Ottawa because they have played one fewer game. Heading into the season making the playoffs was a best-case scenario, so the team has to be thrilled with where they are at. They are a solid 6-3-1 in their last 10, so December has been a strong month for them.
Home games
The MTS Centre has provided a very nice home-ice advantage for the team. They are 12-6-1 at home. Those 12 wins are the second most in the Eastern Conference, trailing only Boston with 13.
Road games
When a team has been particularly strong at home but only decent overall then you know they aren't much of a road team. They are only 5-8-4 outside of Manitoba. Only Carolina has fewer wins in the Eastern Conference, and only three teams overall in the NHL have fewer.
It seemed very likely that the team was going to have a tough season on the road because of the distance they had to cover, and so far that has indeed been the case.
Divisional games
The team has actually fared very well in their only year in the Southeast Division. They are 6-3-1 so far.
They have been aided by the fact that Carolina is horrible, Tampa Bay has underachieved dramatically, and Washington has been a disappointment.
They are sitting in second behind the upstart Panthers right now. Before the season it seemed more likely that the team would finish about fourth in the division, so at this point they are underachieving here.
As the winter progresses the location could be a big advantage for Winnipeg — it is a whole lot colder in Winnipeg than in Carolina, Tampa Bay, or Miami.
The battle for Canada
Canadians love their hockey, and Canadians love beating other Canadian squads. On that front so far the Jets have been a failure. They are just 1-3-1 in five games against Canadian squads so far.
They have yet to play any teams from the Western Conference, so they have only played three teams so far. Being dominant against Canadian teams doesn't mean anything in and of itself, but it is good for bragging rights.
Treating bettors right
The Jets have won 11 of their 17 games as underdogs, so they have been kind to underdog bettors. They have only been favored in 10 games so far this year, but they have been particularly strong here.
They are 6-4 in those games, so they are profitable straight up. More significantly, five of those six wins have been by at least two goals, so they have been very profitable on the puck line.