NHL Picks: Flyers at Sabres Game 7 Odds and Predictions
by Dave Schwab - 4/26/2011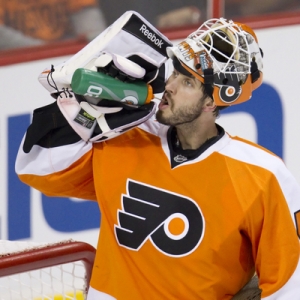 The back-and-forth first round Eastern Conference playoff best-of-seven series between the Buffalo Sabres and the Philadelphia Flyers will now be decided in a winner-take-all Game 7 on Tuesday night at the Wells Fargo Center in Philadelphia. Game time is set for 7 p.m. (EST) and it will be broadcast on VERSUS.
Buffalo struck first blood in the series with a 1-0 victory as a +140 road underdog, but fell behind 2-1 in the series after a 5-4 loss in Game 2 as a +146 road underdog and a 4-2 loss as a -116 home favorite in Game 3. The Sabres bounced back with another 1-0 shutout in Game 4 as a +108 home favorite and gained a 3-2 edge with a dramatic 4-3 overtime win on Friday night as a -142 road underdog. Buffalo could not close things out on Sunday in another thriller as it fell 4-3 in overtime as a -109 home favorite.
It is now onto Game 7, where the Sabres will need to count on Thomas Vanek, who led Buffalo with 32 goals in the regular season, to once again come up big. He has scored five goals in this series and three in the last two games. Defenseman Marc-Andre Gragnani has also been a factor with six assists. There are four other Sabres that each have four points, led by Tyler Ennis's two goals.
Injuries could be a cause for concern for Buffalo in this game as right winger Jason Pominville remains doubtful after cutting his leg in Game 5 and center Tim Connolly left Sunday's game after hitting the boards with his head. He is also listed as doubtful for Tuesday. Defenseman Andrej Sekera is listed as questionable with an upper body injury.
Goalie Ryan Miller is the primary reason that the Sabres have been able to push this series to seven games and the key to a win on Tuesday. He has a goals-against-average of 2.61 and a .925 save percentage, which is slightly better than his .916 regular season average. Despite giving up the game winner, he stopped an amazing 44 shots in Game 6.
Philadelphia's offense has been playing hide-and-seek all series long with two five-goal and two four-goal games mixed with two shutouts. Danny Briere and Claude Giroux deserve most of the credit for Philly's offensive output as Briere leads the team with five goals and Giroux leads in assists with six. Center Jeff Carter, who led the team with 36 goals in the regular season, has been ruled out for Tuesday's game with a sprained ACL. The Flyers did get defenseman Chris Pronger back as he returned to action in Game 6 for the first time in this series.
Philadelphia's revolving door at goalie took another twist when Brian Boucher was sent to the bench in Game 5 in favor of Michael Leighton after giving up three goals on just 11 shots. Boucher replaced Sergei Bobrovsky in Game 2, who was named the series starter after a solid regular season. Boucher then came back to replace Leighton in the second period of Game 6 to stop 24 of the 25 shots he faced. He is expected to get the start on Tuesday and has a GGA of 2.12 and a .935 save percentage in this series.
Sabres at Flyers Game 7 Odds and Line Movement
Sportsbook.com has opened Philadelphia as a -160 home favorite and Buffalo as a +140 road underdog. Some of the other books show a little movement towards the Sabres, but for the most part the line is consistent across the board. The total for this game has been set at 5.5.
Sabres at Flyers Betting Trends
The Sabres are 19-18 as an underdog this season and the Flyers are 36-27 as a favorite. Head-to-head, these two teams split their four regular season games with each winning once at home and once on the road. The total has gone 'over' in eight of the 10 games this season and in four of the six games in this series.
NHL Picks: Sabres at Flyers Game 7 Predictions
This game should be no different from the first six in that it will be a knock-down, drag-out battle to the bitter end. Neither team has been able to jump out to a commanding lead in any of these games so expect a one-goal margin of victory. Fortunately for the hometown crowd that goal will belong to the Flyers as they advance on to the conference semifinals with a win.
Vegas Sports Informer has stayed hot in the playoffs and has continued his mastery over the NHL Odds and his Hockey Picks are on a 16-8 run heading into Monday's action. He has helped $100 bettors make more than $2,600 during that time. His hockey handicapping will continue to rack up profits all during the playoffs right up until the Stanley Cup.. Click Here to buy picks.