NHL Playoff Predictions: Dangerous Lower Seeds
by Trevor Whenham - 4/7/2011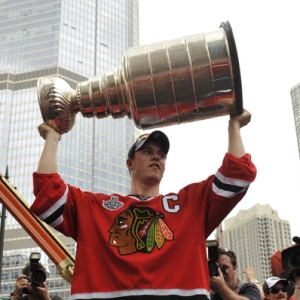 The first round of the NHL Playoffs is typically top heavy -- the higher seeds win, though not nearly to the extent that that is the case in the NBA. There always seems to be an upset or two by a team without the home ice advantage, though. As we get ready for the start of another grueling playoff season in the NHL -- the hardest playoffs to win of any in any sport, by the way -- here's a look at my NHL Playoff predictions for three lower seeds that have the potential to pull off a surprise and last for more than one series.
New York Rangers - Think back to all of the teams in recent years that have gone far in the playoffs as a low seed -- from Montreal last year on back. What's the one thing they have all had in common regardless of their conference, coaching or talent level? A goalie who has gotten ridiculously hot who has stolen wins for them.
It's hard to predict in advance who that goalie is going to be, but Henrik Lundqvist certainly has the potential to pull it off -- more than most. He's top six in the league in the important categories of save percentage and goals against average, so he is obviously an adequate goalie.
The biggest indicator of his potential to get hot, though, is his shutouts. In 66 games played this year Lundqvist has 11 shutouts. That's obviously one in every six starts -- a wildly impressive ratio. Only Boston's Tim Thomas has a similar ratio, and he's the best goalie on the planet. The other thing that stands out is his ability to bounce back from poor performance. During the season he has had one four-game losing streak and three three-game skids. He followed the four-game struggle with four wins in six games, and after the three-game slides he went 4-1 twice and 7-1 once. In other words, he doesn't let himself fall into a hole that he can't climb out of.
Combine his potential for outstanding play with a lineup that, though underperforming often this year, has a nice mix of young talent, playoff hardened veterans and guys who have the capacity to step up, and a coach in John Tortorella who took Tampa Bay to a Cup, and you have a team that could make life tough for a first round opponent. That's especially significant because the top seeds in the East all have issues of their own. Of course, New York needs to make the playoffs first -- as I write they are in good position to do so, but have not yet clinched.
Chicago Blackhawks - The Blackhawks have been the most frustrating team in the league this year. They have piles of talent, but they have never quite been able to get things running in sync this year for more than a few games in a row. They haven't even officially clinched a playoff spot yet, though they will.
They are a testament to how hard it is to be the defending champs -- especially when you aren't used to it. Despite the frustration the team has caused this year I can't rule out the potential for another run.
At the heart of the team you have stunning talent -- Toews, Kane, Sharp and Hossa up front, and Seabrook, Keith, and Campbell on the blueline. We know that core of talent can get it done because they did it last year. Their goaltending could be better, but the same could be said last year, too.
They wouldn't be the first Stanley Cup champion to falter the next year if they have a bad first round, but you certainly can't rule out the potential for a run. At the very least they aren't a team that anyone would want to play in the first round.
Phoenix Coyotes - This is the second year in a row that the Coyotes have been a pleasant surprise. At this point I guess it's just time to quit being surprised and start believing they are a decent squad.
They have the most underrated defenseman in the league in Keith Yandle, a solid, deep offensive corps that shares the load, and a goalie in Ilya Bryzgalov that certainly has the capability to get hot and carry the team.
What really stands out for the squad, though, is their maturity. It has to be by design that management has put together a team full of guys who are settled down, focused, and determined. This is not a young and flaky team -- they are all business. That will help them get on the same page, and could easily drive them to surprising success.
There is still a lot of uncertainty in the standings in the West, but wherever the team winds up they are going to face at least a team or two that they are fully capable of beating. Really, Vancouver is the only team I'm not confident that they can match up reasonably well against -- and I'm not sure any team can.