2011 Preakness Stakes Contenders
by Robert Ferringo - 5/11/2011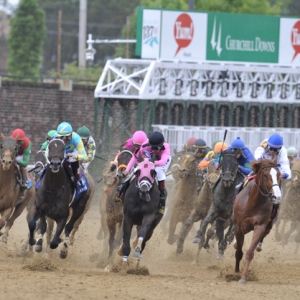 Call it Fate. Call it good fortune. Call it what you will, but for whatever reason it looks like Animal Kingdom's bid for the Triple Crown continues to get easier by the day.
The Kentucky Derby-winning colt benefitted from a sketchy field at Churchill Downs and may once again be stacked up against the "B Team" in the next leg of the Triple Crown horse races, the Preakness Stakes. Several 2011 Preakness Stakes contenders have either withdrawn from consideration, were forced out by injury, or are bailing on the race in favor of a potential ambush at Belmont.
The Preakness Stakes will be run at 6 p.m. on Saturday, May 21, at Pimlico Race Course in Baltimore. Post positions for the race will be announced Wednesday, May 18.
While it is generally considered a given that the Kentucky Derby winner will take a shot at the Triple Crown by running the Preakness, Derby winner Animal Kingdom's handlers did not confirm that he would make the trip to Maryland until Monday afternoon. This Maryland colt will be running close to home and should have strong support. But for the second time in as many races he will likely have a full field to compete with when the post positions are announced.
Despite that odd hesitation Animal Kingdom will obviously be the favorite and prime Preakness contender when he takes its shot at History at Pimlico. The same cannot be said for at least 10 and of the horses that A.K. beat at Churchill Downs last weekend, as attrition continues to zap potential 2011 Preakness contenders.
Uncle Mo, the once favorite and late scratch at the Kentucky Derby, is still suffering from "intestinal issues" and may never race again. Pants On Fire, the ninth-place finisher at Churchill Downs, suffered internal bleeding and will be held out of the Preakness. Comma at the Top and Archarcharch both had separate surgeries and will not be in the Preakness field as well. The rest of the horses, including highly regarded Nehro, will either wait for the Belmont or simply won't bother in any more Triple Crown starts.
There are as many as 20 horses still vying for a spot in the 14-horse Preakness field. That includes a host of fresh legs waiting to ambush Animal Kingdom at Pimlico. And as I scan the horse racing landscape it seems as if the only thing more estimable than winning the Triple Crown is being the horse that blocks the potential Crown winner from making history.
As such, several of the top 2011 Preakness contenders could actually be horses that didn't run the Kentucky Derby but are trying to pack in to Pimlico.
Only three times in the last 25 years has the Preakness winner not been a horse that was at least in the Kentucky Derby Field. However, al three times have taken place since 2000 with 2009 Preakness winner Rachel Alexandra as the most recent example. Bernadini (2006) and Red Bullet (2000) also accomplished the feat.
That could leave as few as five Derby horses in the Preakness, and that group should include the top Preakness contenders. The rest of the 14-horse field will be filled in by the newbies. But that group could actually contain some real threats as well.
Here is a look at the horses that are either confirmed or will likely be confirmed to run in Maryland as the top Preakness Stakes contenders:
Animal Kingdom
The Derby winner should need no introduction. He will likely be a heavy favorite – simply out of the fact that every square and everyone lusting for a Triple Crown winner will have their money down on him – and will be the popular pick. Animal Kingdom has now won back-to-back races, three of four overall, and has finished first or second in all five of its runs. John Velazquez, who was a last-minute replacement jockey at the Derby, will again ride this horse.
Shackleford
There has been some debate in horse racing circles – and yes, it is a weird cult with its own signs, symbols, and speech – about whether or not Shackleford was a victim of a "biased" track at the Kentucky Derby. Shackleford nearly went gate-to-wire, setting the early pace and yet still holding on to finish in fourth place, just 3.5 lengths off the winner. This is a speed horse and the Preakness is a much better setup for horses that like to jump out early and set the pace. Also, Dialed In nosed out this horse at the Florida Derby as 68-to-1 long shot. He could definitely pull an upset at Pimlico.
Dialed In
This horse was the favorite in the Derby, but finished a disappointing eighth. Prior to that he had won three of four races outright and placed in a fourth race. Dialed in has posted two of the higher Beyer ratings of any horses that will be at the Preakness, earning a 96 at the Holy Bull and a 93 at the Florida Derby. I'll be surprised if this horse isn't among the top two or three favorites in Pimlico. A lot is being made of the $5.5 million bonus that this horse can earn if it wins the Preakness. But horses aren't motivated by money, so I'm not going to factor that in.
Mucho Macho Man
All the Macho Man does is find the money. He has finished in the top three in eight of his nine races, and the only time he ended out of the money he was bumped at the Holy Bull. MMM posted a 94 Beyer while winning the Rising Star and his stalking style – running right behind the pace setters and then outkicking them to the finish – is perfect for the Preakness. This horse finished in third place at Churchill Downs and also posted a third-place finish in a competitive field at the Louisiana Derby. We will see if it can get back over that hump and find the winner's circle, and he may have to show more early speed if he really wants to score a win.
Santiva
This horse finished in sixth place at Churchill Downs and it has yet to confirm that it will actually run at Pimlico, although many sources suggest that it will. That said, I don't know how much of a true 2011 Preakness contender this horse really is; its best showing to date was a place at the Grade II Risen Star, finishing just behind Mucho Macho Man. However, this horse is lightly raced and has run against a lot of the "favorites" in this field. I expect the horse to make the trip and get in the mix.
Below is a list of 2011 Preakness contenders that didn't run in the Kentucky Derby:
Astrology – In seven career races Astrology has never been off the board. This horse has lost by just a combined four lengths in his two losses this year, including a 93 Beyer in the one-mile Jerome Handicap. Astrology also hails from Stonestreet Stables. And while I'm generally not one that factors trainers into my handicapping at Triple Crown races, I can't ignore that two of the last four Preakness winners (Curlin in 2007 and Rachel Alexandra in 2009) hailed from this stable.
Flashpoint – This horse may actually be the fastest in the field. Flashpoint put up a 102 Beyer Speed Rating, the highest rating of any colt in the field, this year at the Hutcheson Stakes at Gulfstream Park back in February. This horse was not run as a two-year-old and then stormed out to back-to-back wins to start the 2011 campaign. It finished a distant third (by eight lengths) to Dialed In at the Florida Derby.
Mr. Commons – Only six horses in 69 years have prepped exclusively in California and then come out to win the Preakness. The last time that happened was 2001 with Point Given. But Mr. Commons finished third in the Santa Anita in April and won it's two other races this year. However, I don't like to bet against history and nearly seven decades worth of it are stacked against this mount.
Dance City – A Pletcher horse that is new to the Triple Crown field. Dance City did muster a third-place finish in the Arkansas Derby and will be considered a threat. However, he wasn't pushed toward the Kentucky Derby because he was considered the third best mount in the Pletcher stable. Uncle Mo withdrew and Stay Thirsty was a bust. That may be a red flag.
Sway Away – This horse was the last one out of the Kentucky Derby field, which is based on earnings. Sway Away finished fourth in the Arkansas Derby and just doesn't really seem like a top-end talent capable of pulling an upset. Then again, that's what a lot of other handicappers thought about Animal Kingdom.
Other possible 2011 Preakness contenders that didn't run the Kentucky Derby, all of which would be considerably long shots, include: King Congle, Concealed Identity, Norman Asbjornson, Ruler on Ice, Prime Cut, Casper's Touch and Saratoga Red.
Robert Ferringo is coming off a big Kentucky Derby winner with Animal Kingdom and has now managed a winner in at least one of the Triple Crown races in four of the last five years. He will have Preakness predictions and this has been his best race, as he has picked the winner in three of four years. Sign up for his Preakness picks for just $20 and see if he can match last year's performance when he tallied Derby and Preakness winners!