2011 Preakness Stakes Field: An Early Look at Odds
by Trevor Whenham - 5/11/2011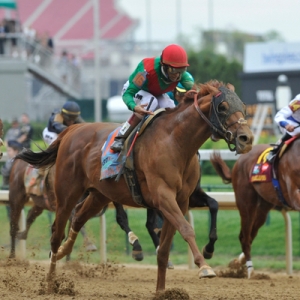 Animal Kingdom's Kentucky Derby win was reasonably impressive, but it obviously hasn't scared too many horses away from challenging him in the Preakness. The maximum field size for the second jewel of the Triple Crown is 14 horses, and early indications are that all of the spots in the starting gate are going to be full. Here's a look at the 14 horses that are at this point most likely to enter the Preakness Stakes field (odds are from the Daily Racing Form's Mike Watchmaker):
Kentucky Derby runners still on the trail
Animal Kingdom (2/1) - The Derby winner ran a very solid race. He handled the distance and the dirt well, and he beat a field of horses that didn't have a lot of excuses. He is fully capable of winning the Preakness and will be a legitimate favorite to do so -- though he will be bet down lower than he should be like every Derby winner is in the Preakness.
Dialed In (5/1) - The Derby favorite was a disappointment in that race because he didn't get the fast pace he needed early on to set up his deep close. He'll need to be much better here in order to bounce back and win. There is an unprecedented incentive for him to perform well, though -- because he won the Holy Bull and the Florida Derby he is eligible for a new $5.5 million bonus for winning the Preakness.
Mucho Macho Man (6/1) - The third-place finisher ran a solid race and showed that he belongs among top company. He is certainly a nice horse, though he could be one of those horses that is always the bridesmaid and never the bride. I bet on him in the Derby, though, and I will likely bet on him again here.
Shackleford (12/1) - I was fairly impressed with his fourth-place performance in the Derby -- it did a lot to prove that his close second to Dialed In in the Florida Derby was not nearly the fluke that his long odds in that race suggested it was. He's a legitimate contender.
Santiva (15/1) - He was sixth in the Derby. That wasn't a great result, but it was a massive improvement from his dismal showing in the Blue Grass. The horse has some talent and he's clearly improving, so perhaps he'll grab a piece of the action.
New horses on the trail
Astrology (15/1) - Nehro isn't being pointed to the Preakness, but stablemate Astrology is. He was second in the Jerome last time out - a race at Aqueduct run at a mile. He'll need to prove he has the talent to stretch out here. I'm not entirely convinced he can manage it convincingly, but he is better than several of the new horses.
Concealed Identity (20/1) - He won the Federico Tesio last time out. That race at Pimlico used to be a more significant Derby prep than it is now. He'll get some Maryland support, but will be a real longshot.
Dance City (12/1) - A new horse on the trail from the massive Todd Pletcher stable after Uncle Mo was scratched from the Derby and Stay Thirsty was a non-factor. He was third in the Arkansas Derby behind Archarcharch last time out. He's probably the most dangerous of the new horses.
Flashpoint (15/1) - This lightly-raced horse will be making just his fourth career start. He won his first two, but was a non-menacing fourth in the Florida Derby last time out. He'll have to brush a lot of rust off to win this one.
King Congie (20/1) - He was third in the Blue Grass last time out, and it is very hard to get excited about him and what he is capable of.
Mr. Commons (15/1) - It would be easier to get excited about the third-place finisher in the Santa Anita Derby if Midnight Interlude, the winner of that race, hadn't been such a disappointment in the Derby. Trainer John Shirreffs trained Zenyatta, though, so maybe some of that magic will rub off on this horse.
Norman Asbjornson (30/1) - This horse, who finished fourth in the terrible Wood Memorial in which Uncle Mo was a disastrous third, is named after the President and CEO of HVAC manufacturer AAON. That would be more of an honor if this horse was better. He's a major longshot.
Ruler on Ice (30/1) - He was the favorite in the Federico Tesio, but wound up second behind Concealed Identity. This is a serious step up in class for him, and it's hard to believe that he's worth it.
Sway Away (15/1) - He was the last horse excluded from the Kentucky Derby field based on his earnings. He has never been quite good enough in any of his prep races, so it's hard to imagine that he's quite good enough here, either.