2011 Preakness Stakes Handicapping Trends
by Trevor Whenham - 5/18/2011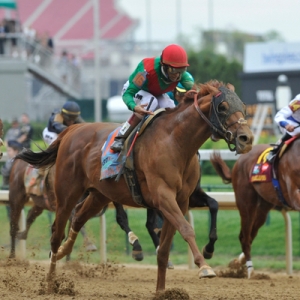 The Preakness Stakes hasn't produced as many strong trends over the years as the Kentucky Derby has, but given what has happened at the Derby in recent years -- every long-term trend seems to have been rendered meaningless -- that's not really a bad thing. Like every recurring, event, though, there are still some Preakness Stakes handicapping trends for us to grab onto in our search for a winner:
The Kentucky Derby Winner — Animal Kingdom is destined to be a solid and deserving favorite in this race. After an impressive, relatively easy win in which none of his opponents had a good excuse to hide behind, he seems to be in good position to head to Belmont with a chance at immortality. But is being the Derby winner an advantage for horses in the Preakness? Yes and no, depending upon the time frame.
In the mid range the Derby winner has done very well — seven of the last 14 Derby winners have also won the Preakness. The long and short ranges don't look nearly as good, though. Just one of the last six Derby winners — Big Brown — has pulled off the double, and only 10 of the last 30 have done so.
Favorites win about one-third of all horse races, so the Derby winner — typically the Preakness favorite — has generally performed just as well or worse than any other favorite in recent years. In other words, judge Animal Kingdom on his merits, not his roses.
Non-Derby entrants — Each year in the Preakness there are several horses that enter the second leg of the Triple Crown after skipping the Derby. These horses generally fit into two different categories. There are the exceptional horses that were held out of the Derby for some reason — Rachel Alexandra and Bernardini are prime examples of that reasonably rare group. Then there is the much larger group — the horses that weren't in the Derby because they just weren't good enough to be.
These are the horses that didn't earn enough to head to Churchill, weren't physically capable of running a mile and a quarter, or are based in Maryland. Only seven of the last 39 Preakness winners skipped the Derby, so it definitely makes sense to look at the horses here that also ran at Churchill — especially because this group of nine invaders is a long way from inspiring.
Post position — There are fewer horses in the Preakness than there are in the Derby — a maximum of 14 compared to 20 — but there are still some positions that you don't want to wind up in at the starting gate if you want to win the race.
Like the Derby, the No. 1 hole is not a good place to be at all — horses have won out of that spot just once in the last 50 years. This year it is Mike Smith aboard Astrology who lands that cursed position. Over that same time period just six horses have won from a gate numbered 10 or higher, and only one of those has been in the No. 11 that will house Derby winner Animal Kingdom.
That's not as bad as it sounds, though — field size often doesn't reach the maximum, so the outer gates aren't filled every year. No. 7 has truly been the lucky number in recent years, with six winners in the last 22 races coming from that spot, including Lookin' at Lucky last year. Bob Baffert draws that spot for the second year in a row with Midnight Interlude.
Wire-to-wire death — The lead is a terrible place to be at Pimlico. There is theoretically no reason why a horse couldn't lead a 1 3/16 mile race from start to finish if the pace is honest, but it just hasn't happened in the Preakness. In the last 51 years there have been just five horses that have led the whole way.
A horse doesn't want to find the lead too soon after sitting off of it, either — Rachel Alexandra is the only horse in the last 14 years who has been at the front after half a mile and still been there at the wire.
With the front being such an ugly place to be, serious horses are going to be in no hurry to get there, and that can wreak havoc on the pace. A slow early pace was the defining factor in the Derby, and it would be good news for Animal Kingdom again here.
Woman power — If Mucho Macho Man wins the race then trainer Kathy Ritvo will not only become the first woman to train a Preakness winner, but the first to ever win a Triple Crown race.
There haven't been a lot who have tried, but there have been very few who have come into any Triple Crown race with a better shot at pulling it off — her horse is the 6/1 third choice in the field. The horse was closing fast at the Derby, he rallied hard when he faced some adversity, and he has been training well since.
Doc's Sports will have Preakness Stakes Picks for the 2011 Run for the Black-Eyed Susans on Saturday, May21. Doc has been studying the Preakness Stakes field since the Derby and we expect to bring in some very nice profits as the Preakness odds will yield great value. Preakness picks are only $20 and if you don't show a profit Belmont Stakes picks are free!