2011 Preakness Stakes Post Position Analysis
by Robert Ferringo - 5/19/2011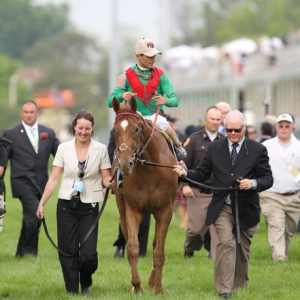 "It's not where you start, it's where you finish."
That's what we're taught, right? With that quote usually coming from either A) some smug, bitter, social-climbing prick who thinks they clawed their way out of some urban or rural American ghetto because their parents didn't have a cordless phone and now they drive an SUV; B) some teacher taking a minute away from cheating on grades, living vicariously through their students' Facebook pages, and complaining about how underpaid they are to try to be inspirational; or C) some rich douchebag that was born into a rich family, who walks around with a sense of entitlement that they didn't earn, and is trying to convince you to work hard so you can make him even richer before you come to the frustrating, soul-sucking realization that you will never has access to as much excess as this dickhead just because you squeezed out of the wrong vagina.
So you probably shouldn't trust anyone that doesn't think where you start plays an incredible factor in what you can accomplish. And I would say that the past 100 years of results in the Preakness Stakes validate my theory on the subject to a certain degree.
The Preakness, the second leg of horse racing's Triple Crown, will be run around 6 p.m. on Saturday, May 21 at Pimlico Race Track in Baltimore. On Wednesday the track officials drew the Preakness Stakes post positions for the 14-horse field and the results have helped to clarify what is already a murky lineup of mounts.
Kentucky Derby winner Animal Kingdom drew the No. 11 post. The Triple Crown hopeful's handlers were pleased with that slightly outside draw and Animal Kingdom won at Churchill Downs after opening at the No. 16 spot. Traffic should be less of an issue for the mount at Pimlico. And as a result
Animal Kingdom's two primary contenders, Mucho Macho Man and Dialed In, are starting right next to the Derby winner at posts No. 9 and No. 10, respectively.
Starting in the No. 11 slot shouldn't crush Animal Kingdom's chances at winning the Preakness. But no matter how his trainers try to spin it, this is not a favorable draw. Animal Kingdom's handlers can be happy that they didn't get pinned against the rail or throw all the way to the outside. But the last horse to win the Preakness from the No. 11 post was Point Given in 2001 and only two winners in the last 100 years have come from that slot.
Here is a list of Preakness winners by post position since 1908, with the year of the last winner in parentheses:
Post 1 – 9 winners (1994)
Post 2 – 11 winners (1986)
Post 3 – 11 winners (1993)
Post 4 – 13 winners (2007)
Post 5 – 10 winners (1976)
Post 6 – 15 winners (2004)
Post 7 – 13 winners (2010)
Post 8 – 10 winners (2006)
Post 9 – 3 winners (2003)
Post 10 – 2 winners (1998)
Post 11 – 2 winners (2001)
Post 12 – 3 winners (2005)
Post 13 – 1 winners (2009)
Post 14 – 0 winners
The numbers don't lie. Now, to be fair, the Preakness has only had 11 or more starters 36 times in the last century, so that is a major factor in why the winners are skewed to the middle of the draw. And you can see that over the past decade three winners have come from post No. 11 or greater.
But it is still bad news for Isn't He Perfect (Post 12), Concealed Identity (Post 13) and Mr. Commons (Post 14). These were fringe "contenders" as it was. But the simple fact that they have a greater distance to travel in the shortest of the Triple Crown races doesn't bode well for them to spring the upset. And having the three best horses immediately to their left makes things even worse.
Conversely, the first three horses in the Preakness post position draw are at a decided disadvantage being on the inside. The last time a horse won from one of the first three posts was back in 1994 when Tabasco Cat won from the No. 1 slot.
Unless a horse starting tight to the rail gets a perfect break out of the gate then it's likely going to get caught up in a load of traffic. It's a little bit like trying to walk up an escalator that is going down, as the inside horses try to go forward and a little right while the remaining horses are all diving to the left trying to get closer to the rail and on the inside track. Starting on the inside slims the margin for error and few horses have been able to overcome that early handicap.
That leaves the sweet spot in the draw between post No. 4 and Post No. 8. Five of the last seven winners have come from that grouping and 61 of the past 100 winners have come from that region.
Despite that fact, none of the five horses that drew those slots – Flashpoint, Shackleford, Sway Away, Midnight Interlude and Dance City – is currently listed at less than 12-to-1 to win the Black-eyed Susans at the Preakness.
Here are the results of the 2011 Preakness Stakes post position draw with complete updated Preakness odds:
1. Astrology (20-to-1)
2. Norman Asbjornson (25-to-1)
3. King Congle (14-to-1)
4. Flashpoint (20-to-1)
5. Shackelford (12-to-1)
6. Sway Away (16-to-1)
7. Midnight Interlude (16-to-1)
8. Dance City (14-to-1)
9. Mucho Macho Man (6-to-1)
10. Dialed In (4-to-1)
11. Animal Kingdom (3-to-1)
12. Isn't He Perfect (25-to-1)
13. Concealed Identity (25-to-1)
14. Mr. Commons (20-to-1)
Robert Ferringo is coming off a big Kentucky Derby winner with Animal Kingdom and has now managed a winner in at least one of the Triple Crown races in four of the last five years. He will have Preakness picks, and this has been his best race, as he has picked the winner in three of four years. Sign up for his Preakness picks for just $20 and see if he can match last year's performance when he tallied Derby and Preakness winners!