Stanley Cup Finals Odds: Game 7 Preview
by Trevor Whenham - 6/15/2011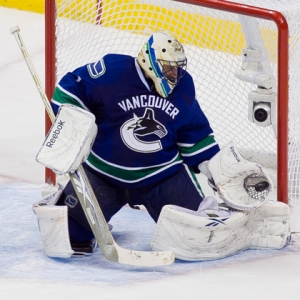 Stanley Cup Finals Odds Boston Bruins (+135) at Vancouver Canucks (-155)
Wednesday, June 15, 8 p.m. EST
The strangest Stanley Cup finals we have seen in a long, long time is one game away from resolution. It's not just the fact that the home team has won all six games that has made it interesting. It's how Vancouver has looked like two entirely different teams. When they have been playing at home they have been tough, defensively minded, and focused. In Boston, though, they have played three games that are quite possibly the three worst games any team has played in the playoffs all year. Add to that the fact that the series has been brutally physical, and that players have taken to diving at every opportunity to try to draw a penalty, and you have a true spectacle. I'm not sure it has been a classic, but it has certainly been entertaining.
No matter what, one of the two captains is going to be handed the greatest trophy in sports at the end of Game 7 in Vancouver on Wednesday night. Given the incredible intensity of the fans in Vancouver right now you can be pretty sure that the city is going to be burnt to the ground. It's just a question of whether they burn it out of joy or sorrow. Here's a look at five factors that will determine the winner of the Stanley Cup:
Roberto Luongo - As a Canadian I am forced to have some respect for Luongo because he was in net when we won a gold medal. Despite that, though, the only way I would have him on my team is if 15 other goalies turned me down first. When he is good he is outstanding, but he is the exact opposite of mentally tough and he has the unique ability to let things quickly get totally out of hand if they don't go his way. He also lacks a sense of timing -- as he showed when he mocked Tim Thomas for his play after Game 5. Luongo has obviously been all over the place in this series -- he has two shutouts and he has been pulled in two games. The biggest factor in Game 7 will be which Luongo shows up. He has been outstanding at home, but the intense pressure is going to have a major impact.
Tim Thomas - Thomas has been brilliant in all six games, and he is the biggest single reason why Boston is in this position. There is a strong sentiment to name him the playoff MVP whether Boston wins or loses. If Thomas has an off day the Boston will lose, but he hasn't given us much reason to worry about that. This will be his third Game 7 of these playoffs. He was strong in the first and brilliant in the second. Unlike Luongo, Thomas has been strong in both cities.
Vancouver's heads - The Canucks are a mentally weak team. There is no way around it. The Sedin twins are two of the best players in the league, but they have been totally invisible in these playoffs. They have played their best in Game 6 after the game was all but over. Ryan Kesler has been lousy, too. And we've already talked about Luongo. If this team wasn't so mentally weak then they wouldn't have quit so badly in all three road games in this series. The home ice will help, but it is no guarantee. The city of Vancouver is on edge to an extent beyond most teams in this position, and the pressure on these players is relentless and brutal. Boston will face pressure, but nothing compared to Vancouver's. I'm not convinced that the Canucks can handle it all. If they don't rise up and play their best game then there will be trouble. The degree to which you believe in Vancouver's ability to focus and deliver will determine the side you bet on in this one.
Health - Both of these teams have paid a big, physical toll, though Vancouver has been hit harder. Nathan Horton is out for Boston because of the big hit from Aaron Rome. Rome is out because of the suspension for that hit. Vancouver has also lost key contributors Dan Hamhuis and Mason Raymond in this series, and Ryan Kesler is clearly not right even though he is playing. Stamina is always going to be an issue at the end of the finals, and players will give everything they have because there is nothing to save themselves for, but you can't help but wonder if the lack of depth will start to catch up with Vancouver.
First goal - The team that has scored first has won all six games in this series. When Boston has scored first Vancouver has given up. There is a very good chance that the first goal will be the deciding factor here, so the intensity should be very high from the outset. It will be particularly interesting to see how the team that gives up the first goal responds.
The bottom line - As you can probably tell, I like Boston. I think they have been the better team overall. Vancouver has played three very good games, while Boston has played six. Vancouver's wins at home have all been thanks to bounces in very tight games. If Boston had gotten one of those bounces the series would be over. I'd bet on Thomas over Luongo any day, and I like Boston's depth and mentality better at this point as well. The game is unquestionably a close one, but Boston has the edge. If you factor in the Stanley Cup Final odds -- Vancouver is fairly heavily favored -- then there is a ton of value in my eyes on the Bruins.