Stanley Cup Predictions and Odds: NHL Futures Betting
by Trevor Whenham - 1/7/2011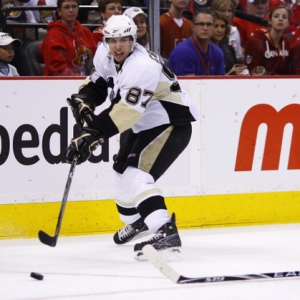 We are halfway through the NHL season. That means that it's a very good time to look at what we have seen so far, and where the value is in the Stanley Cup futures at this point. Here's a look at a few of the more interesting numbers for NHL futures along with some Stanley Cup predictions (NHL odds are from BetUS):
Pittsburgh Penguins (+400) - There is a whole lot to like about this team. Obviously. Sidney Crosby is clearly the best player on the planet, and Evgeni Malkin is no slouch, either. Both guys are very comfortable in their skins right now, and they are carrying their team impressively.
This is not a one trick pony, though -- they have talent that runs deep. Marc-Andre Fleury is playing the best he ever has, Chris Kunitz is a great foil to the top men, and character guys like Craig Adams will do whatever needs to be done.
As I write this the Pens have just finished dismantling the very good Tampa Bay Lightning squad. It was 8-1, but what was most impressive about it was that Crosby and Malkin only had one point each. Anyone from another team who watched that should be very scared.
I think Pittsburgh has a better chance than any team of winning it all. The problem, though, is the price -- it's awfully low. I can't pick against them, but I can't stomach betting on them at this price, either.
Tampa Bay Lightning (+2000) - the massacre at the hands of the Penguins aside, this is a very good team. They came into the game tied with the Pens for the best record in the Eastern Conference, and in Steven Stamkos they have the best pure goal scorer in the league.
The Penguins game was actually the second game in two nights for the team. The night before they shut out the Capitals, though, so they have some game.
They need to be a bit more consistent -- especially on the road -- and they need to hope that the goaltending depth they have pursued works out. I love the offensive core of the team, though, and the defense is only getting better.
It may be a year too soon for this squad, but their price is five times higher than Pittsburgh's and their chances sure aren't five times worse. That seems to indicate value.
Vancouver Canucks (+650) - For a few weeks at the start of the season there was cause to be concerned. Suddenly, though, things clicked into place, and they haven't looked back since.
They came into the season looking like the best team in the West, and halfway through they are the best team in the West. They always seem to struggle to go far enough in the playoffs, but they have a focus that is more intense than what we have seen, and this is the year they could finally get it done.
I don't know if they are quite good enough to beat the best of the East, but they stand a very good chance of winning their conference. I would like their price to be a bit higher, but when was the last time that a bettor didn't think that about every team on the board?
If you're looking for a team in the West it's hard to look past these guys -- unless you like Detroit, of course.
Detroit Red Wings (+650) - They are tied with the Canucks atop the Conference as I write this, though they have played two more games.
They are old and a bit boring, but year after year they just keep getting it done.
I question the hunger down the stretch a bit -- and that's why I lean towards Vancouver -- but you can never really go wrong believing Detroit is going to make a deep playoff run.
Washington Capitals (+650) - I wouldn't touch this price. Not at all. I would actually have a hard time betting on these guys at any price this year.
Alexander Ovechkin is, for some uncertain reason, a shadow of his normal self this year, and that's affecting the team. When they are good they are very good, but they can go games at a time without putting up a hint of a fight. It's as if last year's stunning playoff loss is still in their heads. I don't believe it is their year.
Chicago Blackhawks (+1800) - This is a sign of just how fickle the NHL can be Last spring these guys hoisted the Cup. Salary realities meant they had to change the roster more than most defending champs normally do, though, and if the playoffs started today they would be on the golf course.
You could argue that there is some value here because the team is surely going to improve and make the postseason, but I'll take Tampa at their price over this any day.