Super Bowl Halftime Betting: Advice and Strategy
by Trevor Whenham - 1/26/2012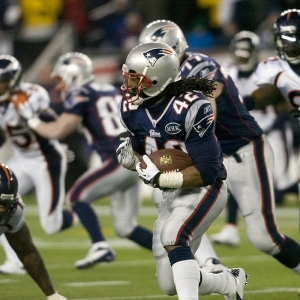 There are a lot of reasons not to be sober by the time halftime rolls around in the Super Bowl, but there is at least one good reason for value-loving bettors to keep their head until then. Halftime is, of course, when you can make halftime bets. Those bets don't get nearly as much attention as the full game lines or totals or the prop bets, but they quite possibly offer more value than any of those other options.
The key is to understand the bets and to approach them strategically. That's where we come in — here's some Super Bowl halftime betting advice strategy.
Before we get started let's be sure we are all on the same page and we know what it is that we are talking about. This is important because a lot of people don't typically look at these bets. Soon after the first half ends the sportsbooks will release a point spread and a total for the second half. It will only relate to what happens in the second half and potentially overtime, so what has happened in the first half has no direct impact on betting at halftime.
The odds will be available soon after the first half ends, and will be available until the end of the break. In regular season games that isn't long, but thanks to Madonna and her halftime spectacle you'll have plenty of time to get your bet down on Super Bowl Sunday.
Sports books are interested in one thing on Super Bowl — getting as much action as they can. They are going to put up the best number that they can, but they are as focused on getting it up as fast as they can. To get the line up quickly they do as much work as they can in advance. Unless the first half is really crazy, then, the second half line will likely be reasonably closely related to the full-game line. That means that you can get a head start by making a reasonable prediction of what the line will be.
You'll want to get every head start or advantage you can get with these bets because your time to handicap is almost as limited as the oddsmakers'. It's in your best interest to have a sense of what bet you would like to make as quickly as possible so that you can take advantage of any line movement that happens to get the best possible line. To do that, the best approach is to set your own line in the closing minutes of the first half based on the handicapping you had done before the game and what you have seen in the first half. That way, when the line is posted you can compare your number to the posted number. If they are quite different, and you are confident in your number, then you could have some attractive value. If the numbers are the same or close to it then there may not be a lot of value, and you have a tough decision to make — or an easy one if you are willing to pass on the bet.
When you are watching the first half on Super Bowl Sunday this year and thinking about how you want to set your line here are three things that you'll definitely need to keep an eye on:
Quarterback bounce-back
Both Tom Brady and Eli Manning have had very good seasons. Brady is as popular as any QB in the league, and Manning has enhanced his reputation significantly in these playoffs. The problem is, though, that neither guy was at their best last week. They both obviously did enough to win, but both will have to do better this time around if they want to win the game that matters. Both teams are highly dependent on their passing game, and both players will be the biggest factor for the public from a betting perspective.
How well both guys are able shake off the last game and play to their potential will be of crucial importance.
New England pass rush
We've definitely had a truth about Eli Manning confirmed in these playoffs. When he has lots of time to relax in the pocket — like he consistently did against the Packers — he is laser accurate and very dangerous. When he is running for his life, though, like he did against San Francisco, then he is much less of a threat.
New England's pass rush isn't elite, but it was in the top half of the league in the regular season and is probably underrated in the public eye. If New England can get creative and find ways to pressure Manning regularly then they could have a very good day. If Manning has time, though, then he's the one who will be happy.
New England secondary
The last point leads into this one nicely. The New England secondary has been surprisingly solid recently, but it is unquestionably the biggest vulnerability the team has. The cast of characters includes a converted wide receiver and a guy who went from Oakland's practice roster to starting in the Super Bowl.
New York has had one of the best receiving corps in the league in the second half of the season, and Manning is certainly capable of exploiting a porous secondary. New England has shown time and again in the second half of the season that they can make what they have work. The chess match between the offense and the secondary will be fascinating to watch.
Not sure who to take for the Super Bowl? Doc's expert NFL handicappers have you covered. For just $25 Doc's Super Bowl picks will provide you with the side and/or total for the game along with the best picks on Super Bowl props. Doc's has 40 years of Super Bowl handicapping experience and he has assembled the best team of handicappers in the nation! Click here to sign up today.