2011 Toronto Blue Jays Predictions and MLB Futures Odds
by Robert Ferringo - 3/23/2011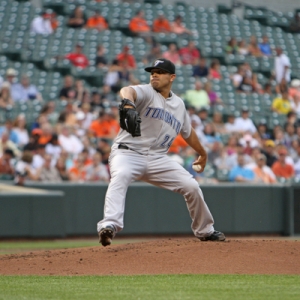 Swing for the fences and keep cashing tickets. That is the new theory for the same-old Blue Jays.
The Blue Jays have expertly reinvented themselves in a somewhat futile effort to keep up with Boston and New York in the American League East. Toronto hasn't won a division title or made the playoffs in nearly 20 years. However, you have to respect their by-any-means-necessary effort. And their total team transition from small ball to long ball is not only impressive, but also admirable.
In 2007 and 2008 Toronto finished No. 3 and No. 1 in team earned run average, respectively. They had the best pitching staff, statistically, in baseball over those two years but they couldn't hit. Those same seasons they were No. 17 and No. 21 in runs score, and they were 19th and 24th in home runs.
YouWager.eu is the Top sportsbook of choice when it comes to customer service and fast payouts. Make your first deposit and receive an additional 100% welcome bonus worth up to $1000 courtesy of YouWager.eu online sportsbook! Use PROMO CODE DOCSPORTS
Then came the last two years and the Bombing Blue Jays. They were No. 8 in 2009 in runs scored and No. 9 last year in scoring. And last year they led the Majors in home runs, demolishing 257 of them. That was the highest total in the league since the 2005 Texas Rangers and the 46-homer gap between Toronto at No. 1 and Boston at No. 2 is the largest since 1968. However, they finished No. 22 and No. 23 in team ERA, respectively, over the last two seasons.
So, in two years the Jays have gone from an all-pitch, no-hit small ball team to a bunch of all-out mashers hell bent on home run derby.
But what is most impressive is that both methods have worked with the Blue Jays. In 2008 they won 86 games and were one of the best earners in the Majors. Then last year they won 85 games and finished the season as the third-most profitable team in baseball.
Do they have another steroid-infused rabbit up their sleeves for this year? Or will they attempt to lean on their up-and-coming pitching to carry them.

Here is Doc's Sports 2011 Toronto Blue Jays Predictions with MLB Futures Odds:
2010 Record: 85-77
2011 Wins Over/Under: 75.5
Odds To Win 2011 AL East: 20/1
Odds To Win 2010 AL Pennant: 25/1
2011 Toronto Blue Jays Odds to Win World Series: 60/1
Pitching: Toronto has seemed to be stockpiling mediocre lefties over the last few seasons. And they are entering the season hoping that three of them – Ricky Romero, Brett Cecil and Marc Rzepczynski – will be able to carry the rotation. Romero came back to earth a bit last year after a breakout 2009, but he still has a ton of potential. And newly minted ace Brandon Morrow has shown a world of potential since coming over from Seattle in a lopsided 2009 trade. Further, Kyle Drabek, the centerpiece in the Roy Halladay deal, is set to break camp with the team and will bring some sizzle to the No. 4 slot. After that the Jays have a bunch of MLB-ready arms capable of sliding into the No. 5 position. The bullpen needs to replace closer Kevin Gregg and will attempt to do so with Octavio Dotel. After four straight years with a Top 11 bullpen the Jays have been weak at the back end over the last two seasons. Expect a lot of 'overs' with this team until they plug that leak.
Hitting: Obviously, the Jays have some pop. While the rest of the Majors was experiencing a power outage the Jays were setting franchise records for taters. Jose Bautista went bonkers, hammering 54 home runs and becoming an MVP candidate. Aaron Hill and Adam Lind combined for 49 more dingers and left Toronto with one of the most potent infields in baseball. This team was also able to pickup some nice "upside" guys in Edwin Encarnacion and Yunel Escobar and they brought in veterans Juan Rivera and Rajai Davis to help fill the gap that Vernon Wells left when he was dealt. Toronto can mash. But despite all of the power right-handed hitters in this lineup the Jays were horrendous against left-handed pitching. They hit just .215 against southpaws and their feeble 13-23 mark against lefty starters was the second-worst in baseball behind Kansas City. They need to correct that.
Key Stat: The Blue Jays have averaged 81.7 wins per season over the last 13 years. They have finished over .500 in eight of the last 13 years despite being the obvious third fiddle in the most challenging division in baseball.
2011 Toronto Blue Jays Predictions: There is never anything or anyone that really jumps out at you from the Jays roster. But they just win. And they will continue to win. They have maintained some young talent and they have bolstered it with some intriguing players in the field and the rotation. But I don't know that they have enough here to become anything more than their usual spoiler role permits.
2011 MLB Season Win Totals Predictions: 'Over' 76.5. They are always undervalued and I think that will be the case again this year. The Blue Jays return a lineup with plenty of pop and they just always seem to find pitching. As I mentioned, they have averaged nearly 82 wins per season for over a decade and have earned 77 or more wins in 11 of the last 13 years.
Robert Ferringo is a professional sports handicapper for Doc's Sports. He is considered one of the top MLB cappers in the country and has turned a profit in four of the last five years on the diamond with his baseball picks. He closed 2010 with $6,000 in earnings over the last four months and is looking forward to a great upcoming season against the MLB odds. Click here for more information on his MLB picks.