2011 Virginia Tech Hokies Predictions and BCS Futures Odds
by Alan Matthews - 6/17/2011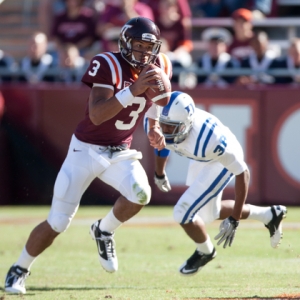 It's not too often that you will say a team that had National Championship aspirations had a pretty good season after starting 0-2, including losing at home to a Division I-AA team. However, Virginia Tech did accomplish some pretty big things in 2010 despite doing exactly that.
The Hokies opened last season with a crushing 33-30 loss to Boise State that essentially ended Virginia Tech's national title hopes in Week 1, and you could see the hangover the next week as the Hokies were stunned by James Madison in Blacksburg. It was Virginia Tech's first loss to a FCS school in 12 games vs. such opponents dating back to 1985. But then Frank Beamer got his guys focused, and they won their next 10 games to finish unbeaten in conference play, the first team to go undefeated through the ACC since Florida State in 2000. And the Hokies won at least 10 games for the seventh straight season, the longest current streak of any Division I team.
Virginia Tech beat Florida State for its third conference championship in four seasons, but then the Hokies laid a major egg in the Orange Bowl against Andrew Luck and Stanford, getting embarrassed, 40-12. Maybe the Hokies were just tired of always ending up in the Orange Bowl. Plus the program never plays well against Top 5 teams as it is 1-27 all-time. Obviously, to win a national title Tech will have to beat at least one Top-5 opponent in 2011.
Coach – They don't come much better than Beamer, who is the winningest active coach in the ACC. Beamer has 240 victories (118 losses and four ties) in 30 years as a head coach -- 24 at Virginia Tech and six at Murray State -- and is currently third among all active FBS head coaches in terms of wins, just one win behind second-place former Ohio State coach Jim Tressel (241). Obviously Tressel is no longer active, and Beamer should hit win No. 250 this season considering the Hokies always win 10 games. The only thing missing from his resume is a national title.
Perhaps Beamer's best news this offseason was that defensive coordinator Bud Foster is staying put. He has been heavily recruited by schools such as Florida, Florida State and Georgia the past few years. And this offseason he interviewed for the head coaching job at Pittsburgh that eventually went to Tulsa's Todd Graham. Vanderbilt also wanted to interview Foster for the head job, but he declined. On four occasions, more than any coach in the NCAA, Foster has been a finalist for the Broyles Award as the top assistant coach in college football. He won in 2006.
Offense – The Hokies did take a few blows on this side of the ball. Tyrod Taylor, a four-year starter and the winningest quarterback in school history, is gone, as are running backs Ryan Williams and Darren Evans. But Tech should be OK there because of dynamic kick returner David Wilson, who rushed for 619 yards and five touchdowns on just 113 carries last year with Williams hurt much of the season.
Certainly Taylor's shoes are the biggest to fill, and that task goes to sophomore Logan Thomas. He's got all of the physical attributes (6-foot-6, 245 pounds) and had a tremendous spring. The guy looks a lot like Cam Newton and will be the latest dual-threat QB in the program following Michael Vick and Bryan Randall. He should have a very good offensive line as four starters are back and both top receivers return. Overall six starters are back on this unit. In addition, Beamer stripped the play-calling duties from coordinator Bryan Stinespring -- who has called plays since 2001 -- and gave them to quarterbacks coach Mike O'Cain because he thought O'Cain would work better with Thomas.
Defense – This unit is set to return six starters as well, with two at each level of the defense. The defensive line will be led by tackle Antoine Hopkins. All four projected starters are underclassmen, and redshirt sophomores J.R. Collins and James Gayle and freshman Derrick Hopkins had phenomenal springs. The line should be the strength of this unit. Bruce Taylor should be one of the ACC's best linebackers, while sophomore Tariq Edwards takes over for Lyndell Gibson, who decided to transfer after an inconsistent 2010 season. The secondary is anchored by Jayron Hosley, a first-team All-American last year after leading the nation in interceptions.
We won't mention special teams too often in our NCAA previews, but no school has better special teams than Virginia Tech year in and year out. However, the Hokies will have to replace both an All-ACC punter and kicker this fall.
2011 Virginia Tech Hokies Predictions and BCS Futures Odds – Is another ACC title in the mix for the Hokies? They certainly will be the favorites in the Coastal Division. The Hokies' nonconference schedule should be a breeze (vs. Appalachian State, at East Carolina, vs. Arkansas State, at Marshall) so they will enter conference play 4-0 and then open the ACC with home games against Clemson and Miami. It's not impossible this team is 9-0 heading into a Thursday night November game at Georgia Tech. Then Virginia Tech gets North Carolina at home and visits a rebuilding Virginia. This has to be one of the easiest schedules of any BCS team – no opponent is likely to be in any preseason Top 25.
Just because of the weakness of the Virginia Tech Hokies football schedule, it might be worth putting a few bucks down on Virginia Tech at long odds of 35/1 at Bodog to win the BCS national title. On talent alone, this club probably isn't that good. And should it win the Coastal the Hokies probably would lose to overall ACC favorite Florida State should the Noles live up to expectations and win the Atlantic Division. But I would expect a 10-2 regular-season record and a fight with Miami for the Coastal title for the Hokies.
Doc's Sports is set to embark on our 40th year of handicapping college football. Doc is coming off a profitable season with his college football picks, including winning his Big Ten and College Football Games of the Year. Doc spends the hours during the week studying the college football odds and releases 6-8 college football plays per week including top plays (6-8 unit selections). Doc is ready to start the first week of September and our Magnificent 7 Packages gives you every college football selection that we make through the BCS Championship Game in January of 2012. Jump on board now with one of the best college football handicappers in the business.