Doc's Sports Weekly Big Ten Football Betting Report
by Trevor Whenham - 9/20/2011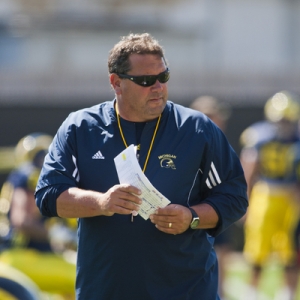 A familiar opponent for Brady Hoke
Michigan's new coach faces the worst nightmare for coaches this week - facing the team he just left -- when San Diego State travels to Michigan on Saturday. The Aztecs are a very solid team featuring a strong QB in Ryan Lindley and the No. 2 rusher in the country.
For Hoke, there is no upside here. If he wins he should because his team is a nine-point favorite at home. If he loses, it's humiliating. He'll have the advantage of more knowledge of his opponent than almost any coach all year, but his former team will also be highly motivated to beat him.
Hoke has seemed clearly uncomfortable with the idea of this game every time he has been asked about it in the last week, and could certainly be tense and on edge as the game starts. That won't matter as much as it would for some teams, though -- Hoke doesn't call plays on either side of the ball, and often doesn't even wear a headset.
Hoke should be more concerned with his offense than his opponent in this one. Denard Robinson still runs like no one else, but his passing performance is clearly regressing badly, and that will become an increasing issue as the season progresses if they can't get him back on track.
Youth in a line in Indiana
New Indiana Coach Kevin Wilson is building a bright future at Indiana -- as the stunning recruitment coup of landing top QB Gunner Kiel in next year's class showed -- but he clearly has some work to do in the short term. Case in point -- it looks like he will be starting three freshman on the offensive line this week.
Those freshmen played a lot last week, and managed to false start 11 different times. A trip to North Texas shouldn't be a challenge -- even for a team as underwhelming as Indiana has been for years -- but you can expect more issues offensively from the Hoosiers than you otherwise might because of this inexperience. Indiana is favored here by 6.5.
Nebraska due for a secondary boost
Current Giant and former Husker Prince Amukamara got all the attention in the Nebraska secondary last year, but a big portion of his success was due to the fact that fellow corer Alfonzo Dennard was every bit the player that he was.
Dennard, now a senior, has been out all year so far with a leg injury, but he is reportedly ready to go this week. That's good news for the Huskers because their secondary hasn't been nearly as sharp as it needs to be if they want to go all the way in the conference.
Dennard shouldn't be needed this week as the Huskers are 24-point favorites at Wyoming. This game is a perfect chance for him to get back into the pace of things, though, because next week he'll really be called on against Russell Wilson and the Badgers.
Marve rides again
Purdue is off this week, but I still want to mention Robert Marve for a second. He's a guy I couldn't be more fundamentally impressed with. I think he could be a very strong QB, but his knee keeps getting in his way -- after his transfer from Miami two significant knee injuries have limited him to just three games.
Last week in Purdue's 59-0 destruction of SE Missouri State Marve came in the game in relief and completed seven of eight passes for 91 yards and a touchdown. I'll always wonder what could have been with Marve,, but at least he should be able to be a factor for the Boilermakers the rest of the way this year.
Doc's Sports has earned three straight winning weeks for football picks. We have picked up +24 units already this season and $100 bettors are up nearly $2,000 already. We are also a perfect 4-0 with our last four free picks so be sure to sign up for a package or at least some by and check out our free football betting picks each week.