Doc's Sports Weekly Big Ten Football Betting Report
by Nicholas Tolomeo - 10/25/2011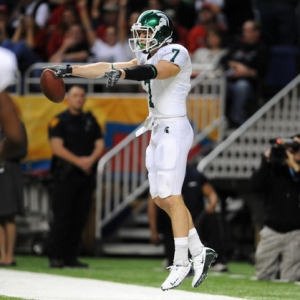 Hail Mary. The rollercoaster ride of a game that saw Michigan State trail by 14 in the first quarter, lead by 14 in the fourth quarter and wind up tied 31-31 with seconds left on the clock ended, appropriately enough, with an unconventional Hail Mary. With 76,405 in attendance anticipating overtime, Spartan quarterback Kirk Cousins launched up a prayer. After a few bounces off hands and helmets his pass landed in the hands of Keith Nichol at the one-yard line.
Nichol, who appeared as surprised as anyone to see the ball, pushed forward and was initially ruled short of the endzone. After a tense video review the call was overturned and a touchdown was awarded. Bedlam broke out in East Lansing, Michigan, and Wisconsin (6-1) was no longer undefeated.
"It's a play that everybody practices," Michigan State coach Mark Dantonio said. "You never know when it's going to come to fruition. My heart's racing."
BCS Breakdown. The second batch of BCS rankings came out this week and after having six teams in the initial rankings, the Big Ten Conference is down to five teams ranked in the BCS Top 25 after Illinois dropped out. More importantly, Wisconsin dropped out of the Top 10, leaving the conference without a bona-fide national title contender as the non-Big Ten friendly computers continue to rank conference teams lower than human pollsters.
No. 11 Michigan State moved up only five spots by virtue of its win over Wisconsin, who fell nine spots to No. 15 just behind No. 14 Nebraska. No. 18 Michigan stayed put while No. 19 Penn State moved up two spots.
Quiet Lions. The Big Ten currently has five teams with one loss. Of the teams, only one has seven wins and only one is 4-0 and only one is doing so pretty much out of the public spotlight: Penn State.
The Nittany Lions improved to 7-1 overall 4-0 in conference play after a 34-24 win at Northwestern. Much like a four-point win over Temple, a six-point win over Indiana and a five-point win over Purdue, it was not pretty.
Sophomore running back Silas Redd has four consecutive 100-yard rushing games, the defense ranks fifth in the country (13.1 points per game) and junior Matt McGloin appears to have hammered down the quarterback position after throwing for 192 yards and two touchdowns against Northwestern, although Joe Paterno still insisted after the game, "No, no. Every day is between Rob Bolden and McGloin."
The quarterback carousel may have worked up until now and it may work at home against a streaking Illinois team, but the Nittany Lions will need more of an offensive identity if it wants to run the gauntlet at the end of the season vs. Nebraska, at Ohio State, at Wisconsin.
Week 9. All 12 Big Ten teams will be in action on Saturday. At noon somebody will have to win when Northwestern (2-5) visits Indiana (1-7). The Wildcats are 8.5-point favorites, according to college football odds.
In a more meaningful game, No. 14 Nebraska is a 4.5-point favorite against No. 11 Michigan State in an 11 a.m. local time kickoff in Lincoln.
"They're a good team and well-coached," Nebraska coach Bo Pelini said of the Spartans. "I'm not in that locker room but I'm guessing they've moved on (from the Wisconsin win). They better."
Another crucial conference game caps the night when No. 11 Wisconsin (6-1) heads to Columbus to face the Buckeyes (4-3), who are seven-point underdogs at home for the first time since USC came to town in 2009.
"I expect this group to bounce back," Wisconsin Coach Bret Bielema said of his team after the tough Michigan State loss. "(We have) a great opportunity this week to go on the road, a night game, national stage against a traditional opponent that we all look forward to at Ohio State."