Doc's Sports Weekly Big Ten Football Betting Report
by Nicholas Tolomeo - 10/18/2011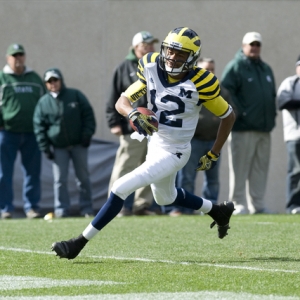 Michigan State(ment). The Spartans made a number of statements on Saturday in East Lansing. They proved they can beat Michigan without the help of Rich Rodriguez. They proved their defense is legit and they vaulted to pole position in the Legends Division all via their 28-14 win over rival Michigan. The win means that the Spartan seniors went 4-0 against the Wolverines.
"It's a big win, a program win," Michigan State Coach Mark Dantonio said. "To do that a fourth straight year says a lot about our players."
Count the oddsmakers and college football handicappers among the list of those unimpressed with Michigan State's start. No. 4 Wisconsin opened up as 7.5-point favorite in East Lansing Saturday night in an ESPN College Gameday showdown. The Badgers were quickly bet up to a nine-point favorite by Monday.
Rose Bowl Bound? The BCS Rankings were released on Sunday for the first time and every Wisconsin fan's worst fears were realized: an undefeated season may not be enough. Despite dominating performances this season, an awfully weak Wisconsin Badgers football schedule has them (ranked No. 4 in all the human polls) ranked No. 6 in the BCS standings.
After a terrible showing among the six computer polls (three computer polls had them out of the Top 10), Wisconsin has been leapt by both Oklahoma State and Boise State. That is significant because now all four teams figuring into late-season showdowns, No. 1 LSU vs. No. 2 Alabama and No. 3 Oklahoma vs. No. 4 Oklahoma State, are ranked ahead of the Badgers. Meaning the winners of those games will stay ahead of Wisconsin if they can win out.
"Our nonconference schedule is what it is. Those things are set so far in advance you just try to get a quality opponent," Wisconsin Coach Brett Bielema said. Another thing that might be set far in advance is a Wisconsin trip to Pasadena for New Years.
Bucking the Trend. The Ohio State Buckeyes went into the fourth quarter on the road against a 6-0 team without having completed a pass, yet somehow they were winning. Woody Hayes ran the ball all the time because he wanted to. Ohio State ran the ball all the time against Illinois because Braxton Miller was at quarterback. Ohio State ran 55 offensive plays, but they threw the ball only four times.
"Up 10-0, we were on the sideline saying, 'Man, we haven't made a pass yet," Ohio State tight end Jake Stoneburner said. "It was kind of funny, but we were all saying, 'Who cares?' We're up and if we complete one pass, I'll take the catch."
Stonebrunner did take that catch, which went for a 17-yard TD and put Ohio State up 17-0 with 13 minutes to play. They held on, 17-7, ending Illinois' perfect season. The Stonebrunner catch was the only completed pass of the day for Ohio State. Ohio State defensive backs caught more passes than receivers as they picked off Nathan Scheelhaase twice.
BCS Breakdown. The first batch of BCS rankings were released this week and as far as a Big Ten perspective goes, one thing is evident: the computers are not a fan of the conference. The Big Ten had an NCAA-best six teams in the Top 25 of the first BCS standings, but the teams were not ranked as high as many had expected.
The computers lacked respect for more than just Wisconsin. No. 11 Nebraska was ranked No. 15 by the computers and No. 13 Michigan State was ranked No. 24 by the computers. There were even two computers who did not even rank the Spartans. No. 17 Michigan was ranked No. 20 by the computers.
The only team to fare well in the computer polls was the team coached by the guy who has never used one, Penn State. The No. 22 Nittany Lions were No. 16 in the computer polls. Illinois also cracked the top 25 of the BCS Standings, coming in No. 23.
The computers are either aware of how bad Big Ten teams perform in BCS bowl games or they are issuing a sharp rebuke to their cupcake-lined nonconference schedules.
Point Spread Trouble. About the only thing giving No. 21 Penn State (6-1, 3-0) trouble this season, is the number. Penn State struggles against the spread but the oddsmakers continue to struggle also with what to do with the Nittany Lions, the worst team against the number this season at 1-6 ATS.
In two road games this season Penn State was giving seven and 14, respectively, to Temple and Indiana. They barely won both games. At home last week they were giving 12, they barely won again, 23-18, against Purdue. Now this week against a very shaky Northwestern team (2-4, 0-3) the Nittany Lions are only giving four points on the road. The difference in this game may be defense; Penn State ranks No. 6 in the country on defense, the Wildcats rank No. 101.
Doc's Sports has been having a very nice start to the football picks season and $100 bettors are up nearly $3,000 already thus far. Doc loves the college football handicapping this week and he has an Underdog Game of the year going on the Saturday card. Click Here to purchase.