2012 Clemson Tigers Predictions and College Football Futures Odds
by Alan Matthews - 7/6/2012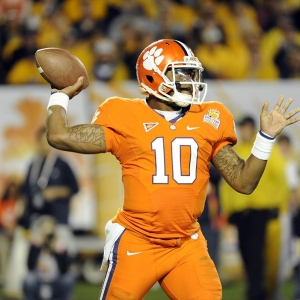 OK, off the top of your head can you name the Atlantic Coast Conference football champion from last season? Virginia Tech? Logical guess considering the Hokies have played in the ACC title game every year but one, but no -- although Tech did at least play in the Sugar Bowl last season, finally giving the ACC two BCS bowl teams. How about Florida State? Nope, Seminoles haven't won the conference since 2005, the year of the first ACC Championship Game. Miami? No, the Hurricanes have never even reached the conference title game.
The answer would be Clemson, with the Tigers winning their first ACC title since 1991 and finishing 10-4. Unfortunately for Tigers backers, Clemson played more like Wofford in the Orange Bowl against West Virginia, getting humiliated 70-33, the most points ever allowed in a bowl game. In fact, it was so embarrassing that Head Coach Dabo Swinney fired defensive coordinator Kevin Steele soon after.
Clemson's defense was the weak link all season as the Tigers finished No. 71 in the country in total defense, No. 83 in rushing defense and No. 81 in scoring defense, allowing 29.29 points per game -- Clemson allowed 30 or more points in seven of its final eight games. The Tigers seem to have upgraded at coordinator in bringing in Brent Venables, who led Oklahoma's defense the past 13 seasons. He installed a 4-3 scheme with the Tigers.
Because of the above numbers, I'm not sure if it's a good thing or bad thing that Clemson lost three starters on the defensive line: Andre Branch, Brandon Thompson and Rennie Moore. Branch led the team with 17 tackles for loss, including an ACC-best 10.5 sacks. Thompson was fourth on the team in tackles with 77 and Moore had 58, including 10 tackles for loss. On the positive side, all three linebackers return as part of six returning starters overall.
The offense carried the load last season as it set school records for points (ranking 24th in the nation at 33.6 per game), touchdowns, total offense and passing offense. And the three top skill players all return in quarterback Tajh Boyd, running back Andre Ellington and receiver Sammy Watkins. Boyd was the ACC's top signal-caller, setting Clemson records for completions (298), passing yards (3,828), total offense (4,046; the first in school history over 4,000) and touchdown passes (33). He also set a conference record with 38 total touchdowns. Ellington rushed for 1,178 yards and 11 scores.
Watkins was the nation's top freshman in being named an All-American as an all-purpose player. He caught 82 passes for 1,219 yards and 12 touchdowns, the latter two school records. He led the ACC in all-purpose yards per game as he is also a stud kick returner. However, he was arrested in early May on drug-related charges and will be facing some sort of discipline from Swinney. The coach hasn't said what yet but that it likely will include some game time missed. Clemson also brings back fellow WR DeAndre Hopkins (72 catches, 978 yards, five TDs), but All-American tight end Dwayne Allen and three starting offensive linemen are gone.
Clemson 2012 College Football Futures Odds
On 5Dimes, the Tigers are +4200 to win the BCS Championship and +1700 to play in the game. Clemson is +250 to play in any BCS bowl game and -350 not to. The Tigers are +550 to repeat as ACC Champion (third favorite) and +280 to win the Atlantic Division again (second-favorite behind FSU). Watkins is +3500 to win the Heisman and +600 to finish in the Top 3, while Boyd is +4000 and +1000, respectively. The Tigers' "over/under" for wins is 8.5 and they are 2.5-point favorites for their season opener vs. Auburn in Atlanta.
Clemson Tigers 2012 College Football Predictions
If the Tigers can beat Auburn in the opener, they will be 3-0 (after beating Ball State and Furman) heading into the game that likely will make or break their season: Sept. 22 at Florida State. The Noles are already posted as nine-point favorites in that one. If Clemson wins there, it could potentially run the table as it gets its expected three remaining toughest opponents, Georgia Tech, Virginia Tech and South Carolina, in Death Valley. The Tigers should be able to handle all their other games: at Boston College, at Wake Forest, at Duke, vs. Maryland and vs. NC State.
As for that Auburn game I would go with Clemson there, especially with the other Tigers having lost star tailback Michael Dyer and highly-regarded offensive coordinator Gus Malzahn, both to Arkansas State. However, I can't see Clemson winning in Tallahassee so I wouldn't take them to play in the BCS title game. I think I might roll the dice on playing in any BCS bowl, however, as an 11-1 record isn't impossible. But more likely is 9-3, so go over on the wins total.
I actually would take the Atlantic Division prop, but not the ACC title, even though I think Clemson loses at FSU. That's because the Noles could still lose two other conference games, potentially at NC State, at Miami and especially at Virginia Tech.
As for those Heisman props, I might have considered Watkins for a Top-3 finish but if he misses a game or two (which I rather doubt) then that obviously hurts his numbers. And Heisman voters don't like voting for guys who were arrested. I don't think Boyd has enough of a profile to warrant Top-3 consideration.
Want more Clemson football predictions? Check out BetFirms for their 2012-13 preview. And to get $60 worth of free Doc's Sports member's picks (any sport, no salesperson ever!) Click Here.