College Football Bowl Handicapping: Departed Coaches
by Trevor Whenham - 12/11/2012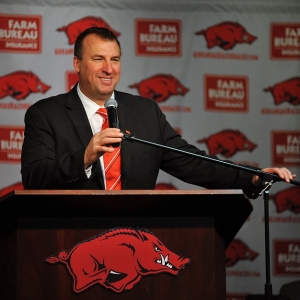 The coaching carousel has been spinning out of control in college football this year. At this point there are 10 programs that are heading into a bowl game after having made a coaching change, and with several big vacancies still open there could be even more before all is said and done. Each of these situations is a potential headache for handicappers. Sometimes the coach leaves the team as soon as he gets a new job. Other times he sticks around to coach the bowl before he goes. You can never know how a team will react to an interim coach, or to a lame-duck one, so there is even more educated guessing required here than there is on a regular basis when picking games. Here's a look at the 10 teams facing changes heading into the postseason, and what impact each might have on their games:
Arkansas State - I don't expect Arkansas State to be adversely affected at all. First, Gus Malzahn is planning to coach the team before leaving for Auburn. More significantly, the program and players would have been under no illusions that Malzahn was planning to stay for any amount of time, and they have already gone through a transition away from a good coach after Hugh Freeze left last year after just one year in the job. As far as I'm concerned, from a handicapping perspective it's almost as if this change isn't happening.
San Jose State - The timing is the concern here because Mike MacIntyre only left on Dec. 10 — 17 days before the game is played. The team will have to move quickly and decisively to make a move that will instill confidence in the players as they prepare for their game. The advantage the new coach — interim or permanent — will have is that they have a solid advantage over Bowling Green, so there is some margin for error here.
Cincinnati - Butch Jones is out and Tommy Tuberville is taking over, but not until after the bowl game. For this game the man in charge will be defensive line coach Steve Stripling. The transition could hurt a bit, but the departure of Jones can't come as a surprise to anyone paying attention — he was desperate for a way out. The bigger issue here is that Duke is going to be very hungry because they haven't been in a bowl game in eons, and they are feisty and tough.
Kent State - Darrell Hazell is off to Purdue, but not before he coaches this game. He's a talented and popular coach, and his team is coming off a frustrating loss they'll want to erase from their memories. Therefore, motivation shouldn't be a big issue. Like their opponents from Arkansas State I don't expect this to be a significant issue from a betting perspective.
Texas Tech - The Red Raiders had a horrible second half of the season, and then their coach bolted after assuring them he was loyal. This is a fragile team. They are against a team that is almost as fragile and not nearly as talented in Minnesota, though. Covering the big spread (13 points as I write) could be an issue, but winning shouldn't be tough for the Red Raiders despite the change.
N.C. State - Tom O'Brien is out, and Dave Doeren of Northern Illinois is in, but he's not taking over for this game. Offensive coordinator Dana Bible is the interim. He has a huge task ahead of him, but beating Vanderbilt was going to be a huge task for this team anyway.
Northern Illinois - The Huskies broke through in a big way to make the BCS, and before it's even official Dave Doeren moves on to greener pastures. That could be really tough on a team, but I don't think it will be in this case. Before the team was officially in the Orange Bowl they had already named offensive line coach Rod Carey as the new permanent head man. He's a very popular choice with the team, and they will play hard for him. They were in a tough spot anyway, but they are no less attractive now than they would have been with Doeren in charge.
Purdue - Danny Hope is out, and wide receiver coach Patrick Higgins takes over for one game before Hazell arrives. This team has been very disappointing, and at this point they know it. There is little hope for a good performance, and they are hopelessly outmatched by Oklahoma State here.
Western Kentucky - Western Kentucky lost a very good coach in Willie Taggart to South Florida and has replaced him with Bobby Petrino in a major gamble that should pay off for them. For this game defensive coordinator Lance Guidry is in charge. Normally I would have been optimistic about this team — Guidry knows the team, they have been solid this year, and they have a manageable game against Central Michigan. The excitement of playing for Petrino, though, could make it tough for the former regime to keep the players on task.
Wisconsin - Wisconsin probably isn't in great shape without Brett Bielema. The good news, though, is that they were likely to get crushed by Stanford regardless of who was coaching, so at least now they have a good excuse. Barry Alvarez could command respect. However, he's not likely to make a massive impact, and he'll have a hard time overcoming the feeling the players will have that Bielema quit on them without warning.