College Football Handicapping: Best Teams to Bet Against
by Robert Ferringo - 8/30/2012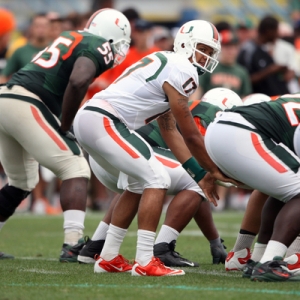 College football handicapping can be overwhelming for the average bettor. With around 130 teams employing around 80 players apiece that is over 10,000 college football players for gamblers to track. It is nearly impossible to keep up with position battles, injuries, playing time and individual performance. As a result, most bettors simply throw their money behind the schools they know and the teams that have established themselves as traditional powers.
Oddsmakers, obviously, understand this. So they gleefully shade lines and suck value away from the teams that they know the public wants to put their money behind. (Cough, cough, Notre Dame.) The results are predictable: the books clean up while the average bettor goes bust.
Long-term profit betting on college football is about finding value. And it's about staying away from the traps and tricks that oddsmakers lay out on overrated teams. Below is a look at six teams, one from each of the BCS conferences, that I feel are overvalued and overrated heading into the 2012 season:
Miami (ACC)
I believe that Al Golden is a good coach capable of building a winning program. However, Miami is still a mess and I don't think Golden can steer this sinking ship.
The fact is that the Hurricanes haven't been relevant in college football over the past six years, and that trend won't turn around any time soon. But they still garner too much respect from the oddsmakers, as evidenced by their 52-70 record against the spread over the last decade.
The Hurricanes have only 10 starters back this year, including Stephen Morris, a.k.a. "The Guy Who Couldn't Beat Out Turnover Machine Jacory Harris". Miami starts with three of four games on the road, and I think they are going to lose all three of them. Things don't necessarily get easier after a brutal September, with games against Notre Dame, Florida State and Virginia Tech. Miami went just 6-6 last year and I think that this season will be even worse.
Oklahoma State (Big 12)
The Cowboys far exceeded my expectations in 2010 after losing Zac Robinson and Dez Bryant. But that's only because I didn't realize how good Brandon Weeden and Justin Blackmon were. For the second time in three years Oklahoma State will have to replace all-Americans at quarterback and receiver, but I don't see this transition going nearly as smoothly.
The Cowboys devastating offense was able to hide the flaws of their soft defense last year. But I do not think Oklahoma State will be able to duplicate its defensive turnover numbers (which were obscene in 2011) and they likely won't have the benefit of playing with big leads again this season. Oklahoma State starts the season in the Top 20 but I have a feeling they will be unranked before the end of September. And after going 18-7-1 ATS over the last two seasons I see them putting up Salvation Army numbers this year.
Pittsburgh (Big East)
I think that I may be one of the few people in the country that hasn't been the head coach at Pittsburgh over the past 22 months. The Panthers have had six different coaches, including interims, since November of 2010. That is a lot of turnover and no real direction for a program starting its Big East swan song.
The Panthers have only five starters back on defense, which was the strength last year, and all of the experience is on the side of an underachieving offense learning its third system in three seasons. Basically, I don't know what the identity of this team is. Ray Graham is still recovering from a torn ACL and is questionable for Week 1 and their two top receivers have already been battling knee and hamstring injuries. Quarterback Tino Sunseri is mediocre at best and there is just no way to predict how the new Wisconsin-flavored coaching staff is going to mesh with the roster holdovers. I think it will be a rocky transition for the Panthers.
Michigan (Big Ten)
I was going to use Penn State here but that one is almost too easy. The books know the betting public wants to bet against that villainous program.
But I'm going with Michigan as my team to bet against in the Big Ten. I think that this is one of the more overrated teams in the country and I think they are destined to underachieve. Things went a little too perfect for the 11-2 Wolverines last seasonand I think that their success was more a product of a cupcake schedule than any Brady Hoke magic. The Wolverines are currently No. 8 in the nation – they even received a lone first-place vote in the AP poll – but I don't have them as any better than No. 3 in the Big Ten.
They also don't have nearly as favorable of a slate this time around, with road or neutral site games against Alabama, Ohio State, Notre Dame, Purdue and Nebraska, as well as tough home games versus Illinois and Michigan State. This team was undeserving of a BCS bowl bid last year and even less deserving of a win in that game. I think the bill will come due this year and I predict they will be out of the Top 25 by the end of October.
USC (Pac-!2)
It was really a toss-up between USC and Arizona State here. But I'm going with the Trojans. I know that it is sacrilegious to suggest that the AP No. 1 team is overrated and overvalued. But it seems as ifmost of the college football-loving world is projecting their anti-SEC lusts onto the Trojans; people want someone – anyone – to end the SEC's smug reign of the sport so they aretalking themselves into the Trojans.
But Lane Kiffin is a loser. And there is no way I'm backing a team that barely beat Minnesota – MINNESOTA – at home last year as this year's National Champion. The Trojans talent is unmistakeable. But I don't think Kiffin can keep this group focused and disciplined enough through 13 games to be a consistent earner.
USC closed last season on a tear and start this year as No. 1. In way the whole situation reminds me of Georgia in 2008. The Bulldogs started the year No. 1 and went 10-3. That is a solid year. But they went just 4-8 ATS that year because their odds were so inflated. That has always been an issue for Trojan backers: this team went 58-10 straight up from 2005-2009. But during that time they went just 31-34 ATS. So it's not about talent with this team. It's about value. And I don't think this team has any.
Georgia (SEC)
Yup. I have three teams currently in the Top 10 that I think are among the most overvalued in the country. I will say that choosing Georgia out of the SEC wasn't easy. I think that Arkansas is overrated and that they are going to be disappointing at the window this year as well.
But I'm willing to step out and say that the Bulldogs will have a disappointing season at the window. This season reminds me a bit of 2008, when Georgia was installed as the preseason No. 1 team in the nation. Georgia had a solid season, going 10-3 and winning their bowl game, but they were a terrible 4-8-1 ATS because they were severely overvalued. I see similar things with this UGA team.
The Bulldogs went 10-4 last season and represented the SEC East in the league title game. But they didn't beat anyone good (their best win may have been at Georgia Tech) and fattened up their 8-6 ATS mark against weaklings. The books aren't going to allow that again this season and Georgia will be facing some severely inflated lines as a big favorite this year. UGA again has an easy schedule and they won't be an underdog more than twice all season. But I don't think they have enough power on the offensive and defensive lines to just overwhelm weaker opponents. As such, I think teams like Vanderbilt, Tennessee and Ole Miss will be able to hang around longer than they should in eventual Bulldog wins. Georgia could win 11 games this season. But I don't see them as a winning proposition at the window.
Robert Ferringo is a professional handicapper and has posted back-to-back profitable seasons (college and pro). Robert has turned a profit in three of four football seasons and over the last nine months his clients have earned nearly $10,000 in profit with his football selections. He is looking forward to building on his stellar football handicapping resume again this fall and you can check him out here. Also, you can also get $60 worth of free Robert Ferringo member picks (no salesman, no credit card, no obligation!) by clicking here for more info.