College Football Handicapping: Teams that May Be Worse Than Expected
by Trevor Whenham - 9/4/2012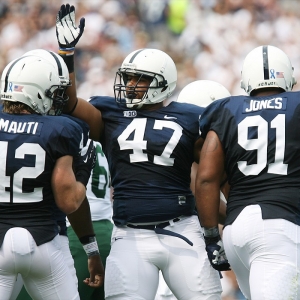 It is very tough to get a real sense of what to expect from a college football team before the season starts. There isn't preseason action to get a glimpse of progress, and access to training camps isn't nearly as easy to find as it is in the NFL. Bettors form opinions about teams, but more often than in the NFL those opinions prove to be inaccurate once the team hits the field for their first game.
That happens every year, and it certainly was the case this year. Here are four teams that stand out as not potentially being the squads we thought they were before the season. This doesn't mean that they are fatally flawed or doomed to struggle. It just means that we need to be careful to adjust assumptions to accurately assess the teams going forward.
Michigan
As a Michigan fan I am still reeling about that mess of a display on Saturday night in Dallas. I knew Alabama was good, and I was braced to lose if I am being honest. What I wasn't prepared for, though, was that the Wolverines wouldn't bother to show up.
After a strong first defensive series that forced a three-and-out, the team just disappeared. Denard Robinson was horrible. His passing was the worst it has been in two years, and somehow the team designed an offensive strategy that didn't involve letting Robinson run. With that weapon minimized they were powerless. Defensively they were troubled as well.
The Wolverines won't play another team nearly as good as Alabama, so it only gets better from here. Still, there are a huge number of holes on both sides of the ball that were painfully exposed.
After a Sugar Bowl win and a decent offseason it was easy to think that this team was on the ladder up — and the No. 8 preseason ranking suggested many people thought that was the case. This game showed that there is still a whole lot of work to be done, and that a much more realistic assessment of this team will be necessary going forward.
It's not yet time to panic, but if they don't come out very strong against Air Force this week then things could get ugly.
West Virginia
Offensively, the Mountaineers were everything we expected and more. Their 69-point performance was incredibly impressive, and QB Geno Smith launched himself into the middle of the Heisman race. There is no real reason to doubt that the performance can't be sustained, either, because there wasn't a lot of luck or exceptional circumstances involved in the showing.
As impressive as the win over Marshall was on the surface, though, when you look further it casts real doubt on the team's ability to win the Big 12 in their first year in the new conference.
The Big 12 is a very offensive league, and the Mountaineers showed massive issues defensively. Marshall isn't the most dynamic offensive team, and QB Rakeem Cato isn't exactly Andrew Luck. However, they had a heck of a day. Sophomore Cato passed for 413 yards and completed more than 70 percent of his passes.
The team will face a lot of quarterbacks better than Cato this year, and they will face a lot of defenses that are better than what Marshall had. That combination factors could really come to haunt this team if things don't improve dramatically and quickly.
It would be a mistake to be too optimistic about this team based on the scoreboard after Week 1.
Oklahoma
The post-game comments from Landry Jones after his team made their game against UTEP far closer than it should have been made me want to throw up. To explain his underwhelming performance he trotted out the same sorry excuse he has used too often in the past — a lack of chemistry with his receivers.
The guy is a senior with all the talent in the world, so this is just a pathetic attempt to assign blame. If he doesn't have the chemistry he needs it reflects very poorly on him. If he can complete only 58 percent of his passes for 222 yards against a UTEP team that is, frankly, bad, then it's really hard to have any faith in the team that entered the game ranked fourth in the country. Even worse, 68 yards came from one passing play, so if you remove that his performance was not good at all.
Jones gets a lot of criticism. It's easier and easier to believe that he deserves all of it.
I can't even find consolation in the Oklahoma defensive performance. The headline is that under new defensive coordinator Mike Stoops the defense was improved significantly and didn't allow any points (the lone TD came on special teams). Sophomore running back Nathan Jeffery makes it hard to have faith in the defense, though, Jeffery had just 166 career yards entering the game, but he ran for 177 on just 21 carries against Oklahoma — an impressive 8.4-yards per carry. Good defenses do not get torched for that kind of yardage when matched up against an offensive line that they should have overwhelmed.
Penn State
The Nittany Lions were actually exactly what I expected them to be after the first quarter on Saturday against Ohio, but my pessimism seemingly wasn't shared by many. In that sense, then, this isn't the team now that many people seemed to want to believe it was.
After adrenaline got them off to a strong start, I was stunned to hear the commentators talking about how eight or nine wins was a very reasonable expectation based on the schedule. I know they were at the game I was watching, but they must not have been watching it.
The players played their hearts out, but this is just a bad team. They were incredibly sloppy, and a lack of talent was exposed many times over the course of the game. The negative attention was strong after the game, and will only intensify if and when they lose at Virginia and drop to 0-2.
It's not fair for the kids who have stayed and who are working hard, but it would be a mistake to think this team is going anywhere this year.