College Football: Top 10 Conference Games
by Robert Ferringo - 7/18/2012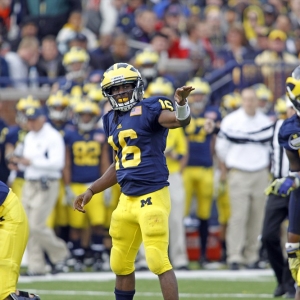 More than any other sport, college football success and failure is measured by how teams perform in their own backyard. All of the major North American sports have some version of divisions or leagues. But in college football, a team's season is defined overwhelmingly by how it plays against it's rivals, against the teams that are trying to occupy and dominate the same space, and against the teams in its conference.
Conference play dominates college football. In all other major sports divisional play generally constitutes somewhere around 40 percent or less of a team's season. But in college football, where teams play roughly eight of their 12 regular season games against teams within their own league, the conference schedule engulfs the rest of the season. And that regional passion, that territoriality and that burning hatred for your neighbors is really the fuel that energizes the sport.
Conference football is the most important aspect of college football. And with that in mind, here is a look at the Top 10 College Football Conference Games for the 2012 season. 5Dimes Sportsbook provides the college football odds:
10. South Florida at Louisville (Saturday, Oct. 20)
Yeah, I know it's the Big East. But this conference is as rich in tradition and has as proud of a football history as any league on the East Coast over the last half-century. And this year these are the two best teams in the league, meeting up for a little midseason southern showdown. The Cardinals sprung a convincing 34-24 road upset in South Florida last year, outscoring the home team 24-7 in the second half. Is Charlie Strong's program ready to return to national prominence? Is this the year that USF finally puts it together? This game will go a long way in determining the answers in this questionable conference.
9. Oklahoma (-3) at West Virginia (Saturday, Nov. 17)
This game here is the epitome of the new landscape in college football. Yesterday this matchup could have been a BCS clash. Now it is a key game that could help decide the Big 12. I don't know that West Virginia has the defense to win a conference title in their "rookie year" in the Midwest. But they certainly have the offense. And while Oklahoma has proven it can win in some tough Big 12 environments, I am certain they haven't seen the special breed of crazy that the mountain folk of Morgantown will bring to this game.
8. Michigan (+3) at Nebraska (Saturday, Oct. 27)
It seems as if every week Michigan will be playing a marquee game. And I used their tilt against Michigan State as one of my top college football rivalry games of the year. But the fact is that it will be a three-horse race for the Leaders Division title between Sparty, the Wolverines and the Huskers. The Wolverines lambasted Nebraska in Ann Arbor last year. But this is a revenge spot and a key midseason clash that will give someone a leg up on a slot in the league title game. It features two of the best dual-threat quarterbacks around and whoever wins the turnover battle will earn this 'W'.
(This is only one Big Ten game on this list. The reality is that Ohio State isn't eligible for postseason play, so Wisconsin really should walk through the Legends Division. And, as I mentioned, its tough to pick out one game in the three-horse race in the Leaders. Not that there won't be great games, but heading into the year its tough to pinpoint many marquee spots from the conference.)
6. Stanford (+13.5) at Oregon (Saturday, Nov. 17)
This game will likely determine the winner of the Pac-12 North and, by extension, determine whom USC is going to play in the conference championship game. The Ducks have dominated the Cardinal the last two years, winning both meetings by over 20 points. But both teams have taken a slight step back and I don't think that the talent disparity across the field is going to be as pronounced. Oregon plays USC two weeks prior. If they win that game they will likely be 9-0 coming into this matchup with Stanford. And that would give the Cardinal not just a shot at revenge, but at ending Oregon's national title hopes.
7. Clemson (+9) at Florida State (Saturday, Sept. 22)
Florida State is being hailed as a potential national title contender. But they may not even win the ACC if they can't defend their home turf against the Tigers. The Seminoles were forced to go with Clint Trickett last year up at Clemson in a 35-30 loss. He played very well (24-38, 336, 3-1), but the Tigers really held FSU at arm's length in that contest. This game is early in the season and is going to set the tone for both of these teams.
5. Florida (+3.5) vs. Georgia (Saturday, Oct. 27)
This World's Largest Outdoor Cocktail Party has given us a pair of thrilling games the last two years, with Florida winning in overtime in 2010 (34-31) and Georgia coming from behind to get a critical win last year (24-20). South Carolina and sleeper Tennessee could make a run at the SEC East crown this year. But heading into the season Georgia and Florida are the two frontrunners for a spot in the SEC Title Game which, over the past half-decade, has been a veritable stepping stone for a shot at a national title. In a league with big games every week, this one is among the biggest.
4. Florida State (-3) at Virginia Tech (Thursday, Nov. 8)
This game is not as important, logistically, as the Clemson-Florida State game – because those two are in the same division and the winner will have the inside track to the ACC Title Game – but it will still be the Game of the Year in the ACC. These are two potential Top 10 teams and they will be playing on national television in a Thursday night showdown. Blacksburg has been a death trap for opponents on Thursday nights. The Hokies are 18-4 straight up on Thursday nights dating back to 1998 and they are an exceptional 10-2 in Blacksburg in that time frame.
3. Oregon (+6) at USC (Saturday, Nov. 3)
This game falls into the same category as the FSU-Va. Tech game: it is not as important from a league standpoint because these two are in different divisions, but it will be the game in the Pac-12 that garners the most national attention this season. Oregon has won three straight conference championships and between these two programs they have won or shared the last 10 league titles. This game will likely be just the prelude to a rematch in the Pac-12 Championship Game in December. But the odds are strong that these two will each be undefeated and ranked in the Top 10 when they lock horns on the first Saturday in November.
2. Oklahoma (-7.5) vs. Texas (Saturday, Oct. 13)
The Red River Shootout was No. 1 on my list of top college football rivalry games of 2012. And this matchup is really on the short list of the Games of the Year in college football this season. The fact that this one takes place a little earlier in the year does nothing to diminish its significance. This game will likely be a head-to-head matchup of two of the Top 10 teams in the nation on a neutral site. And the winner will likely wake up the following Monday as one of the top two teams in the country, with the ability to control its own destiny en route to the BCS Championship Game. Because there is no longer a Big 12 Title Game the regular season champion will earn the league's BCS berth. The winner here will take a huge step to accomplishing that feat.
1. Alabama (+3) at LSU (Saturday, Nov. 3)
Last year this duo combined for one of the worst "Game of the Year" performances that I have ever seen. (And look, I'm a Northeast guy and a Bears fan so don't give me the, "You just don't appreciate defense" line.) It was an ugly game in Tuscaloosa – and in the rematch in the National Championship Game, for that matter – but things may be different this time around for the SEC's best.
This game features the two best teams from the best conference in college football, and barring something unforeseen at least one of these teams will be ranked among the top two or three in the nation. (There's a chance that they could meet as No. 1 and No. 2 again.) LSU has all kinds of revenge after falling in last year's BCS Title Game and this will be another rowdy night game in Baton Rouge. Buckle up. And get ready to go nuts for field goal attempts.
Honorable Mention: Southern Miss at Central Florida (Saturday, Oct. 13); Stanford at Oregon (Saturday, Nov. 17)
Robert Ferringo is a professional football handicapper and has posted back-to-back profitable seasons (college and pro). Robert has turned a profit in three of four football seasons and over the last 12 months his clients have more than tripled their bankrolls with his predictions in all sports. He is looking forward to building on his stellar football handicapping resume again this fall and you can check him out here.