Dwight Howard Trade Alters NBA Odds
by Alan Matthews - 8/13/2012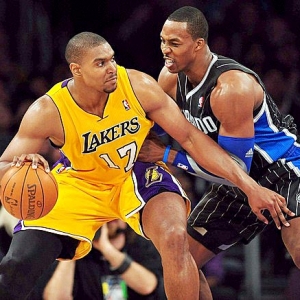 The NBA world was rocked last Thursday night with the news that the never-ending Dwight Howard soap opera finally was over: the NBA's best center and three-time Defensive Player of the Year was headed from Orlando to the Los Angeles Lakers.
Gee, the NBA's premier big man leaves Disney World for Hollywood; Sound familiar Magic fans?
That Howard was traded to the Lakers wasn't really a surprise – it was just a shock that it finally happened. What was surprising is that two other teams involved in the four-team deal, the Denver Nuggets and Philadelphia 76ers, had never before been mentioned as possible trade facilitators in any multi-team deal. Also a shock was how little Orlando seemed to get. As for Howard himself, his options were pretty limited after the Magic couldn't work out a deal to his preferred Brooklyn destination. He had said he would only sign an immediate long-term extension with the Nets.
The Lakers get Howard and cap fodder in Earl Clark and Chris Duhon from Orlando. The 76ers get Andrew Bynum from L.A. and the bloated contract of Jason Richardson from Orlando. The Nuggets get Andre Iguodala from Philly and the Magic get Arron Afflalo and Al Harrington from Denver, Nikola Vucevic and 2012 first-round pick Moe Harkless from Philly, Josh McRoberts from L.A. and one protected future first-round pick from the Lakers (reportedly 2017), Nuggets (2014) and 76ers (2015).
The Lakers are obviously the big winners here, as they didn't have to give up both Bynum and Gasol. Bynum certainly had shown signs of being a star but also has been immature at times and is very injury-prone. He will become a free agent after this season. Now the Lakers have a quartet of potential Hall of Famers in their starting five in Howard, Kobe Bryant, Steve Nash and Gasol. The 76ers also did well in getting the NBA's second-best center in Bynum. And he's from nearby New Jersey so Bynum may be inclined to sign with the 76ers, which appear to be a rising team in the East after reaching the conference semifinals last year.
As for the Magic, this is dumbfounding. Afflalo is a solid player but that's about it. Harrington is 32 with a bad contract and bad knees and probably will be bought out. McRoberts is just a throw in. Maybe Harkless and Vucevic will be solid NBA starters but that's probably their ceiling. And all those first-round picks obviously won't be in the lottery. Orlando took this instead of Brook Lopez, rising MarShon Brooks and three first-round picks from the Nets, or a ton of good young players on cheap contracts and multiple first-round picks from Houston? Magic rookie GM Rob Hennigan has some major explaining to do.
There has been a weekend to digest the trade through the mainstream media. Now the sportsbooks have adjusted their odds and bettors have had a crack at them. Let's look at some props unveiled by Bovada in the wake of this trade:
- Howard average points and rebounds in the 2012-13 season: 17.5 points, 13.5 rebounds (over/under on both -120).
Howard averaged 20.6 ppg and 14.5 boards last year for the Magic. Howard has gone over that average points total every season since 2006-07 and over the rebounds total in four of the past five seasons. Will Howard have as many offensive touches on the Lakers with Kobe, Nash and Gasol all excellent shooters and handling the ball? No. But Howard will be the only guy down low to get all those rebounds as Gasol will mostly be doing high pick-and-rolls with Nash. Still, 18 points a game just on put backs and alley-oops should be easy. And Howard will dominate the boards. I would take over both.
- Bynum average points and rebounds in the 2012-13 season: 20.5 points and 12 rebounds (over/under on both -120).
Bynum averaged 18.7 points and 11.8 rebounds last season. Both were career-highs. It is a contract season, so Bynum will be duly motivated. Still, I would say no way over on the points, as the Sixers like to spread the ball around. And it's really not that easy to grab 12 boards a game. Only two guys did it last year, with Kevin Love joining Howard. Thus take the under there as well.
- 2012-13 win totals: Lakers (58.5), 76ers (49.5), Nuggets (48.5) and Magic (31.5) – all options at -120.
Los Angeles had 41 wins in the 66-game 2011-12 regular season, which would have been about 51 over an 82-game schedule. Kobe had his best scoring season in four years, but Bryant has now missed at least eight games in two of the past three seasons and will be 34 on Aug. 23. Nash continues to be brilliant but will be 39 next February. And Howard had major back surgery recently. I just don't see this team winning that many games because there are going to be injuries.
The 76ers were 35-31 a year ago, which averages out to around 43.5 wins over 82 games. I don't see Bynum adding six wins because I'm sure he misses at least 8-10 games. Plus Philly lost Iguodala, Elton Brand and Lou Williams while adding only Nick Young and Kwame Brown (ha, ha!) to Bynum. Definitely under there.
The Nuggets were 38-28 a year ago, which averages out to around 47 wins. Iguodala will vastly upgrade Denver's perimeter defense and the Nuggets get full seasons out of Wilson Chandler and JaVale McGee in 2012-13. Plus Danilo Gallinari missed 23 games a season ago and would seem unlikely to do so again. Take the over here even though the Nuggets are in the incredibly deep West.
Finally, the Magic. I think winning 30 games would be a minor miracle. The Magic not only lost Howard and Richardson but also free-agent Ryan Anderson. They have a rookie coach in Jacque Vaughn. Frankly, the Magic probably would love to finish with the worst record in the NBA for the most Ping-Pong balls in next year's draft lottery. Take the under here.
- Will the Heat and Lakers face off in the 2013 NBA Finals: yes at +300 and no at -500.
If these two did play, it would easily be the highest-rated Finals since Michael Jordan's days. Can you imagine the Lakers' four Hall of Famers vs. the Heat's likely four of LeBron James, Dwyane Wade, Chris Bosh and new addition Ray Allen? And finally a LeBron-Kobe Finals? It would truly be epic. I actually lean toward no here, but I would roll the dice on yes. The Heat shouldn't face much of a challenge in the East. Boston is a year older and the Bulls won't have a 100 percent Derrick Rose if he's back at all next season. Could the Lakers fall in the West to Oklahoma City? No question. But +300 is too good of value to pass up.
Doc's Sports is offering $60 worth of member's picks absolutely free – no obligation, no sales people – you don't even have to enter credit card information. You can use this $60 credit any way you please for any handicapper and any sport on Doc's Sports Advisory Board list of expert sports handicappers. Click here for more details and take advantage of this free $60 picks credit today.