2012 Florida State Seminoles Football Predictions and ACC Betting Odds
by Alan Matthews - 7/24/2012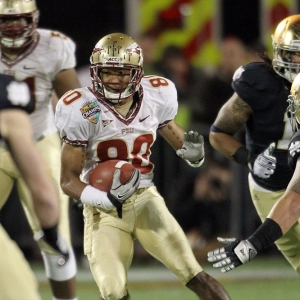 For the second year in a row, Jimbo Fisher's Florida State Seminoles are the overwhelming favorites to win the ACC Championship – something the school has done just once since switching the league switched to divisions – as well as the Atlantic Division (FSU has only won that twice). And many believe this club very much could play for the BCS Championship, which no ACC school has done since FSU lost to Oklahoma following the 2000 season.
Last season was definitely a disappointment as FSU finished 9-4 overall and 5-3 in the Atlantic, a game behind eventual conference champion Clemson. The problems started in Florida State's third game when the No. 5 Noles welcomed No. 1 and preseason national title favorite Oklahoma to Tallahassee. Two key injuries contributed to that 23-13 loss: starting QB E.J. Manuel missed the final 20 minutes with a shoulder injury and starting WR Kenny Shaw suffered a scary head injury that forced him to be carted off in the first half (he would be OK). That defeat began a three-game losing streak for FSU as it lost the next week at Clemson without an injured Manuel and then the following week at Wake Forest, with Manuel missing most of the first half before returning. FSU was 0-2 vs. Top 25 teams last year.
The Noles did close the season with momentum, beating Florida for the second year in a row and then handling Notre Dame in the Champs Sports Bowl.
Coaching
Fisher has proven he is as good a recruiter as any coach in the land, luring Top 3 classes each of the past two offseasons. With a 19-8 career record at FSU, Fisher has produced the best two-year start in Seminole history. The big news on Fisher's staff this offseason was that he was able to hang onto defensive coordinator Mark Stoops. He was wooed by several schools, including Auburn, but FSU gave him a bump in salary and one-year extension.
Offense
Clearly the weak spot of this unit a year ago was the offensive line, which played a big role in the running game ranking 104th in the nation at just 112.2 yards per game. The O-Line performed so badly at times that the Seminoles started five freshmen there in the bowl game (also because of injuries). So just due to that experience, it should be much better in 2012 even having to replace both starting offensive tackles. Plus, FSU does have a talented group of backs led by Chris Thompson, Devonta Freeman and James Wilder Jr.
But really the key is keeping Manuel healthy. He completed 65.3 percent of his throws for 2,666 yards and 18 TDs with only eight interceptions. Manuel will have a very deep group of receivers to throw to, led by Rashad Greene, who led the club in catches, yards and TDs as a freshman. In addition, WR Willie Haulstead returns after missing the 2011 season.
Defense
Stoops' group was terrific last year. FSU's run defense allowed opposing backs to average just 2.35 yards per carry, which led all 120 FBS programs. The Seminoles ranked fourth nationally in total defense (275.0), second in rushing defense (82.7), fourth in scoring defense (15.1), eighth in tackles for loss (8.62) and tied for eighth in sacks (3.08 per game) in 2011. There are several five-star recruits on this side of the ball. The biggest loss will be linebacker Nigel Bradham, who became the first Seminole since all-American Marvin Jones 20 years ago to lead the team in tackles for three consecutive years.
The front four will again be one of the best in the nation at pressuring the QB, led by senior end Brandon Jenkins. Keep an eye on possible discipline for starting senior cornerback Greg Reid, who is also a terrific return man. He was arrested back in June and charged with driving with a suspended license and misdemeanor possession of marijuana. Nine starters are set to return on the defense.
2012 Florida State Seminoles Football Schedule Analysis
FSU's first two games are a joke, but it's not all the school's fault. The Seminoles were supposed to welcome West Virginia to Tallahassee on Sept. 8, but WVU paid a buyout to get released because it is in the Big 12 this season. In its place is FCS school Savannah State. So, really, FSU has two exhibition games (opener is vs. FCS school Murray State) before starting ACC play with back-to-back home games vs. Wake Forest and Clemson. Both will be payback games for FSU and it will be big favorites in both (already -10.5 vs. the Tigers on 5Dimes).
In fact, the Seminoles might not be underdogs in a game during the regular season. I am already presuming a sweep at home. Road games at South Florida (nonconference), NC State and Miami might be challenges, but certainly Florida State will be favored. Perhaps the only time the Seminoles will be dogs is in a potential ACC title game preview Nov. 8 at Virginia Tech. On 5Dimes, FSU is an early three-point favorite.
2012 Florida State Seminoles Futures Odds
On 5Dimes, FSU is +1200 to win the BCS title (co-fourth favorite) and -180 to play in any BCS bowl game (+140 not to). FSU is +140 to win the ACC title, while the "field" is -170. To win the Atlantic Division, Florida State is -190, while the field is +150. FSU's "over/under" wins totals: 9.5 (over -190 favorite), 10 (under a slight -125 favorite) and 10.5 (under a -225 favorite). Manuel is +950 to win the Heisman Trophy.
2012 Florida State Seminoles Football Predictions
So much depends on Manuel. Backup Clint Trickett showed he could be serviceable when he played in 2011, but he remains a big step down. If Manuel stays healthy, FSU could easily run the table with a very manageable schedule.
I would probably project an 11-1 regular-season record and that the Atlantic Division title is a lock. I also do expect FSU to beat Virginia Tech in the ACC title game even if that's a possible loss at Blacksburg in the regular season. Thus, a BCS bowl would be a certainty.
I'm not sure I believe a national title is in the works, however. For one thing, FSU's weak schedule could work against it via the computers in the BCS polls. And a potential loss at Tech would be late enough in the season (as would a possible home defeat to Florida to close the regular season) to ruin the Seminoles' title hopes.
Want more Florida State football predictions? Check out BetFirms for their 2012-13 preview. And to get $60 worth of free Doc's Sports member's picks (any sport, no salesperson ever!) Click Here.